When Nick Bonino scored Boston University's first goal Saturday at 8:49 of the first period, no one in the building believed the game was over.
Yet recent history might have suggested otherwise.
After Saturday's dominating 8-3 win over Ohio State, the Terriers have an astonishing 22-0-3 record in games in which the sophomore has scored at least one point this season. When Bonino has been skunked on the scoresheet, BU holds a far more earthly 10-6-1 record.
Another curiosity is how the centerman has had a feast-or-famine tendency throughout the year. He piled up 11 points in the season's first six games, only to see his production dwindle to two points in his next five games.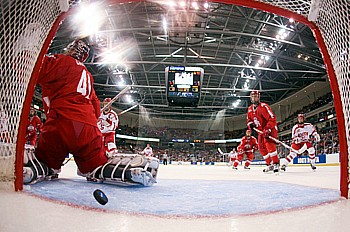 Finally, Parker made Bonino a healthy scratch against Holy Cross on November 25 — just to make the point that the Connecticut native is a pretty average player when he's not putting his legs to maximum use on the ice.
After that timeout, Bonino responded by scoring in five of his next six games. Later in the year, he was Hockey East Player of the Month for February, amassing an impressive total of six goals and eight assists for 14 points in nine points. Unsurprisingly, BU went 6-0-3 that month.
He also was named Beanpot MVP with three goals over the two Mondays, including two crucial goals in a 103-second span when the Terriers were trailing Harvard 2-0 more than halfway through that first-round game.
He also came in like a lion in March, notching the Terriers' first five-point night since Chris Kelleher pulled off the feat way back on March 14, 1998, against Merrimack.
Bonino can't really explain why his scoring has come in bursts.
"I don't know if there's that big of a difference [from a high-scoring night and otherwise]," he said. "Our line just works on moving our feet and getting the puck low and grinding it out. When the puck's falling, it's great, and when it's not. … Last weekend I didn't score but Johnny and Yippy did. As long are our line's going, it doesn't matter who scores. We just try to keep it out of our net."
Speaking of which, any Terrier fan knows that Bonino is one of the team's top scorers with 47 points in 41 games — second only to Hobey Baker finalist Colin Wilson. However, only a diehard BU fan could tell you that Bonino should be leading the nation in plus/minus after all the games are over Saturday. He is an eye-popping +29.
"One of the things we knew when we were recruiting him was that he was a real good offensive player," Parker said. "He didn't really focus too much on his defensive game and we were concerned about that when he got here. But from the day he arrived, I think he knew that it would be asked of him and demanded of him, and he got into step right away — playing smart defense, playing with effort."
Along with wingmen John McCarthy and Brandon Yip, Bonino forms a trio that started Saturday's game as the number-one line. Defense is part of the reason why.
"I don't think that there's any question that that line is our best defensive line," Parker said. "He and Yip play PK together, and McCarthy and Popko kill penalties together. And all of that is because they're all real solid defensively. So here you have a guy who's got 40-odd points and 17 goals. He's certainly an all-around player, not just an offensive player. He's very, very thorough."
Fans who are less familiar with Bonino enjoyed a healthy sampling of Saint Nick's gifts Saturday.
Pinpoint wrister from the right-wing circle to beat the goalie high on the glove side? Check.
Perfectly executed two-on-one to draw the defender before dishing a last-second pass for a goal? Check.
Stealing the puck while shorthanded to negate a rush on a late first-period power play? You've got it.
Give-and-go to tee up a John McCarthy shot followed by a Brandon Yip score on rebound? Why not? That one made it 5-0 and basically game over.
So how has Bonino been rewarded for his great play this season? He got traded. Originally drafted by the San Jose Sharks, Bonino was dealt to the Anaheim Mighty Ducks at the recent NHL trading deadline.
But maybe that makes perfect sense. Bonino has proven to be Saint Nick when it comes to delivering an undefeated record when he scores this season, and his point production along with great two-way play have certainly been godsends.
So it seems quite fitting to imagine him playing in a city well known for its Angels.