David Quinn is leaving his position as associate head coach of national champion Boston University to become the head coach of the AHL's Lake Erie Monsters.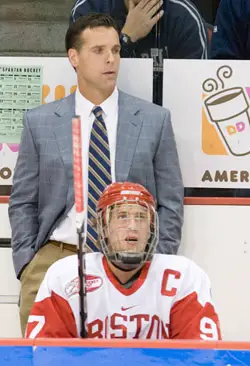 Quinn, 42, spent five seasons at his alma mater after leading the USA Hockey National Team Development Program's Under-17 team for two seasons. He also was an assistant coach at Nebraska-Omaha and Northeastern.
"David is a proven winner who has successfully coached young players throughout their careers," said Greg Sherman, general manager of the Colorado Avalanche, the Monsters' parent team. "He played a significant role in the success of Boston University's program, and has the necessary experience to lead our young prospects in Cleveland."
Quinn played three seasons at BU, from 1984 to 1987, before being diagnosed with a blood disorder called Christmas Disease that cut short his collegiate career. He was a first-round NHL draft pick by the Minnesota North Stars in 1984.