Despite playing in just one game before this season, Shawn Hunwick has become the backbone of Michigan's CCHA tournament run.
As a true walk-on, Hunwick has no scholarship and has been a backup and practice goalie for the last two-and-a-half years.
"I never gave him credit for being a starting goalie," said Michigan coach Red Berenson. "He's been a good practice goalie, a good team player. He's been very good support, no complaining all along and he got his chance."
Hunwick found himself thrust into the starting role at Michigan when Bryan Hogan was injured early in the first period against Notre Dame on Feb. 25. Hunwick won that game before taking over the starting job for the Wolverines. In the five games he has started, Hunwick has a 1.97 goals-against average and a .908 save percentage.
"He's been as good at it gets," said Berenson.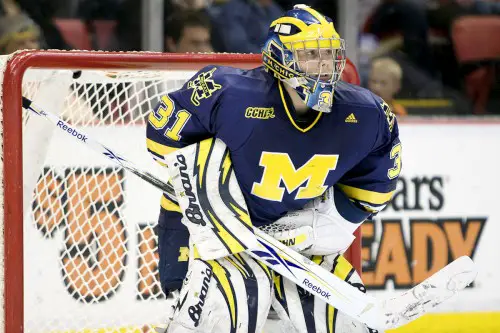 Since becoming the starter, Hunwick has yet to give up a five-on-five goal, a fact that he attributes to the strong play of his teammates in front of him.
"I can't say enough about the team," said Hunwick. "Those guys are all over the ice blocking shots and doing an unbelievable job. I really appreciate it."
Coaches have noticed how the Wolverines have responded with Hunwick between the pipes as well.
"The team's playing hard for him," said Berenson. "They know how hard he worked for them [in practice] before he got a chance to play."
Throughout the past month Hunwick's strong play has also helped get the Michigan offense on track. Against Miami in the second CCHA semifinal Friday, Hunwick made a sprawling save with the paddle of his stick and the Wolverines went back up the ice, where Lee Moffie scored his fourth goal of the season to put Michigan ahead 2-0.
"I thought that this season, since I've been in there, when I've made a save. we've gone on to score a lot of times — three or four times it's happened," said Hunwick. "I wasn't really sure if I even got a piece of that. I thought he just missed the net until someone came up and said, 'Great save.' We answered back, and we've done it time and time again."
When you have a team feeding off your energy like that, it's very easy to get comfortable.
"Actually, early in the second period was probably the smoothest and most confident I've felt in net since I've been in," Hunwick said. "I wasn't really thinking; I was just reacting. I knew they were a good team. I knew they were going to come out strong."
"I don't think he's overachieving," said Berenson. "He's in a big groove and he's giving us a chance."
Michigan likely will need Hunwick to work his magic one more time Saturday night against Northern Michigan in the CCHA championship game to secure a spot in the NCAA tournament for a 20th consecutive time.
Unfortunately for the Wolverines' women's softball team, Hunwick's stellar play will likely prevent him from being the scoreboard operator at their home opener next week at Alumni Field in Ann Arbor. Hunwick has served the team in this capacity since his freshman year.