In the last four NCAA tournaments for Miami, the road to hell has had an exit sign in Boston.
Unless you really weren't paying attention last season, you know full well the story of how Boston University trailed Miami 3-1 with a minute to go, only to tie the game and win it in overtime. The game has to rank as the top successful comeback in the history of the college hockey championship game.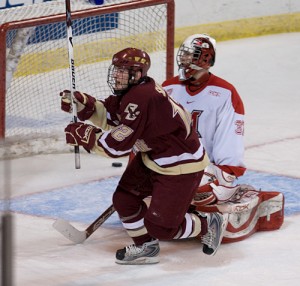 That said, you may be excused for failing to remember that Miami's previous season was ended at the hands of another team from Boston. That would be Boston College, which beat Miami in a thrilling overtime game in the 2008 Northeast Regional final in Worcester, Mass. Miami was the top seed in that regional, and it sported a 33-7-1 record going into the game. In overtime, the RedHawks outshot the Eagles 10-4, only to lose on freshman Joe Whitney's goal at 12:12 of overtime.
Even more incredibly, though, this string of NCAA tournament losses goes back even further. In the 2007 regional final, BC also beat Miami — that time by the score of 4-0. 2006? You guessed it: The Eagles beat the RedHawks by a 5-0 margin.
All of which may lead one to wonder if we're on for some RedHawks redemption next Thursday of if yet another step toward winning all the beans will go to a team from Beantown.
Miami coach Enrico Blasi frankly didn't see much relevance to the concept of a BC rematch. "Well, that was two years ago," Blasi said, referring to his most recent tournament matchup against the Eagles. "They're a different team, and we're a different team.
"From what I remember of that game, it was pretty back and forth — great goaltending by Muse, and a heck of a team that went on to win the national championship for Boston College. Those are all experiences that we'll remember and lean on. As far a rematch, that's great for the media and a Hollywood story, but we're focused on what BC is today. And I can tell you that they're really quick and fast and offensively explosive, and we're going to have to be at our best to give them a good game. That's what we're going to focus on all week."
BC coach Jerry York's concurred to some degree with Blasi but sees parallels between the current RedHawks team and the 2007-2008 edition. "I thought that they had an outstanding team," York said during a conference call. "They've replaced some of the players, but they still have the same type of team: great puck possession and outstanding goaltenders. That particular regional final, our current junior Joe Whitney scored a goal in overtime where he was diving for a loose puck. It was one of those goals that you look back at as one of the key goals in the history of Boston College. It was a very well-played game that could've gone either way."
Of course, it went to the Eagles, leading the RedHawks to redouble their efforts to make it to one more step to the Frozen Four. Despite having a worse record last year, they did just that … and Boston University coach Jack Parker remembered all too well that sometimes teams win it all the year after they're supposed to win it.
That didn't happen, either. Which brings us to this year's quest to reverse the curse. "It's been a long year, obviously," Blasi said. "To get back to the Frozen Four isn't an easy thing. I give the team and Tommy Wingels, our captain, a lot of credit for staying focused, making sure we got better every day.
"We had this so-called No. 1 target on our back all year, so we know we were going to get everybody's best all year, and we needed to prepare and be responsible and respect everybody. We spent a lot of time before the season started just making sure that last April wasn't a devastation, other than the score. It was actually a positive thing. We had a great run; we took a lot of good memories, a lot of experience out of what happened: how to compete at a high level, how to prepare at a high level. We got closer as a team. We know what it takes to get there; we know what it takes to win the whole thing, and those were real positives all season."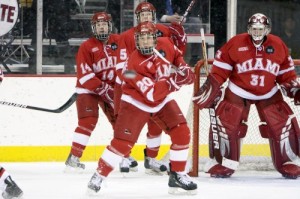 Wingels also accentuated the positives of the tough loss. "You end the last season with a bit of a disappointment, but you gain so much out of getting to the Frozen Four," Wingels said. "We looked each other in the eyes and said that this was the most fun we've had in our lives — getting here with the guys that we love. We said that we've got to keep this feeling in our heads and get back to this event again.
"You can scream or pout about it, or you can start working again. We took the second approach."
Dealing with his disappointments, Blasi literally found another outlet. "Before the season started, I got all my frustrations out with a lot of shopping," said the Miami coach. "Suits and ties. I'm broke now."
Wingels said that repeated losses to Boston teams had not weighed all that heavily in his mind. "A little bit. You remember those guys and who beat you, but mostly you've got to think about getting your team ready to play and trying to improve every day."
They have done just that. Miami was ranked No. 1 in the USCHO.com Division I Men's Poll for the majority of the season and ended up with a 29-7-7 record. York is suitably impressed. "The Miami team was within a heartbeat of winning it last year, but more importantly to rebound and come back like that is just a remarkable story for them," he said.
So what should we expect in this year's high-stakes tilt? "You're looking at really a couple different styles of hockey," Blasi said. "BC likes to play in transition; they're very quick. They can put the puck in the net. If you're not ready, they will not only put one but two or three or four in a row [in the net]. We're more of a traditional puck possession team. It's not that we can't run and gun with teams, but it's not what we prefer to do.
"It's a matter of who's going to dictate how we play; something's going to give. We've been in this position before. Michigan is a very similar team with the way they skate and transition with the puck."
"I haven't watched many of their guys," Wingels said. "But I know that they have a lot of smaller skill guys up front who can put the puck in the net and have a lot of speed. They've got good goaltending and some skilled defensemen, so we're going to have to be prepared for all that."
So be prepared for a battle of wills with either BC's transition game or Miami's puck possession ultimately winning out. For Miami, it remains to be seen whether a Boston team has enjoyed its final curse or if the Eagles will merely be an appetizer on the way to a final course — a long-awaited first national championship.