Connecticut will host a doubleheader of men's and women's hockey games at its football stadium next season.
The Huskies men will play Sacred Heart and the women will play Providence at Rentschler Field in East Hartford, Conn., on Sunday, Feb. 13 as part of the Whalers Hockey Fest.
The announcement came Wednesday as part of the unveiling of the event by Whalers Sports and Entertainment. Game times have not been finalized.
Rentschler Field is the 40,000-seat home of the UConn football team. It is owned by the state of Connecticut.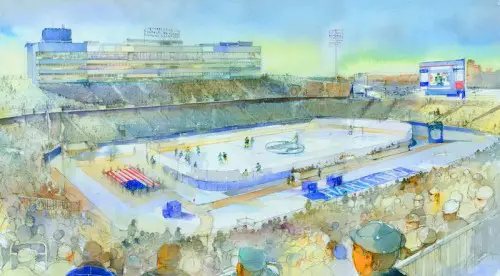 "It's very fitting that the UConn men's ice hockey program is involved in the Whalers Hockey Fest," Huskies men's coach Bruce Marshall said. "We just celebrated the 50th anniversary of our program and many of the early games of our team were played outdoors. In addition, Todd Krygier, one of our program's most prominent alumni, played for the Whalers for two seasons. We are hoping that the success and exposure that Rentschler Field has provided for our football team will do the same that night for our men's hockey team."
The 10-day Whalers Hockey Fest could include as many as 20 outdoor games between professional, college, prep school and high school teams at Rentschler Field.
"I think this is an exciting opportunity to showcase UConn women's ice hockey, and the sport in general in a fun and festive atmosphere," UConn women's coach Heather Linstad said. "It will be exciting for our student-athletes to say they played a game outdoors at Rentschler Field."
More information is available at whalerssports.com.
Michigan and Michigan State are scheduled to play outdoors at Michigan Stadium on Dec. 11. More than 100,000 tickets have been sold for that event.
Robert Morris is reported to be interested in playing a game at Pittsburgh's Heinz Field, site of next season's NHL Winter Classic.