Your hometown is about to be bombed and you can save everyone in your family except one person. Who would you leave behind?
Crazy question, eh? It may have nothing to do with hockey, but at the annual NHL scouting combine, where top prospects are invited to interview with NHL teams, out of the ordinary questions such as this are asked to players in order to gain insight to what they are like off the ice.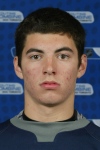 Patrick McNally, an 18-year-old rising senior at Milton (Mass.) Academy who is expected to enroll at Harvard in 2011, was actually asked that question. McNally's response was quite a good one; in a nutshell it highlights his natural mix of maturity, unselfishness, and humility.
"I said I would leave myself behind and let my other three family members go," McNally said.
The New England prep school defenseman of the year and U.S. Hockey Report's defenseman of the year seems to be the type of individual who puts aside all personal accolades and truly wants the best for the people around him.
"I guess individual recognition is nice to have, but I really just want the team to win the New England Prep Hockey Elite Eight Tournament next year," McNally said. "That's really my main goal. That was our main goal this year and we were very disappointed in the playoffs. I'm really not looking to repeat any of that [the personal awards] next year; I'm just really focused on the team winning New England."
The Glen Head, N.Y., native, who stands 6-foot-2 above the blades of his old sharpened skates, has recently been the sharp one on the ice. After transferring to Milton Academy and repeating his junior year (previously attending high school in Long Island), he finally caught the eye of scouts and jumped up 44 spots in the Central Scouting rankings to put him at No. 40.
"I knew that it would be better for my hockey to go to a prep school," McNally said. "I visited Yale when I was playing Junior B for P.A.L., and their assistant coach, coach [C.J.] Marottolo, who is at Sacred Heart now, told me that the best route would be prep school. He said if he were in my position, he would pick prep school. He actually called coach [Paul] Cannata for me and I really liked him, so I ended up going to Milton Academy.
"But I feel like in the beginning, I came to Milton relatively unknown. The scouts never really saw me play before. They probably figured I was pretty good and had some potential, so they put me at 84. But as they stayed around and watched me more this year, I continued to progress and get better. Then I guess they just saw that I improved and that I was a better player than they thought in the beginning, so I moved up in the rankings."
McNally was his team's leading scorer this year with 35 points (14 goals, 21 assists) in 28 games, a noteworthy feat for a defenseman.
"Pat is an offensive defenseman whose strength is in rushing the puck and putting constant pressure on the defense," NHL Central Scouting's Gary Eggleston wrote in his scouting report. "He is a very good skater with mobility, speed and quickness. His skating skills and quick hands allow him to escape trouble and move the puck quickly out of danger. In the defensive zone he has very good lateral mobility and closes quickly on the puck carrier, forcing him into quick decisions or mistakes. He is an excellent passer whose passes are accurate and proper for the situation. Doesn't play a physical game, but relies on quick stick and smarts to gain puck possession."
The soon-to-be Crimson skater played for the Long Island Gulls growing up, then after his first year with midget minor, he played two years Junior B with the P.A.L. program, which stands for Pride in Athletics for Life. The travel organization has produced a number of NHLers — Chris Higgins, Eric Nystrom and Mike Komisarek start the list.
"I always dreamed of becoming a pro hockey player. But I never actually thought it could happen. I never really strived for that; it was just like a dream, distant in my mind. But I guess now that I may have a chance at it, it's pretty nice."
— Patrick McNally
But regarding hockey and school, his expected fall 2011 matriculation to Harvard marks the second legacy of an Ivy League athlete in the McNally family. Patrick's father, Tom, played football at Columbia and has always emphasized the importance of academics.
"My dad always told me to use hockey as a tool to further my education," McNally said. "So that's exactly what I did."
The self-proclaimed Yankees fan, who walks around the Milton campus proudly wearing his 2010 World Series championship T-shirt, still has to officially apply to Harvard this year. Because McNally is not enrolled at the university this fall, and the Ivy League does not participate in the National Letter of Intent program, NCAA rules prohibit Crimson coach Ted Donato from commenting on the player.
"I have to apply like a regular student in the fall," McNally explained. "I had a lot of schools talking to me after the beginning of this year, really. We have the Flood Marr Tournament over Christmas break; I played well, and a lot of scouts came to that tournament. After that, I had a lot of schools contacting me, but I was most comfortable with the Harvard coaching staff. I really liked coach Donato, coach [Bobby] Jay, and coach [Patrick] Foley, so I decided on Harvard."
In the NHL Entry Draft June 25 and 26, McNally is expected to be scooped up anywhere from the second to the fourth round. Instead of making the trip to Los Angeles, the new, up and coming hockey standout will remain at home in Long Island and watch it on television, waiting for a call that could potentially change his life.
"I always dreamed of becoming a pro hockey player," he said. "But I never actually thought it could happen. I never really strived for that; it was just like a dream, distant in my mind. But I guess now that I may have a chance at it, it's pretty nice."