All hockey programs go through transition, whether it be injuries, losses to graduation or coaching changes. But for seven seasons the Wisconsin women's program under the guidance of coach Mark Johnson was a model of stability — until 2009-10.
Last season, Johnson took a year's sabbatical from the UW to guide the United States women's Olympic team to a silver medal. Back home in Madison, his Badgers endured an 18-15-3 campaign, sitting out the NCAA tournament for the first time in six years.
"I kept tabs on Wisconsin because it was still my program, but it was from a distance," Johnson said. "It was kind of like being a parent because I wanted to keep a short leash on it, but I had to give it some slack and let the coaching staff in Madison do what it needed to do on a daily basis."
Despite the team's issues, then-interim coach Tracey DeKeyser credits Johnson for allowing her to coach the team the way she saw fit, yet helping her through some of her team's low points.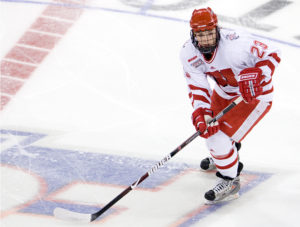 "There was periodic communication between us and checking in for updates," DeKeyser said. "It wasn't like he was coaching from afar, but if I needed help he was there as a resource for me."
But Wisconsin's season without Johnson was hardly a negative. Younger and unheralded players like junior forward Carolyne Prevost saw an opportunity for increased ice time. That extra experience has already paid dividends for the Badgers this season as the team has climbed to the No. 1 ranking in the USCHO.com Division I Women's Poll.
"Last year had a different feel overall," Prevost said. "It was a great learning experience as we made a lot of mistakes, but the players that were here got a chance to take on an expanded role, and that really added to our confidence."
Sophomores like forward Brianna Decker, who are experiencing their first season with Johnson at the helm, are quick to acknowledge their coach's presence on the ice.
"Last year, Tracey did the best she could filling in for Mark, but the season as a whole didn't go the way we wanted it to," Decker said. "From day one this season we've had completely different practices. Our intensity level is way up because he makes work at all times."
Some of the Badgers' renewed success can be credited to the additions of two former American Olympic forwards — junior Hilary Knight and senior Meghan Duggan.
Knight is one of the most dangerous scorers in the women's college game, a lethal combination of speed, size and skill. She leads the team with eight points in just four games of action, after piling up 83 during her sophomore campaign.
Duggan, meanwhile, represents the team's emotion, leading Wisconsin with her intensity on the ice. But she is also catalyst for the team's offense, as 69 goals and 151 points during her first three seasons can attest.
Johnson believes having those two players back significantly improves his hockey club.
"When you are playing for such a long period of time with that high a level of group as the U.S. Olympic team, it just forces you to elevate your game," Johnson said. "When Knight and Duggan came back to Wisconsin, they were much more confident about how they can play the game."
But Johnson believes their intangibles as team leaders might be even more valuable.
"They bring instant respect to our locker room as leaders," Johnson said. "But they are also a tool for me to help our younger players visualize things I want to teach because they can see how Hilary and Meghan conduct themselves on a daily basis."
Duggan hopes what her and Knight learned on the world's stage can translate to helping the Badgers on the ice this season.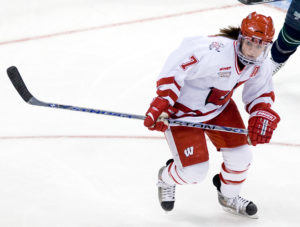 "In the Olympics we learned the work habits, the intensity and the commitment necessary to stay focused during high-pressure situations and big games," Duggan said. "Hopefully, Hilary and I can bring that experience back to this team and provide them with the knowledge we have on how to handle situations like that."
Piecing a roster back together from a transition season requires coaching guidance, something Shannon Miller of Minnesota-Duluth was all too familiar with last season as she banded the Bulldogs together to win the national championship. But Miller relishes the challenge of coaching against Johnson's Badgers.
"Wisconsin is our favorite opponent not only because they are good, but also because they play a sportsmanlike brand of hockey," Miller said of her team's top adversary. "There is a great deal of respect between our two programs and it is a lot of fun to play against each other."
Miller's admiration has much to do with how Johnson steers the Badgers.
"It is a rivalry because we have two of the best programs in the country, but it is a positive one," Miller said. "That has to do with both coaches as both have a great deal of experience and success, but both also have a healthy perspective on the game."
Much like Miller at Minnesota-Duluth, Johnson dealt with plenty of reintegration problems this season, as Wisconsin attempts to piece its lineup back together. But with an undefeated start to the season, the immersion project is off to great start, with Johnson leading the charge.
"It's definitely been a transition year so far, but [with Johnson's help] I think it has gone pretty smoothly," Duggan said. "We have great chemistry as a team on and off the ice, and hopefully it will translate into great things this season."