Michigan State and Michigan are set to battle for outdoor hockey supremacy, with seemingly the whole world watching. Again.
The "Cold War" at Spartan Stadium in East Lansing in 2001 set a world hockey attendance record, as 74,544 onlookers braved the elements to watch the Spartans and Wolverines skate to a 3-3 tie. The sold-out "Big Chill at the Big House" at Michigan Stadium in Ann Arbor on Saturday afternoon will handily eclipse that mark.
The event's official website touts 109,901 tickets sold for a contest that will count in the CCHA standings.
"Really, the whole standard started with Michigan State," said CCHA commissioner Tom Anastos, himself a former Spartans skater. "A lot of the credit goes to them for having the guts to try it. They had to create a blueprint, and people learned from that."
Of course, the whole event isn't quite as simple as putting up some boards, laying down some ice and dropping the puck. Well, maybe a little.
"We used both Yost Ice Arena staff and Michigan Stadium staff to help with the setup," said Rob Rademacher, Michigan associate athletic director for facilities and operations. "The total number of team members that helped over the week and a half setup, including all aspects, was about 12. We started on Nov. 21 with the unloading of the trucks, and continued until Dec. 2 when the final layer of ice was installed."
Longtime Michigan coach Red Berenson was the first to take a turn on the ice last week, before the Wolverines departed for a two-game CCHA series at Ohio State.
The CCHA itself has overseen the temporary rink phenomenon before, most recently at the 2010 men's Frozen Four at Ford Field in Detroit that was won by Boston College. That event, however, was held indoors, where the weather wasn't a factor.
"In the areas you can control, things are a lot better now," Anastos said. "The weather, obviously, is uncontrollable; but Michigan looked at different times of the year, and they also watched at Wisconsin last year."
The Wolverines squared off with the Badgers at the Camp Randall Hockey Classic in Madison in early February, whereas the original Cold War took place in early autumn when freezing temperatures weren't a given.
"I'm not sure anybody will try October again," Anastos chuckled.
Michigan assistant director of athletic media relations Matt Trevor said that approximately 200 media credential requests for Saturday's game had been received as of last week, compared to a dozen or so inquiries for a normal outing at Yost Ice Arena.
"It's kind of a hybrid between a football game and the Frozen Four," Trevor said. "It's drummed up a lot of interest the last couple of weeks."
The game will involve 13 to 14 television cameras capturing the action for Fox Sports Detroit and the Big Ten Network. Trevor also said that Michigan is working with the conference on replays, including identifying players from 200 feet or so away.
"It's a mix of football and hockey," he reiterated. "We're figuring out what you can do like a football game, and what you can't."
Having freezing temperatures several days in a row before the big game would be ideal for the ice, but rain or snow the day of the contest would prove problematic. Long-range forecasts for Ann Arbor for Saturday called for temperatures just around freezing, with snow showers possible.
"You never know with the weather," Trevor said. "We keep hoping to get a good turnout."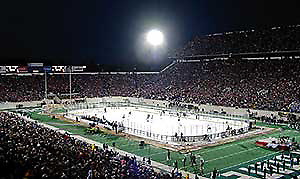 The ice surface at Michigan Stadium was first tested with a Division III men's game between Adrian and Concordia (Wis.) on Dec. 4, with more than two dozen youth and high school games also scheduled before this Saturday. Permanent lights were also installed at Michigan Stadium prior to the rink's construction so laborers could toil away at all hours in the short time with which they had to work.
Unlike the Cold War and last season's Frozen Four, the Big Chill is not being facilitated by NHL ice guru Dan Craig. The game falls too close to preparations for the NHL Winter Classic in Pittsburgh on New Year's Day, and the reins have instead been handed over to Texas-based Ice Rink Events, which handled the Camp Randall Classic.
"The ball is really being carried by Michigan, just like with Michigan State [in 2001]," said Anastos, whose conference is again providing support. "They're doing the heavy lifting. We're a beneficiary of the visibility they'll bring to the event."
Trevor said that the boards and glass for Ann Arbor were mostly recycled from the game in Madison. This weekend's rink, however, was made Olympic-size at Berenson's request by using extra boards, as it was felt the larger size would look better.
The Michigan Stadium scoreboard is being tweaked to include such hockey information as penalty time and shots on goal, while care is also being taken with the sound system to make the affair sound as much as possible like a game played in an indoor venue.
"We're trying to make the experience as good all-around as possible for the players, coaches, fans and media," Trevor said.
After all the work and preparation is done, a little crossing of fingers for luck can't hurt. Especially with the fireworks that are scheduled to take place — literally — before, during, and after the prime contest.
Outdoor hockey games are seemingly the flavor of the month nowadays, especially with the annual NHL Winter Classic now a New Year's staple. Anastos, though, believed they all hearken back to the experiment engineered in East Lansing nine years ago, which was actually the brainchild of former MSU player and assistant coach David McAuliffe.
"It got a lot of people curious and got global attention, and I think the venue has to do with keeping it interesting now," said Anastos, who cited recent hockey games played at both Wrigley Field and Fenway Park. "Now, we're closest to perhaps the largest outdoor event in North America, maybe the world."
The mystique of both venerable Michigan Stadium, which regularly sells out 100,000-plus for Big Ten football games, and the University of Michigan itself, has also been a boon.
"It's a large school with a large alumni base, and it's a traditional rivalry," Anastos said.
Michigan's oldest hockey foe of all is the Spartans, who won the CCHA's most recent national title in 2007. The two schools have met 280 times.
"We are thrilled to take part in this game at Michigan Stadium, and proud that our event in 2001 has led to a series of these games that bring hockey back to where it began — outdoors," Michigan State athletic director Mark Hollis said at msuspartans.com.
Anastos feels that farming out such marquee college games to different outdoor venues, and with different schools participating, has only helped the once-curious spectacle to grow.
"There's a lot of dynamics to make it work at the college level," he said.