The western scheduling pod continues to dominate Atlantic Hockey. Teams from the west pod hold the top five places in the standings and six of the top eight. The west leads the east 33-16-10 in head-to-head play so far.
This past weekend, the west took 17 of a possible 20 points, with only a win by Army over Air Force and a tie between Rochester Institute and Bentley giving the east pod something to cheer about.
This weekend will again be all east-west series with all 12 teams in league action.
USCHO.com AHA Player of the Week:
Bryan Haczyk, Niagara – The senior wins the award for the second week in a row. Niagara scored six goals in its sweep of American International last weekend and Haczyk had four of them, two each night. Haczyk has recorded a point in 18 straight games and has eight goals in his last four games.
Honorables:
Ryan Zapolski, Mercyhurst – The Erie, PA native stopped 65 of 68 shots last weekend to help the Lakers to a sweep of Holy Cross.
Eric Levine, Robert Morris – The sophomore goalie has put up gaudy numbers in his last five starts: 1.40 GAA and a .958 save percentage.  He allowed just three goals to help the Colonials to a sweep of Connecticut last weekend.
Paul Weisgarber, Air Force – The junior forward had two goals and two assists last weekend against Army. He leads the Falcons with 10 goals on the season.
Cody Omilusik, Army  - Omilusik had three goals including the game-winner to lead the Black Knights to a 5-4 win at Air Force on Saturday.
Andrew Favot , RIT – The senior had a pair of goals in each game last weekend to help the Tigers take three points against Bentley.
Nathan Longpre, Robert Morris – Longpre had a pair of goals and a pair of assists to help the Colonials to a sweep of Connecticut.
Fashion sense
Back in 2009, the Hockey News ranked the AHA jerseys and they, like I, found it to be a competitive battle. There are some absolute abominations out there (cough, Providence, cough) but top to bottom, Atlantic Hockey, IMHO has the best sweaters in college hockey.
And they just got better: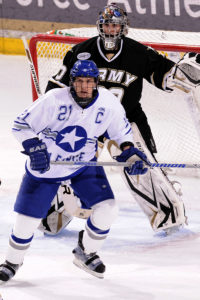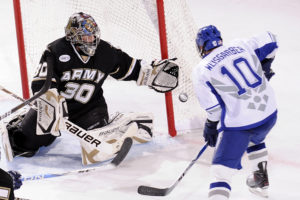 Air Force unveiled special jerseys for its series last week with Army, and they look amazing. Army's classic look is very nice as well. Love the collegiate style with numbers in the front. Of course, as a radio announcer, the more numbers, the better. The bigger the numbers, the better.
Nothing gold can stay
With apologies to Robert Frost, a pet peeve of mine are teams that use "gold" as a school color, when it's really "yellow." Army and Notre Dame, for example, are gold. Canisius, Bentley, Quinnipiac, etc. are not gold. Let me illustrate.
Gold:
Not Gold:
Gold:
Not Gold:
Gold:
Not Gold:
(Click on the last picture only if you want to go blind).
Getting My Vote
My USCHO.com Men's D-I Poll ballot this week:
1. Yale
2. North Dakota
3. Boston College
4. UNH
5. Duluth
6. Denver
7. Michigan
8. Notre Dame
9. Wisconsin
10. Miami
11. Maine
12. Union
13. RPI
14. UNO
15. Merrimack
16. Boston University
17. Alaska
18. W. Michigan
19. Ferris State
20. Dartmouth
Pictures courtesy of Mike Kaplan/Den Mar Services (Air Force) and the respective schools.