In hockey, you hear the word family a lot. Maybe it's a the way a coach describes his team, or maybe it's the way a teammate talks about the special bond that exists on his or her team.
But in the case of the Lowry family, it really is about family.
First there's Dave Lowry, assistant coach with the NHL's Calgary Flames. He played in over 1,000 NHL games for five different teams, doing so by playing hard and gritty.
Then there's 20-year-old Joel Lowry, a freshman forward at Cornell, and 18-year-old Adam, who plays major junior for the Western Hockey League's Swift Current Broncos.
Dave and his sons all have this in common: They have been drafted by NHL teams. Dave was drafted in the sixth round by Vancouver in 1983; Joel went to the Los Angeles Kings in the fifth round last summer; and Adam was drafted by the Winnipeg Jets in the third round, also last offseason.
Growing up in a hockey family
Joel moved around a lot as a child. He was born in St. Louis when his dad was playing for the Blues. He also lived in Florida, San Jose and Calgary, all stops in the career of his father.
"My family was always around the rink," Joel said. "It was a great experience to do that."
He spent a large part of his childhood growing up in Calgary, and that's where some life lessons and competitive lessons were learned playing with and against Adam.
"We had a pond in the backyard at the house and we played all day long," Lowry said.
Both Joel and Adam have good hockey size — Joel is 6-foot-2 and 185 pounds; Adam is a little bigger at 6-5 and 189 pounds — and both play similar styles, Joel said. That includes going to the net and playing a gritty brand of hockey they both learned from their father.
Joel's decision: College or major junior
So many outstanding teenage hockey players in the U.S. and Canada are faced with a tough decision and a topic that always seems to be a hot-button issue in hockey circles: college hockey or major juniors?
Joel was in that group, a talented player who had to make a decision. It was one that wasn't easy, he said, but one he has no regrets about now.
"It was a tough choice," he said. "I was really focused on major junior. Growing up in Canada, that's usually the first route."
His father played major junior in the Ontario Hockey League with the London Knights, and that's the route his brother chose.
"I got some advice from my dad, but we talked about me making my own decisions," Joel said.
Closing the deal
Joel took a recruiting trip to Ithaca, N.Y., and Cornell, an Ivy League school with great history and tradition. That trip was what sealed the deal for him to ultimately play college hockey.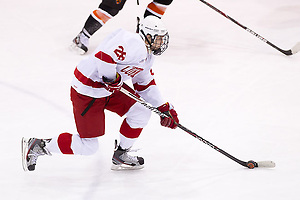 "When I was there it was just a great group of guys and I really liked what the program stood for and Lynah Rink was unbelievable," Joel said. "It was then that I decided, this is where I want to go."
Joel plays for Mike Schafer, who's in his 17th season at Cornell.
"Coach Schafer is a great coach," Joel said. "He stresses the defensive side of things a lot. Our team has been getting a lot better of late.
"We have the talent to do good things this season. We just have to play to the systems every night."
Putting on the Cornell sweater
In October, Joel put on the legendary Big Red sweater for the first time at Lynah Rink.
"I was pretty nervous," he said. "The crowd was so loud and was the biggest crowd I had played in front of. The game was at a different pace than I was used to. The intensity was a little higher; I'm getting used to that."
A few weeks later, on Nov. 4 at Yale, Joel proved he's getting used to the intensity when he scored his first college goal late in the first period to give Cornell a 2-0 lead.
Joel shares similar traits with his linemates, senior Sean Collins and freshman John McCarron: They're big-bodied players who grind for their opportunities.
All three players worked down low and on the wall before Joel cycled the puck behind the net to Collins. He threaded the needle to Joel, who went to the slot and buried a quick wrist shot, with McCarron supplying a great screen in front of the Yale goaltender.
"I got a lot of texts and tweets after that goal; it was a great feeling," Joel said. "It was on national TV. My brother and dad reached out and were really excited for me."
The Cornell family
The line has been together all season and, at the holiday break, has produced five goals and 16 points.
Joel is the first to realize how important it is to play with two players who have the same type of game and work ethic. Collins is a clear-cut team leader and Joel, one of nine freshman on the Cornell roster, is developing a special bond with him.
"Sean has done a really good job with all the young guys," Joel said. "All of the upperclassmen have done a great job of leading by example. It's good to learn from such good guys and players."
Collins leads the line with three goals. "He's pretty skilled," Joel said. "If you get him the puck he makes things happen. He's pretty easy to play on a line with."
All of McCarron's five points have come on assists. "We both play with our size and vision and find each other," Joel said.
As for Lowry's game, he continues to work on the little things he learned from his father.
"Every day as forwards we are shooting to score and trying to make the most of all of our chances," Joel said. "We want to bury teams when you can and rip the puck to the back of the net."
With the assortment of young talent that includes defenseman Joakim Ryan, forward Brian Ferlin and others, Joel said the goals for the Big Red are high this season.
"We are a pretty hardworking team, we're skilled up front and on the point and have a talented goalie," Joel said. "We're getting better, having some success. We just need to stay attentive defensively. We are confident with the guys in the room here."
Joel is using the lessons he learned from his father to further his own development.
"He always taught me to compete, give everything you have every shift, every night", Joel said. "He has always taught me to be honest and true to your word, work hard and things will go your way."