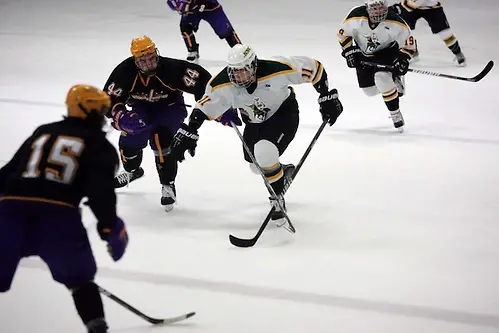 It came down to the last weekend, but St. Norbert captured its 13th NCHA regular season title in 16 seasons. The rest of the NCHA has settled in on the pairings for the first round of the Peters Cup, which begins next weekend. St. Scholastica clinched the No. 2 seed and will host Wisconsin-Stout. Wisconsin-Eau Claire will travel west on Interstate 94 to face Wisconsin-River Falls, and Wisconsin-Stevens Point host Wisconsin-Superior.
The MCHA and MIAC still have one weekend of the regular season left to play. Adrian maintained its slim two-point lead over Milwaukee School of Engineering (MSOE) and remained on track to win its fifth straight MCHA regular season title. Marian and Lawrence continued their battle in the standings, and are tied for third place.
The second through fifth positions for the MIAC playoffs are still packed tightly. St. John's and St. Olaf could not separate from each other, as they split their series. Gustavus Adolphus had a three-point weekend that put it into a tie with St. John's and St. Olaf.
MCHA
Adrian stayed ahead of the competition in the MCHA with a sweep of Concordia (Wis.). Adrian jumped out to a 5-1 first period lead Friday en route to a 9-2 victory. Andrew Dovey had two goals, and seven other players scored for Adrian. On Saturday, Josh Cousineau had two goals and an assist as Adrian had another dominating performance in a 5-1 win. Senior defenseman Chris Stansik added an assist for his 131st career point in his last regular season home game for Adrian.
Another career milestone was attained Friday, as MSOE goalie Connor Toomey had 33 saves and recorded his ninth career shutout as MSOE blanked Lake Forest 4-0. Jordan Keizer scored his nation-leading sixth short-handed goal of the year in the game. MSOE followed up with a 6-1 victory on Saturday. Todd Krupa had the hat trick for MSOE.
Lawrence rallied from a 2-1 deficit in the last half of the third period to defeat Finlandia, 5-2, Friday. Paul Zuke scored the game-winning goal at 13:13 of the third period for Lawrence. Saturday, Lawrence held off a Finlandia flurry as Ryan Bradley scored for Finlandia with the goalie pulled to cut Lawrence's lead to 3-2 with 1:11 left in the game, but William Thoren added an empty-net goal 26 seconds later for Lawrence for a 4-2 final.
Marian kept pace for third place in the MCHA with a sweep of Northland. Four different players scored for Marian, as it defeated Northland, 4-3, Friday. Dakota Dubetz's power-play goal in the third proved to be the game-winner. Tanner Burton recorded his first career hat trick on Saturday, as he led Marian to a 4-1 triumph over Northland.
The MCHA finishes off its regular season next weekend. Adrian travels to Finlandia, and MSOE will take to the road to play Northland.  Lake Forest will play Lawrence, and Marian will face Concordia (Wis.) in a pair of home-and-home series.
MIAC
St. John's and St. Olaf remain deadlocked in second place in the MIAC after splitting a pair of games over the weekend. St. John's defeated St. Olaf, 6-3, Friday, after it jumped out to a 3-0 lead. St. Olaf responded with three goals of its own to tie the game early in the third, but Jascha Pettit scored at 7:31 of the third as St. John's scored the last three goals of the game. The following night, St. Olaf played its trademark tough defense and stopped St. John's, 2-1, on St. John's home ice. Peter Rohn scored on a power play at 5:15 of the third to give St. Olaf the victory and an even conference record with St. John's.
Gustavus Adolphus may have earned three-of-four points on the weekend, but it let another point, which would have given it sole possession of second place, slip away Friday. Braden Rahman scored with 36 second left in regulation for St. Mary's, as it overcame a 3-1 deficit to come away with a 4-4 overtime tie. Gustav Bengtson led Gustavus with two goals. Gustavus scored three straight goals, two on the power play, to come away with a 4-1 victory Saturday. Gustavus was two-for-seven on the power play, while St. Mary's was one-for-six.
Hamline split its series with Concordia (Minn.) to maintain a grasp on the last playoff spot in the MIAC. Beau Christian stopped all 34 shots he faced as he picked up his second shutout of the year in a 1-0 win over Concordia (Minn.). Brian Arrigoni scored the only goal of the game for Hamline. Concordia (Minn.) came back for a 2-1 victory Saturday to keep its MIAC playoff hopes alive. Michael Benedict scored the game-winner for Concordia (Minn.)
Augsburg scored five unanswered goals to overcome a 2-0 deficit to defeat Bethel 5-3 Friday. David Hines scored the game-winner for Augsburg on a power play. Jake Kogler scored the game-winning goal Saturday for Bethel just 14 seconds into the third period, as Bethel returned the favor and defeated Augsburg, 5-3.
The MIAC finishes its regular season next weekend as well. St. Thomas plays Augsburg, Bethel and St. John's will meet, St. Olaf will battle Gustavus, Concordia (Minn.) will play St. Mary's, and Hamline will be watching closely, as it has the weekend off.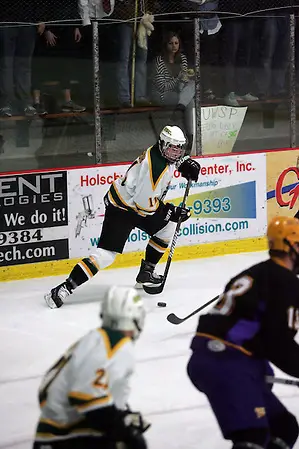 NCHA
St. Norbert ended the weekend by earning the NCHA regular season title outright. St. Norbert defeated Wis.-Stevens Point soundly Thursday by an 8-3 margin. Eight different players scored for St. Norbert in the balanced effort. On Saturday, St. Norbert went two-for-three on the power play as it secured its 13th NCHA regular season title with a 4-2 win against Wis.-Stout.
St. Scholastica secured the No. 2 seed in the NCHA with a 1-0 victory over Wis.-River Falls Friday and beat Wis.-Eau Claire, 5-3, Saturday. Collin Rundell made 22 saves against Wis.-River Falls for the shutout. Five different players scored Saturday for St. Scholastica, as it overcame the effort of Jordan Singer, who had the hat-trick for Wis.-Eau Claire.
Wis.-River Falls needed overtime to score the third seed in the tournament with a 5-4 victory over Wis.-Superior. Adam Cardwell scored at 2:37 of overtime for Wis.-River Falls. Jeff Forsythe had two goals for Wis.-Superior.
Wis.-Stevens Point scored nine goals to secure the last home playoff spot for next weekend, as it defeated Wis.-Stout, 9-3. Wis.-Stevens Point scored the first four goals of the game.
Wis.-Eau Claire and Wis.-Superior skated to a 3-3 overtime draw Friday.