David, please meet Goliath.
In one corner you have the underdog of underdogs — a Ferris State team making its first Frozen Four appearance playing for a national title. In the other corner is college hockey's Goliath, a Boston College team that has won three of the last 11 national titles and on Saturday night will play in the Frozen Four championship game for the fifth time in seven years.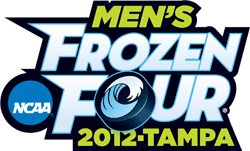 For complete Frozen Four coverage, visit USCHO's Frozen Four Central.
As uneven of a mismatch you could ever imagine, correct?
Well, maybe not.
The Eagles will take the ice sporting an 18-game winning streak on Saturday night. But on the other hand, the Bulldogs have been stingy defensively since the NCAA tournament began a fortnight ago.
Ferris State has allowed a single goal in each of its three games of this tournament. That's something that makes even the highest octane offense of Boston College take notice.
"I've seen Denver play, I've seen Cornell play. I've heard a lot about Union," BC coach Jerry York said about Ferris State's three NCAA tournament opponents to date. "If you restrict those teams to one goal, you'll win the majority of your games. We certainly have to figure that out."
This Ferris State team also seems to be overflowing with confidence right now. Despite making just the second NCAA tournament appearance in school history, coach Bob Daniels' club may cherish its underdog role but still seems to believe it's in the right place to pull off what easily could be the biggest championship game upset in NCAA tournament history.
That confidence was on display on Friday when Bulldogs center Matthew Kirzinger talked about the Eagles defense.
"I think their defense might be a little suspect," Kirzinger said of a BC defense that allowed one goal in Thursday's 6-1 win over Minnesota, the first goal the Eagles surrendered this tournament. "They're big, but I think if we can cycle down low on them and keep our feet moving and bring some speed to the table, I think we're going to have a really good chance."
Bulldogs standout goaltender Taylor Nelson has his own mentality on how David can tackle Goliath.
"Sometimes when you're that top team you have to be a little bit worried about a team like us who has been an underdog all season long," Nelson said. "You might be clutching your stick a little too tight because you are the favorite."
Bulldogs coach Bob Daniels, looking to become the first coach since Jerry York (Bowling Green, 1984) to win a championship in its first Frozen Four appearance, was a little more tempered in his commentary and was overly willing to take on the role of the underdog.
In Friday's media availability, Daniels' opening statement was all about finding that inner David.
"I think we'll field some questions about how it feels to be underdogs," Daniels said. "I can say we're fine with that. We're the decided underdog going in, so be it."
Underdogs, rare as they have been in the title game, haven't fared very well there. A review of the last 30 years shows the only heavy underdog to win a title is Michigan State in 2007. That team, though, defeated — you guessed it — Boston College.
The thought that event could repeat itself was a flowing theme around Tampa Bay Times Forum on Friday. But this year's BC team rejects even the notion that it could look past Ferris State and prematurely crown itself king of college hockey.
"To be honest, I don't even think that's an issue in our locker room with the character guys we have," BC captain Tommy Cross said when asked if there was any concern of taking the Bulldogs too lightly. "When a national championship is on the line, there's never any looking past."
Good point. But everyone who knows BC knows its players know the program's history. And although none was on the ice in St. Louis in 2007, all should know that was a pinnacle of disappointment for the BC program.
That said, goaltender Parker Milner, himself possibly the hottest player in the country right now, was quick to point out that this year's BC team is different than teams of the past, particularly on the defensive end.
"In years past, we've had that one shutdown line," said Milner. "This year, we have four lines that can do that. Everyone is reliable defensively. As far as the defense goes, I think we have six of the best defensemen in the country."
Stats don't lie, and in BC's 18-game winning streak the team has allowed two goals or fewer 17 times.
While Daniels is happy to play the role of underdog, he is highly cautious not to let his club get too loose at this point. While Ferris State may feel like it is playing with the house's money, that's hardly a reason to relax.
"The fact that they're a really good team, we will not be able to play loose, nor should we," Daniels said. "If we're going to have success, we're going to have to be hitting 100 percent."
That 100 percent begins with Ferris State's fundamentals of success: solid defense and a great penalty kill. Both of those are York's focus as he turns the page in preparation for Saturday's title game.
"I think both [defense and special teams]," York said when asked about his focuses in preparing for the Bulldogs. "I don't think they've given up a power-play goal since this tournament started. Certainly, they don't give up many goals."
And so BC, similar to Ferris State's ability to embrace its underdog role, will happily take its role of favorite into Saturday's title tilt, looking to become the first team since Denver in the tournament's infancy to win three national titles in five years.
And when it comes down to brass tacks, if the Eagles should succeed, there is only one notable reason: hard work.
"That work that you put in, every team puts that work in," Cross said. "It gives you a sense of confidence going into a game. That work is important, but at the same time if you do all that work and then don't perform tomorrow night, you won't be successful."