Editor's note: This is part of an occasional series of stories checking in with college hockey personalities, past and present.
John Byce thought this kind of thing happened every year.
You know, go deep in the college hockey postseason and then get the call to finish the season in the NHL playoffs.
That's what he did, after all. Twenty-two years ago, Byce scored a hat trick in the national championship game, helping Wisconsin to its fifth NCAA title. A week later, he was heading to Boston to join the Bruins, score a couple of goals and skate in the Stanley Cup Finals.
So when Boston College's Chris Kreider went from the Frozen Four to the New York Rangers' playoff lineup, Byce's name came up, much to his surprise.
"I was shocked to hear that I was the last one to go right from college to the [NHL] playoffs," Byce said. "I thought that happens every year. I was honestly surprised that it's been 20-some years."
Kreider's Rangers crashed out of the playoffs in the Eastern Conference semifinals last Friday, so Byce holds onto the title of the last player to play in the Frozen Four and the Stanley Cup Finals in the same season.
Byce, now a senior manager of corporate real estate for RBC Wealth Management in Minneapolis who splits his time between there and his hometown of Madison, Wis., took a trip down memory lane while Kreider's postseason run was ongoing. Here's an edited transcript of that conversation:
USCHO: Given your experience, what did Chris Kreider go through this postseason?
Byce: Just remembering back, it was kind of a whirlwind at the beginning. You're just so excited to be there and the intensity's unbelievable. You have no problems getting ready for those games initially, but I remember after three or four games you settle in a little bit and then it becomes a little bit more of a grind throughout the playoffs.
The difference is the intensity — the speed of the game picks up from what college was. If you're able to do that, you can make that transition pretty well, which obviously Chris Kreider has done without any problem. You can see he's one of the fastest guys on the ice right now. Pretty amazing.
USCHO: How did you find out you were going right into the NHL playoffs in 1990?
JB: After we won the national championship we came back, celebrated for a few days with everybody. Going through negotiations right after that with Boston, it all happened pretty fast, probably within a week of coming back from Detroit. Then it was basically get on a plane and come to Boston.
Honestly, when I signed and went, there was no talk of, you're going to step in and play in the playoffs. I thought it was more going to be, let's take a look at him, practice with the team and see what their thoughts were for the following year. There was a few injuries. I think Craig Janney was hurt at that time and a couple others. It ended up being that Boston was down three games to two against Hartford in the first round of the Stanley Cup playoffs. And honestly, I practiced one day and then the next morning at the pregame skate they said you're in tonight, which was totally unexpected for me.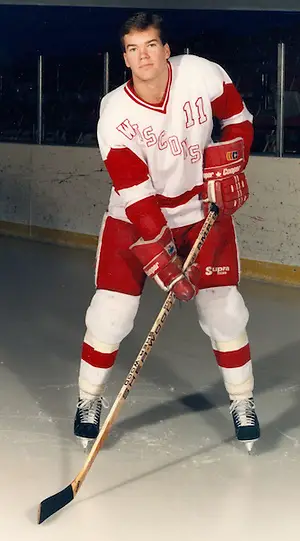 That was an incredible experience and obviously it was as nervous as I've ever been. I think I just played on adrenaline those first couple games. I played in Game 6 in Hartford and we won and then went back to Boston for Game 7. I'll never forget that because Ray Bourque was injured — I can't remember for how long, but he was injured at the end of the season and then throughout the first six games of the playoffs and then he came back for Game 7. You can imagine Boston Garden when he stepped onto the ice. I ended up playing and scoring, and that was my first NHL goal in that Game 7 of the first round against Hartford. Pretty crazy.
USCHO: Did you ever have a chance to take a step back and get some perspective while things were going on?
JB: I probably didn't while I was in the moment but I have obviously over the years. Coming back after that whole season was over, just reflecting on what actually just happened to me, it was honestly totally unexpected. I was an 11th-round draft choice of Boston. And even through my senior year at Wisconsin, I knew there was interest but I thought it was more, you're going to have to prove yourself at training camp the next year and spend some time in the minors probably and maybe move your way up if you get the opportunity.
But it all happened so fast. It was an incredible experience and it was totally unexpected. Obviously, to win a national championship and be able to play in the Stanley Cup Finals all in one year was pretty amazing. I even thought if you win the Stanley Cup you might as well retire because you've done everything already. After that year it got harder. I played a few NHL games (21 over two seasons) but didn't quite stick.
USCHO: Looking back now, how do you think that playoff experience altered your future, either good or bad?
JB: You can look at it two ways. Obviously, I got my opportunity; I got my foot in the door. I think I played pretty well in the playoffs (two goals, plus-2 in eight games) and at the beginning of the year the following year I made the team out of training camp. I played about 18 games that year, so it was a lot of up and down — in the press box one game, in the lineup the next. The minor league team was in Portland, Maine, so I played some games there, back and forth.
It was an incredible opportunity but I honestly think two or three years into my professional career I was a better player than I was at the beginning when I got thrown into the fire. In the NHL, when you get that opportunity the first year or two and you don't stick, it's much harder to get back. And I think that's what happened to me. I think if I would have spent some time in the minor leagues those first couple of years and develop a little bit, I think I was a better player two, three years later. I think if I would have got my shot at that point, I think I would have had a better opportunity to spend more time in the NHL.