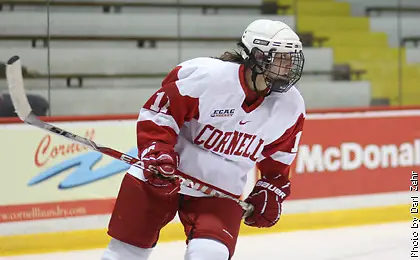 Candace: There's a lot to talk about from last weekend. Let's start out west this time; I, personally, haven't completely taken Ohio State seriously as a contender, especially after the Buckeyes got blown out by Minnesota. The split with Wisconsin has me wondering if the final four in the WCHA tournament might be different for the first time in several seasons. Considering who they lost last season, they have to be one of the surprises of the year so far. What are your thoughts on the Buckeyes?
Arlan: I don't think that it is an accident that Ohio State is where it is: second in the WCHA standings. The standings are a little deceiving in that OSU, North Dakota, and Wisconsin all have four losses, but because OSU has played a couple more games, it has a six-point lead on UND with Wisconsin two additional points back due to a pair of ties. UND plays those in-hand games this weekend hosting Minnesota-Duluth, while the Buckeyes venture out of conference to visit Princeton. Last season, OSU could manage only a pair of ties versus the Tigers. If Nate Handrahan's team wants to remain in contention for a possible at-large bid down the road, it will need to do better in those games, as well as when it hosts RIT in December. I've only seen the Buckeyes play in Minneapolis, and although those weren't their best games on the scoreboard, they did exhibit flashes of what has made them successful. While nobody is having a monster season, they do have eight players with double-digit points and a couple more on the brink. The goaltending of Chelsea Knapp has been strong outside of that one weekend, where it is tough to lay the blame on her. Plus, the team defense looked to be improved. Minnesota has just been a bad matchup for OSU, as it has a long losing streak versus the Gophers. Outside of that, the Buckeyes have had good results.
Maybe I'm too slow to change my mind, but I still think that over the course of the season, the team most likely to emerge as the other NCAA threat from the WCHA is North Dakota. It finally got Michelle Karvinen back in the lineup, and she made an immediate impact with a six-point series in Bemidji. It's likely not a coincidence that the production of both Lamoureux sisters spiked up as well over the weekend. Monique Lamoureux has been moved back to defense as well, and that seemed to take North Dakota up a couple notches a year ago. So far, so good this season, as UND has now won three straight after sweeping the Beavers. Who do you expect to emerge between North Dakota and Ohio State, or are you still in Wisconsin's corner?
Candace: That's a question that I think won't be settled until February. For now, I will stay in Wisconsin's corner, because the Badgers have one thing that North Dakota and Ohio State lack: belief. The Badgers are only one season removed from winning their second national championship in three years. North Dakota exited meekly from the both the WCHA and NCAA tournament last year. Prior to that, when the Sioux came up against the big guns in the WCHA, they always lost pretty convincingly when the stakes were high. The Buckeyes have never even made the NCAA tournament. Will either Ohio State and North Dakota play with the freedom they need to in order to be successful when the pressure ratchets up and a win means the difference between making the postseason and hitting the beach? I do think the WCHA tournament is shaping up to be far more interesting than it has been in previous years, and I wouldn't be completely surprised if someone other than Wisconsin faces Minnesota for all the marbles in the WCHA.
Speaking of, you were there Saturday when the Gophers set a new record for consecutive wins with 22. Amanda Kessel notched five points. Noora Räty was solid when she needed to be, which wasn't often. Coach Brad Frost downplayed any talk of a perfect season, but some of the Gophers' players, including Megan Bozek, seemed open to the possibility. A month ago, you said you expected someone would beat the Gophers this year; do you still feel that way, especially of a team as balanced as Minnesota, which has outscored its opponents 84-8 this year?
Arlan: Yes. Minnesota was very dominant in 2004-05. So was Wisconsin in 2006-07. Each team lost, with the former losing twice. It's hockey; a team can play well and still lose. The last time the Gophers lost, in overtime at home to North Dakota in February, I thought they played well. But on a day where the opposing goaltender is on her game and her team gets a bounce or a strange call or two, a winning streak can end just like that. There's 20 more chances for that to happen just in the regular season. When it does, I'd expect a low-scoring game. The Gophers haven't allowed more than two goals in any of the 22 games in the streak, so I'm not expecting a 7-6 score to suddenly pop up.
The next team to have the chance to break the string is New Hampshire, and the Wildcats have already proven to be giant killers on home ice within Hockey East, knocking off BC and BU. The coaches in that circuit said before the season that they thought Hockey East had more parity top to bottom than the other leagues, and so far, they may be right.
One constant in that league over the past couple of years seems to be that Northeastern can't beat BC. The Huskies have come close and did manage a couple ties last year, but the Eagles apparently have their number. Haley Skarupa looks to have taken over the role of complement to Alex Carpenter that Emily Field held last season. BC looks to have more ways to score than it has for a number of years. But I think the games between the Eagles and Huskies demonstrated that the key for both teams won't be what they can do offensively. Each had trouble during the weekend games letting opponents get to rebounds or park in open ice in front. Both are top 10 teams, but neither is in the top 10 in scoring defense. Neither is BU, for that matter, but the Terriers were able to shut down Harvard in winning, 2-1. Coach Dave Flint also lamented the slow start by the Huskies on Friday night when they dug a 4-0 hole against the Eagles. Is a pecking order for the top three in HEA starting to materialize, or will it be like last season when it fluctuated from week to week?
Candace: I think there's a pretty clear pecking order in Hockey East actually. I don't even necessarily think it's top three, but top two, because Northeastern hasn't demonstrated that it can beat either Boston College or Boston University. So, just like on the men's side, it's the Eagles and Terriers at the top. BC swept Northeastern last weekend, and prior to that, dominated Providence. Yes, they have a lone loss to New Hampshire, as well as a loss and tie against BU, but really, I don't expect anyone in the Hockey East second tier to challenge the Eagles, or the Terriers, for that matter. You mentioned the loss to New Hampshire two weeks ago, but the Terriers were without Marie-Philip Poulin, and it seems increasingly that as Poulin goes, so go the Terriers. I expect BC and BU to be battling for the Hockey East prize at the end of the season, with Northeastern, Providence, and perhaps Maine and New Hampshire all looking up at those top two.
Speaking of the Wildcats, that team is driving me bonkers in our picks race, though I did correctly pick their win on the road at Maine. The Wildcats have had some impressive wins in beating BC and BU, as well as their 5-2 victory over Quinnipiac last night, but also some head-scratching losses, such as getting swept by St. Lawrence. The Wildcats' schedule doesn't get any easier, as they host Minnesota this weekend, then have a home-and-home with Northeastern before ending 2012 with games against BC and Harvard. What are we to make of New Hampshire? It wasn't that long ago that you expected to see the Wildcats in the Frozen Four; now it'd be a surprise if they made the semis of the Hockey East tournament, although if Providence and/or Maine have a let down, it could happen this season.
Arlan:  Your top of Hockey East analysis sounds reasonable, except that is roughly what we thought last season. Yet somehow Northeastern emerged with the regular season title as well as the Beanpot. The Huskies don't go away, while BC reminds me a little of the hare from a fable involving a tortoise. The Eagles don't seem to be able to handle prosperity in the standings, and sometimes even within games.
I'd disagree that St. Lawrence's sweep of New Hampshire was a head-scratcher. One team finished last season with 10 wins, the other with 10 losses. The Saints haven't quite been at the same level this year, and UNH hints at improvement, but that is considerable ground to make up. Recruiting in Durham took a dip for a couple seasons, and if players like Kacey Bellamy and Kelly Paton are graduating but not being replaced, it shows up in the standings. I don't know whether the current UNH roster has people of that caliber, although freshman defenseman Alexis Crossley, the team leader in goals, has star potential. The depth is much improved, as Brian McCloskey has more hockey players from which to choose at every position. As for the tough schedule, maybe that's not such a bad thing. The Wildcats have won two out of three against the top 10, while they are just 3-6-1 against everyone else.
You mentioned Maine as being one of the teams that will be looking up at the Boston teams, but the early returns place Vermont closer to the race than the Black Bears. Maria Lewis felt that her senior class of last season was under-appreciated. She mentioned Danielle Ward in particular as a player whose contributions the team really missed. Ward was one of three forwards that Maine graduated out of its top quartet of scorers. A couple of veterans who had played a lot of games on the blue line are gone as well, and one can definitely spot those holes when watching the Black Bears play. Brittany Ott seems to have found her form, so the gang from Orono should at least be more competitive going forward.
The Catamounts are showing positive signs under Jim Plumer. They only won four games last season, yet have three wins already with winnable series with Connecticut and Colgate as the only action scheduled before the second week of January. The team only recently started to get players back in the lineup, so do you think the light schedule offers Plumer a chance to work on some things in practice that were impossible when the team was down to just 11 skaters?
Candace: Yes, I think Vermont could surprise a few times. The Catamounts have already beat New Hampshire and Connecticut, and have recent ties with Northeastern and Providence. The win over Connecticut was convincing. Brittany Zuback has shown some improvement, and currently leads the squad in scoring, followed by a pair of sophomores, Klara Myren and Meghan Huertas. I think that the series against Connecticut and Colgate are both winnable. I don't think home ice is in the cards, but with the new format, the Catamounts are an automatic into the HEA playoffs, and with a little luck, could finish as high as fifth.
Another interesting result this past weekend was RIT sweeping Brown. I knew the Bears were offensively challenged, but only scoring a single goal in two games is definitely not promising for Brown's playoff aspirations. RIT meanwhile, has a better than .500 record, even if two of those wins are against Sacred Heart. What's your impression of those two squads? The overtime loss
last night to Syracuse hurts, but RIT is definitely in the mix in the CHA.
Arlan: Brown scored four goals against Colgate, the team with the worst scoring defense in the country, and only three goals in its other seven games combined. A team can fix many defensive shortcomings through teamwork and effort, but it is hard to light up the scoreboard when there is a shortage of scorers. Maybe the negativity surrounding the program during Digit Murphy's final months and the hiring of Amy Bourbeau late in the cycle impacted recruiting, but the Bears could really use a Kelly Babstock or Erin Ambrose type of player that can step in and make an immediate impact. For this season, it puts a lot of pressure on the goaltenders and the defense to be nearly perfect in the hopes of stealing a 1-0 or 2-1 win, and should the team fall behind, the comeback potential is minimal.
RIT may have motivation beyond the average team. In a way, the Tigers are representing D-III teams as a whole, and I'd guess that they want to show that they have a champion's heart. One disadvantage that they have against most of their opponents to date is that the veterans on other teams have faced tougher competition throughout their college careers. Over time, as RIT plays more games against foes such as North Dakota and Mercyhurst, that will even out. The Tigers have an edge over the other new programs, Lindenwood and Penn State, in that they didn't have to bring in more people than a typical-size recruiting class, so people already understand their roles and systems. What they lack are the elite players. Everybody is contributing, but those who could rack up a point a game or more in previous seasons aren't able to produce at that level versus this competition. RIT is already configured to be a solid D-I team. If the goal is to be a contender, and my understanding is that is the case, then it will require a couple of strong recruiting classes.
I definitely think that RIT is quite a bit ahead of the other two CHA additions. Penn State's record looks okay at 5-8-1, but three of those wins came over Sacred Heart as well, as did the most surprising loss. With series on the road at Mercyhurst and St. Lawrence to close out 2012, I doubt that the Nittany Lions will be this close to .500 again this season. PSU does seem to have some higher-end players. Rookie Shannon Yoxheimer and UConn transfer Taylor Gross both account for at least a point a game, but they have had those four games versus Sacred Heart. Another emigrant from Connecticut, goalie Nicole Paniccia, has held the Nittany Lions in games when they've been getting whipped on the shot clock, such as the tie with RIT where she stopped 59 of 61 shots. Penn State and Lindenwood should have an interesting battle over the remainder of the season to escape the CHA cellar.
Looking higher in the league, Robert Morris gets a weekend off after eight games of 10 straight on the road. I wonder if that was taking a toll when the Colonials were only able to tie Rensselaer in their series finale?
Candace: Possibly. Being on the road has to wear you down after a certain point. However, even though the Colonials have been winning, they haven't really racked up a lot of goals in most of their games. Most of the time, they are a two- or three-goal team. They've played three OT games in their first 10 games, at least in part because they don't have a lot of huge offensive threats. While Rebecca Vint seems to have avoided a sophomore slump so far, as her points-per-game is almost at the same level as last year, Thea Imbrogno is way down, from 1.16 to .7. I guess Kelsey Thomas has made up for it, as her production is up from .843 to 1.4, but it still feels like if the Colonials come against a really good goaltender, they are in trouble.
Let's end by talking about Cornell. The Big Red scored nine goals in each game of a sweep of Colgate last weekend. To the extent an 8-1 team can fly under the radar, they have, perhaps in part due to the loss early on to BU. Brianne Jenner is off to a strong start, averaging 2.28 points-per-game, and Jillian Saulnier is scoring a lot too. Those two will need to play well this weekend, as they travel to Dartmouth and Harvard, possibly the best games on tap for Thanksgiving. What do you think of Cornell so far?
Arlan: With regards to Imbrogno's production being down, that may be due in part to the graduation of Brianna Delaney and the line shuffling that ensued. Imbrogno played with Vint a lot last season, and so far this year, Vint has centered Cobina Delaney and Thomas, leaving Imbrogno to try to build chemistry elsewhere.
My thoughts are similar to yours on Cornell. The loss to BU was tough to process, in part because the Terriers have been kind of up and down themselves. A lot of what we discuss reminds me of the game show "Concentration" that was on TV when I was a kid, where pieces of a rebus puzzle were slowly revealed and one had to try to solve it based on what was currently revealed. We get bits and pieces; did a given result really indicate what we think it did, or were we looking at something the wrong way? The Big Red are younger this season, but look to have a lot of talent. The rookies have fit right in and are producing on a regular basis. Obviously the team misses Rebecca Johnston, but they still have Jenner to provide the big scoring threat, although over half of her points came versus Colgate. Lauren Slebodnick hasn't played since she was injured, but Katelyn Pippy has been guarding the net fine in her stead. We'll have to see how that situation plays out over the crucial four-game stretch that starts with Dartmouth on Friday. Laura Fortino and Lauriane Rougeau have played in the Frozen Four in each of their first three seasons, and I like their chances to go four for four. Few teams have a duo of the caliber of Jenner and Saulnier, and fewer yet have a blue-line contingent on par with the Big Red.
Dartmouth has been able to cause Cornell problems in the past, so that should prove interesting. Another game of note has BC facing Quinnipiac as a guest participant in the Nutmeg Classic at Yale; the Eagles must like hardware, and if they aren't battling it out with the other Boston schools, they are disguising themselves as a Connecticut team. They wound up with a last-minute defeat at the hands of the Bobcats last year, so that game holds some allure. The Eagles definitely do their part to ensure that fans hang around until the final buzzer.
With that, I'll wish you and our readers a safe Thanksgiving with plenty of eats and hockey.
Candace: I concur with that. Bring on the holiday!