When Jim Scherr resigned as NCHC commissioner in May, names quickly starting getting bandied about as replacements.
Some were long shots; some were realistic possibilities.
On Monday, the start-up league announced that longtime Miami athletics administrator Josh Fenton will be Scherr's successor.
"It's a true honor and a privilege and frankly, I'm humbled by the opportunity to be able to lead the National Collegiate Hockey Conference in its inaugural season," Fenton said on a media conference call Monday. "The groundwork that was laid by Jim Scherr, [business operations manager] Verna [Toller] and [director of hockey operations] Joe [Novak] has been tremendous to this point and I feel like I'm coming into a situation where we're going to be very successful going through our inaugural season."
Fenton most recently served as the senior associate athletic director for finance and administration at Miami, where he was responsible for assessment and management of the athletic department's $21 million annual budget and was the sport administrator for men's hockey, football, field hockey and men's golf.
He became a volunteer assistant coach with the RedHawks in 2002 and later was the program's first director of hockey operations. He also helped bring an NCAA regional to Cincinnati next spring and negotiated Miami's involvement in the Hockey City Classic at Soldier Field in Chicago last season.
Fenton said he's always had a passion for hockey, and as one of the driving forces to help see the NCHC come to fruition, he admitted the idea of taking more of a leadership role crept into his brain a time or two.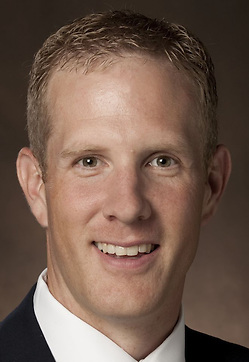 "I've worked in the collegiate athletic business now for 11 years [all at Miami] and I will tell you that when Miami went through the process of being a founding member of this conference, it certainly came to the forefront of my mind as a potential opportunity," Fenton said.
"I have a passion, a love for the game of hockey. I grew up in the state of Minnesota and played the game all through high school and it's in my blood, if you will. I don't know if it was something that was always at the forefront of my mind, but as we went through this process in developing what I think will be the finest league in college hockey, it certainly became more of a thought and something that my wife, Lindsay, and I talked about on various occasions."
Taking a new position can be stressful, obviously, and Fenton realizes that being in such a high-profile job may have pitfalls along the way.
He said he's reached out to several commissioners or former commissioners, most notably ex-CCHA commissioner and current Michigan State coach Tom Anastos, to gauge what the life as a college hockey commissioner entails.
"I think any time you step into an opportunity or a role, whatever it may be, the best thing you can do is talk to people who have been in those roles in the past and I have a good advocate and an ally in Tom Anastos," Fenton said. "He and I have had some brief conversations, certainly before this process finalized itself, but he is somebody I can see myself reaching out to and, frankly, already have. It's interesting that one of the first text messages I got when this was released was from Tom Anastos, so I appreciate his support and look forward to speaking with him in the future."
He doesn't officially take over as commissioner until July 15, but Fenton alluded to projects and items that need to get squared away and built upon immediately, even before he makes the move to Colorado Springs.
"For me, it's all about relationships with our key stakeholders — institutions and their presidents and chancellors and athletic directors," Fenton said. "I have great relationships with all the athletic directors in the conference already. For head coaches, I feel like I am understanding what their needs and desires are. We've also reached out to our faculty athletic representatives to understand from a student-athlete welfare perspective the things we need to certainly balance.
"We are here to serve the member institutions and we have eight great member institutions that we will work with each and every day. Beyond that, the people at the Target Center [in Minneapolis] have put a lot of time, effort and energy into promoting, supporting, creating and building what we hope will be the greatest college hockey championship come next spring."
Fenton has one priority that will stay at the top of his agenda for the foreseeable future: pushing the NCHC to the top of the college hockey mountain.
"A lot of my focus will be in and around 'how do we create the best possible championship at the end of the year?'" Fenton said. "From a revenue-generation standpoint, that will certainly be the bread and butter as to how the league will operate from a campus site format in the playoffs to the championship at the Target Center, so whether it's selling tickets or sponsorships, what are we doing from a revenue side of things? From a staffing perspective, we're looking for one more full-time person, so I will be engaging people in that conversation shortly here in the future."
Needless to say, Fenton will be one busy individual during the 2013-14 season.
"But it will all be fun," Fenton said. "All celebratory work."