John Gilmour will be headed back to Providence this fall with perhaps a little something more to show. That tends to happen sometimes after you get drafted by an NHL club.
The Montreal-born blueliner contributed four goals and 13 points to the Friars' cause as a freshman last season, helping them to their first winning season (17-14-7) in seven years, along with their second straight berth in the Hockey East semifinals at TD Garden in Boston.
Though he wasn't ranked by NHL Central Scouting, Gilmour said he did speak to some NHL teams throughout last season before ultimately hearing his name called at the 2013 NHL Entry Draft on June 30.
Gilmour was taken in the seventh round, 198th overall, by the Calgary Flames, although he wasn't at the Prudential Center in Newark, N.J., in person that particular day.
"I was following online most of the day, not too heavily," said Gilmour, 20, in July from Canada.
He said an advisor called him to tell Gilmour that he had indeed been selected, just 11 picks from the end of the draft.
"I refreshed [the selections] online, and there it was," Gilmour said. "I had talked to teams throughout the year and I didn't know if it would happen, but Calgary picked me and it was great."
Being a Canadian boy drafted by a Canadian team made the whole experience even more special.
"Yeah, they have a strong love for hockey in Canada," he said. "[Some] cities are big hubs for hockey, and Calgary is one of them, and it's really exciting."
Gilmour isn't the only Calgary draft choice currently playing at Providence. His Friars teammates include forward Mark Jankowski and goaltender Jon Gillies, who were both tabbed by the Flames in 2012. Keeping a close eye on that duo last year also brought Gilmour to Calgary's attention, according to John Weisbrod, the Flames' assistant general manager for player personnel.
"I saw him [Gilmour] a lot at Providence, with Gillies and Jankowski," Weisbrod, a former Harvard hockey letterman and 1989 national champion, said in mid-August. "Every time I saw him, I was really impressed by his brain and his headiness. … He was a freshman, and he was used in all the tough situations and played a big role."
Gilmour saw regular duty at Providence last season, appearing in all 38 games. The 5-foot-11, 180-pound defenseman got off to a fast start with the Friars last fall, recording two assists against Sacred Heart in his collegiate debut.
"He played in every game and was in the top four [defensemen] every game," Providence coach Nate Leaman said in early August. "He played in all situations, and brought a good stick and mobility and vision. He has good offensive skill, and he brought a lot to the table."
"College hockey is definitely what I wanted to do," Gilmour said. "I knew it was an opportunity I couldn't pass up."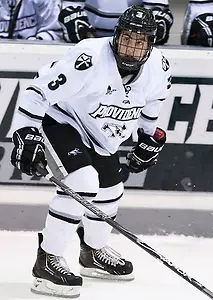 He looked at other Hockey East schools, but once he met the coaching staff at Providence and saw the rink renovation plans, he said he believed it was a young program where he could possibly make an impact, and settled on the storied Rhode Island school.
Gilmour notched his first career goal on Oct. 20 at Miami and lit the lamp again in the next game against Maine at Providence's Schneider Arena. He later had a two-assist performance on March 2 in a 5-1 win at Boston College.
Gilmour eventually tied for the team lead among defensemen in points, and was knotted for seventh overall on the entire roster. He also led all Providence blueliners in goals.
"Defensively, his feet are very good," said Leaman, who noted that Gilmour is adept at closing the gap with opposing forwards and at defending down low near his own net. "All around, he has to improve his strength a little bit and get comfortable in the offensive side of the game."
The offensive potential is there. Prior to enrolling at Providence, Gilmour played in 2011-12 with the USHL's Cedar Rapids Roughriders, with whom he collected 10 goals and 14 assists in 58 outings.
"He certainly has a very good skill package and a good head for the game," Leaman said. "His hockey IQ is still expanding, and he thinks the game well."
Weisbrod seconded that observation.
"I'm a big believer in hockey sense," he said. "We try to draft guys who have a good feel for the game, and the more I watched him, the more I felt he had that."
He also lauded Gilmour's mobility, his ability in his own end of the ice and his play away from the puck.
Gilmour said that after getting a taste of winning last year, the Friars are determined to keep that particular train motoring, back to TD Garden and beyond.
"We want to win as much as we possibly can," he said. "We know what kind of work ethic we need, and we're going to go with it."
Not that he and his teammates expect the rest of Hockey East, including newcomer Notre Dame, to just let Providence run roughshod over them all.
"Winning is harder than ever," admitted Gilmour, who academically is leaning toward majoring in finance. "It's a short schedule, and we know how hard we have to work now. We've seen the success we could have and more, and that's what we want to strive for."
Leaman said that he doesn't have a lot of worries about Gilmour perhaps suddenly trying to do too much in his sophomore season, in an attempt to back up his draft pick.
"He's a very level-headed, mature individual," Leaman said. "We just want him to improve his strength and keep feeling comfortable."
Gilmour said he feels he has improvements to make across the board in his development, including increasing his size, strength and skill.
"It's mostly strength," he said. "I'm [also] working on my skills every day, and that'll help me improve and get to the next level."
"He'll keep learning, and John has a very high upside," Leaman said. "We think very highly of him — and so does Calgary, for drafting a 5-foot-11 defenseman in college."
Weisbrod added that Gilmour may be a little undersized, but that his hockey sense and skill set balance out the present physical part of the equation. The Flames also were pleased to see him still available so late in the draft.
"He seemed like a good pick to us, and we were happy to get him," Weisbrod said.
So were the Friars, with more dividends to possibly be paid at Providence.