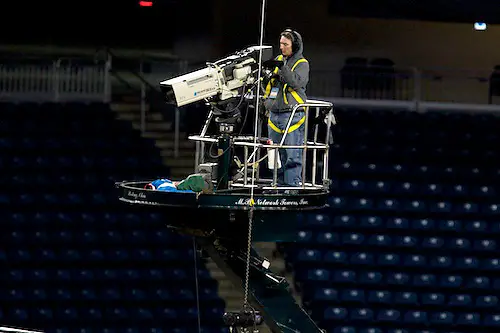 One of the great promises of Big Ten hockey was the additional national exposure the conference could bring in the form of a national television schedule.
We've seen the commitment made for the conference's debut season, and it has some impressive elements.
The Big Ten and its six teams rolled out the core of their 2013-14 TV schedules on Monday and advertised some big numbers:
• At least 70 games overall.
• 34 games on either the Big Ten Network, ESPNU or ESPNews.
• 36 games on Fox Sports regional networks, with more on local channels in the home markets.
The addition of the ESPN family of networks stood out to me in that it has been a few years since we've seen college hockey out of Bristol before the start of the NCAA tournament.
An ESPN spokesperson said the seven Big Ten games on either ESPNU or ESPNews came as part of the network's most recent rights extension with the conference.
We've heard complaints over the years that ESPN doesn't show up on the college hockey scene until the last 15 games of the season, and while seven games isn't a whole lot out of the 1,000 or so that get played in the regular season, it's a start.
It has been pointed out by Andy Johnson at Bucky's 5th Quarter that Wisconsin athletic director Barry Alvarez once claimed BTN would show upwards of 40 games a season. Twenty-seven doesn't quite reach that number, so I'll be interested to hear why the actual figure didn't reach the projected one.
For the Big Ten as a whole, will the TV schedule help in winning over those soured by the teams' departure from the WCHA and the CCHA? Only time will tell.
With the Big Ten schedules, those for NCHC teams (the league has a deal with CBS Sports Network) and other schools that have publicized TV schedules, we have 162 games in our composite TV schedule for the 2013-14 season. There will be more to come from Hockey East, which announces its TV schedule at its media day on Sept. 24, and when NBC Sports Network reveals its plans.
Click here to see our TV schedule, and send email here to let us know of other TV schedules we can add.