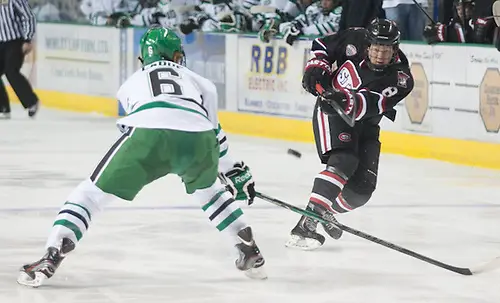 Here's our weekly look at big events and big issues around Division I men's college hockey.
Jim: It didn't take too many weeks but we finally are at the point that Cornell's perfect team of 1969-70 can breathe easy. Granted, there are a number of teams that haven't lost yet but no one will post a perfect slate.
Of all the teams, though, ties or no ties, the one that has caught my eye to this point is St. Cloud State. At 5-0-1, the Huskies just swept North Dakota on the road. Coming off a Frozen Four season, are the Huskies a team to watch?
Todd: If they weren't heading into last weekend's series, they were when they left Grand Forks. We always look at the pieces a team loses in the offseason — and there were some big ones with the Huskies in Hobey Baker Award winner Drew LeBlanc and Ben Hanowski — but sometimes we forget about what a team returns.
Nic Dowd, Jonny Brodzinski and Co. know how to win and know how to put up points, so I see the potential for St. Cloud State to be back in the Frozen Four mix again this season.
The Huskies are up to third in this week's USCHO.com Division I Men's Poll but have another top-10 matchup ahead when they host No. 7 Miami on Friday and Saturday. St. Cloud State could put itself in a great position for a run at first place with another pair of wins.
Jim: It's pretty impressive that the stable for St. Cloud is hardly barren and this team seems poised for another title run. This weekend will be another great test for the Huskies in a very tough NCHC.
Another Frozen Four team that many thought had massive losses but is off to a fast start is Quinnipiac. After the Bobcats lost their opener, they have run off eight straight wins and sit at 8-1. Yes, that team lost 11 players, but you also have to look at the returners, similar to St. Cloud.
Quinnipiac still has the brothers Jones (Kellen and Connor), Matthew Peca and Jordan Samuels-Thomas to pace the offense. Add in rookie Sam Anas, who leads the team in scoring with 13 points in nine games, and you have to believe this Bobcats team is ready for another run toward the Frozen Four.
Combine that with St. Cloud, and part of me wonders whether we sometimes make too big of a deal of teams losing large and high-impact senior classes.
Todd: We probably generalize too much and make too much out of the number of goals and points lost without analyzing who's there to fill in those losses. With Quinnipiac, you saw another Hobey Baker Award finalist leave in goaltender Eric Hartzell and you pencil that position in as a potential weak spot. Then Michael Garteig puts up a 1.56 GAA in his first nine games and you start re-examining things.
Speaking of re-examining things, how many people are going to be taking a look at what's going on at North Dakota after its pair of home losses to St. Cloud State? The early schedule is pretty tough on UND, which is 2-3-1 heading into a series at Nebraska-Omaha. It then plays series against No. 20 Minnesota-Duluth, at No. 17 Boston University and against St. Lawrence before November is over. I know better than to make a big deal out of the way North Dakota plays in the first half of a season, but I'm sure there are interested onlookers there.
Jim: One very definable result of restructuring is the strong nonleague schedules that a lot of schools are putting together. You reference North Dakota and, if the team struggles, it could have eight or nine losses before this month is over.
New Hampshire is another school that seems to have a murder's row of opponents to begin. Clarkson, Minnesota, Michigan, Rensselaer and Massachusetts-Lowell leave the Wildcats at 1-5-1. It does seem that the top teams in the NCHC, Big Ten and Hockey East scheduled a large number of games against one another. And that makes me wonder what will happen in the national picture come March when the powers will have not only beaten up each other in league play but also struggled against difficult nonleague schedules.
Todd: Well, they all chose to move to their new conferences knowing that was going to be a possibility, so I guess I'm not going to feel too much sympathy if that's the case. But it's all speculation now anyway, and we'll have to see how things actually shake out in March.
It's a little odd to think some teams are already 25 percent done with their regular season schedule, but that's the case.
Jim: Looking ahead to this week, what games will you be watching out west? Out east, the most noticeable matchup is between two of college hockey's best rivals, Boston College and Boston University. The Eagles will travel down Commonwealth Avenue to face the Terriers on Friday night.
In ECAC Hockey, a Brown squad that many have high hopes for will travel to white-hot Quinnipiac on Friday, one night before the Bobcats host a rematch of last year's national title game, welcoming Yale on Saturday.
Todd: I mentioned the St. Cloud State-Miami series earlier, but that's not the only series between top-10 teams on this weekend's schedule. No. 4 Notre Dame hosts No. 1 Minnesota in what, a week ago, would have been a 1-vs.-2 matchup. But the Irish lost their Hockey East opener to Vermont last Friday and fell two spots in the rankings. Still, it has the makings of a landmark series.