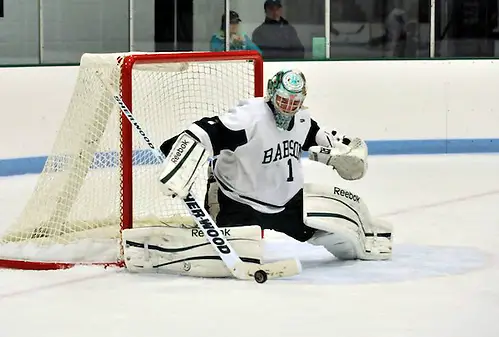 Playoff implications were on the line over the weekend as conferences hit the last weekend or two of conference action.
Teams on the cusp of missing playoffs battled to overtime ties and wins, while teams at the top were nearly upset in multiple games.
ECAC East
Friday night was the night where ECAC East fans were on the edges of their seats.
Three games went into overtime, with Babson getting a 2-1 win over the University of New England and St. Michael's getting the 3-2 win overtime victory against Skidmore. Norwich and Castleton ended in a 1-1 tie. Southern Maine dropped a game to Massachusetts-Boston 3-2 in a back-and-forth affair.
Saturday night saw two shutouts as Babson's Jamie Murray made 27 saves in a 3-0 victory over Southern Maine. Norwich's Chris Czarnota earned his third shutout of the season in a 3-0 win over Skidmore.
ECAC Northeast
A three-goal third period helped last-place Becker battle Johnson and Wales to a 4-4 overtime tie Saturday evening, marking it the second four-goal performance in a week from the Hawks.
ECAC West
First-place Utica swept Neumann over the weekend with 3-2 and 4-2 wins. Freshman forward Luc Boby scored three goals for the Pioneers, which included the game-winning goal in each contest.
MASCAC
Thursday saw a battle of the top of the conference as Salem State tied Plymouth State 3-3. Salem went on to hand Westfield State a 5-1 loss on Saturday night, while Plymouth State skated to a 2-2 overtime tie with Fitchburg State.
MIAC
St. Thomas moved to the top spot and slipped past Gustavus Adolphus in the MIAC standings with a 5-2 victory over Bethel.
The series to watch next weekend will the home-and-home series between the two top MIAC schools as the Tommies and Gusties battle it out.
NCHA
For the first time this season, St. Norbert has taken sole possession of first place in the standings after a sweep of St. Scholastica.
Lawrence gave Adrian all they had in their weekend series. On Friday night, the Vikings battled the Bulldogs to a 2-2 overtime tie. On Saturday night, the Bulldogs found themselves down 3-0 after the first period, but scored five unanswered goals in the second and third periods to down Lawrence 5-3.
NESCAC
The standings are tight going into the last two weekends of play for the NESCAC. Amherst and Trinity are tied for the top spot in the standings with identical 11-3-0 conference records. Williams is right behind them, sitting in third with 22 points. With two weekends of the regular season left, it'll be a photo finish to see who gets the regular-season title.
SUNYAC
Potsdam is relentless while winding down the season. The Bears battled with Buffalo State to a 1-1 tie on Friday and then took Fredonia to overtime that ended in a 4-4 tie the next night. Jon Hall made 32 saves in Friday's game while stopping 47 shots in Saturday's contest.
WIAC
The race is tight going into the last few weekends of play for the WIAC.
Defending national champion Wisconsin-Eau Claire swept Wisconsin-Superior with 3-0 and 6-2 scores.
Third-place Wisconsin-Stevens Point, just two points out of first, split a weekend series with Wisconsin-Stout, winning Friday's contest 6-2 and dropping Saturday's 4-2.