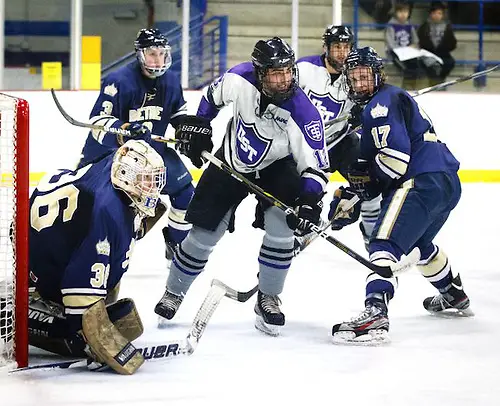 It's now or never.
Yes, every win means something this time of year, especially in Division III.
Our expert columnists pick this weekend's matchups, as well as some midweek games next week, as some teams look to clinch playoff berths and others will be on the outside looking in.
ECAC East – Tim Costello
It is all about being in the moment and focusing on the task at hand.
A solid 4-1-0 (.800) pick week has things looking up, but there is just one week remaining in the regular season. That brought up the overall season to 36-19-5 (.642), which is still short of my 70 percent target.
I'm picking a couple of extra games with the hope a clean slate gets me to the goal for the season.
Here are this week's picks:
Friday, Feb. 14
Massachusetts-Boston @ St. Michael's
The Beacons are in a flat-out dogfight to finish at or above the No. 3 seed, so there can't be any looking past a game St. Mike's team knowing Norwich awaits on Saturday. Coach Peter Belisle won't let the team think about much other than the two points they need from a win in Winooski. Massachusetts-Boston 5-2.
New England College @ University of New England
The Pilgrims need to be careful and not underestimate the Nor'easters, who have been very tough to play on their home rink. A top-four playoff seed is within reach for the Pilgrims, but they will need to continue to take points. This one is very close and Sebastian Anderson outduels Colby Drost between the pipes. New England College 3-1.
Babson @ Norwich
The first matchup at Frozen Fenway went to the Cadets in a hard-fought and very spirited 1-0 win. Babson is in the unique position to capture the conference top seed and this game would solidify that position with a win where the Beavers have a solid track record of success. Babson 2-1.
St. Anselm @ Southern Maine
The game at St. A's ended in a 3-3 overtime draw, so what to expect in this one in Maine? The difference-maker could be goalie Dylan Wells for the Huskies, who did not play in the first meeting between the two teams. Goal total is the same, but favors the home team by an added empty-netter. Southern Maine 4-2.
Saturday, Feb. 15
Skidmore @ Castleton
Alright, before picking the score, understand this one is going to overtime. If Skidmore is one of the combatants, that outcome is almost guaranteed. Neither team has found that level of consistency that coaches aspire their teams reach entering the playoff season. Still, a couple of weeks to find the 60-minute magic and this one goes to the home team. Castleton 4-3.
Massachusetts-Boston @ Norwich
The Cadets may be in a battle to maintain their traditional top position, but have no interest in dropping down to third place against an opponent that beat them earlier after the emotional win over Babson. This one will be tight, playoff-style hockey, but expect the Cadets to find a way to get it done on home ice. Norwich 3-2.
New England College @ Southern Maine
The Pilgrims could still be in the hunt for the No. 3 seed and that should motivate them enough to eke this one out against a Huskies team that really wants to get something going before the conference tournament. It is a bigger incentive for the visitors who take two points.
New England College 4-3.
Lots of drama still left in the regular season in the final week – drop the puck!
ECAC Northeast – Nathan Fournier
Friday, Feb. 14
Nichols at Salve Regina
The lone game on Valentine's Day in the ECAC Northeast. The last time these two teams met, Nichols doubled up Salve Regina 8-4. The two teams are going opposite directions in the second half of the year. Nichols has been dominant all year long, while Salve Regina has been in a tailspin in the second half. I will take the Bison in a 5-3 contest.
Saturday, Feb. 15
Wentworth at Becker
Wentworth has been on a roll lately, winning five out of the last six games. They can't take a day off against Becker as the Hawks have played the top teams in the conference tough the last few games. They beat Nichols 4-1 on Feb. 1 and tied Johnson and Wales 4-4 on Feb. 8. I expect them to make this game close, but Wentworth pulls it out in the end, 4-2.
Curry at Suffolk
This could be a battle for positioning for the final conference tournament spot. In the first meeting, Curry defeated Suffolk 4-1. I expect this to be a much tighter game as both teams try to get one step closer to the conference tournament. I will take Curry in a 4-3 contest.
Johnson and Wales at Western New England
Johnson and Wales has hit a bump in the road the last few weeks. This game could get them back on track heading to the conference tournament. They had no problem in the first meeting against the Golden Bears in the 6-1 victory on Jan. 25. Despite the tough times for Western New England, I expect them to play a tough game, but I see Johnson and Wales winning 5-4.
Monday, Feb. 17
Worcester State at Becker
This a nonconference matchup that was postponed on Jan. 21. This should be a warmup game for both teams as they prepare for the final conference games. I will take Becker in this contest as they have been playing well.
Wednesday, Feb. 19
Johnson and Wales at Nichols
This should be a very good contest between the two most consistent teams all year in the conference. It will be a showdown of the top two goaltenders in the conference in Joey Ballmer for Johnson and Wales and Alex Larson of Nichols. Both teams have potent offenses, but I believe it will be a low-scoring contest. I will take Nichols in a 3-2 game.
Western New England at Salve Regina
In a battle between two teams that showed so much promise to start the season, I think both teams will play with nothing to lose, so it should be a wide-open game offensively. Salve Regina won in the first meeting, but I will take Western New England in a 6-5 contest.
Becker at Suffolk
This a game where Becker can really play spoiler to Suffolk's conference tournament chances. This should be a very good game. Suffolk suffered a loss in its last game this year to miss the conference tournament. While this isn't their last game, it's a must-win and I think their experience last year will help them. The Rams pull the victory out in a 4-2 contest.
Thursday, Feb. 20
Wentworth at Curry
If you are fighting for a conference tournament berth, Wentworth isn't the team you want to be playing at this moment. That's what Curry faces and a win would do them wonders. I think this will be a perfect example of a game being close for the first two periods, but Wentworth pulls away in the third for a 6-3 victory.
ECAC West – Dan Hickling
Friday, Feb. 14
Hobart (11-6-4, 5-3-3) @ Neumann (7-10-4, 2-7-2) – Hobart 5, Neumann 2
Hobart has hopes of catching up to league leaders Utica and Elmira and with two games against last-place Neumann, they should be able to grab the points. For the Knights, it's been a long, difficult season.
Saturday, Feb. 15
Elmira (13-8-0, 8-3-0) @ Manhattanville (7-10-4, 2-7-2) – Elmira 4 Manhattanville 1
The question is which of Elmira's "Super Sophs" will step up this time? The answer is probably at least one too many for the Valiants to handle.
MASCAC – Nathan Fournier
Saturday, Feb. 15
Worcester State at Framingham State
If Framingham State wants to be in the top four in the final MASCAC standings, they have an opportunity against Worcester State. They beat them the last time the two teams met, but the first game ended a draw. With a lot on the line for both teams, I expect and exciting game, but I see Framingham State coming out on top 5-3.
Massachusetts-Dartmouth at Salem State
This is a crucial two points for Salem State if they want to stay atop of the MASCAC standings. The Corsairs have been turning things around lately, but I think it's too little, too late to defend their conference tournament crown. Salem State has been dominate at home and expect them to put another 'W' up in a 6-3 game.
Fitchburg State at Westfield State
Probably the game of the weekend in terms of two teams getting into the conference tournament. It's the rubber game of the three-game series in the regular season. Both team have won a game on home ice and I expect more the same. I will take Westfield State in a 7-5 game
Monday, Feb. 17
Worcester State at Becker
This a nonconference matchup that was postponed on Jan. 21. This should be a warmup game for both teams as they prepare for the final conference games. I will take Becker in this contest as they have been playing well.
Thursday, Feb. 20
Framingham State at Fitchburg State
Fitchburg State has given Framingham State fits this season, defeating the Rams 5-2 and 8-2 this season. I see this one resembling the 5-2 game, but I think it will closer than that. Both teams have a lot on line in terms of the conference tournament. I will take Fitchburg State with the clean sweep of the season series in a 4-3 game.
Massachusetts-Dartmouth at Westfield State
This is no easy game for the Owls as UMass-Dartmouth has been a thorn in their sides this season. The Corsairs lost a heartbreaker of a game in the first half of the year 3-2, but came back on Jan. 25 with a 6-3 win. This should be another good matchup and I think UMass-Dartmouth will pull the upset 2-1.
Plymouth State at Worcester State
The Panthers of Plymouth State have been playing very well of late and have asserted themselves as one of the teams to beat when the postseason come around. Worcester State earned a 4-3 overtime win the last time these two teams met. Plymouth State had freshman Max Motew in net. I don't believe that will be the case this time around. They will go with Gordon Ceasar or Tyler Ingerson. I will take Plymouth State in a 4-1 game.
MIAC/WIAC – Brian Lester
We are down to the final two weeks and several of the matchups become a little more important as teams battle for positioning in the conference tournament and chase down a league championship.
In the MIAC, St. Thomas and Gustavus Adolphus will play the biggest series of the weekend. The Tommies lead the Gusties by a point in the standings.
In the WIAC, Wisconsin-Eau Claire and Wisconsin-Stevens Point will duke it out in a pivotal weekend series between two nationally-ranked opponents.
So without further delay, here are my picks for the weekend:
MIAC
St. Thomas vs. Gustavus Adolphus
This is the series that will all but determine the regular-season MIAC champion.
The teams met once at the beginning of the year, with St. Thomas earning a 5-3 win in the MIAC Showcase.
St. Thomas is on a roll, having won its last six games, and defense has been a key to its success, especially with Drew Fielding playing so well in goal. Fielding owns a 1.43 goals-against average and has allowed only 29 goals on the season.
Alex Altenbernd and Tyler Gubb lead the offense with nine and seven goals, respectively.
Gustavus has been just as tough on defense and is unbeaten in its last six games. Five of those games ended with a win.
John McClean has a 2.01 goals-against average and has racked up 452 saves. He has given up 39 goals on the year.
Corey Leivermann has fueled the offensive success of the Gusties, tallying 13 goals and 10 assists, and Adam Smyth has come through with 11 goals and eight assists.
But this series comes down to defense and it wouldn't surprise me if one of the games ends in a tie. St. Thomas 3-1, Gustavus 3-2.
St. Mary's vs. Concordia (Minn.)
Concordia could use a couple of wins this weekend as it looks to maintain its hold on fourth place.
Concordia has played some close games lately, with three of its last six ending in ties, but this is a weekend where it needs to find a way to steal both games.
Caleb Suderman continues his stellar season as he has racked up 15 goals and 11 assists, while Andrew Deters has come through with seven goals and 18 assists. The Cobbers have racked up 74 goals on the season and its offense will need to be clicking this weekend.
Chris Neamonitis has a 2.43 goals-against average and has made 532 saves.
St. Mary's will come in looking for an upset as the Cardinals sit in seventh in the standings.
The Cardinals would need a heck of a finish to the year, and some help, to climb back into the playoff picture, but they are capable of playing spoiler.
St. Mary's recently ended a six-game losing streak and only time will tell if that momentum sticks with it. The Cardinals have struggled to be productive offensively, scoring only 46 goals, and that will have to change to be successful against Concordia. My thinking is the Cobbers sweep the series. Concordia 5-3, 4-2.
WIAC
Wisconsin-Eau Claire vs. Wisconsin-Stevens Point
Talk about a huge series. The Blugolds come in ranked third in the country and Stevens Point is fourth. It's a game worthy of the NCAA tournament one month early.
Eau Claire lost earlier in the season to Stevens Point, falling 4-1, but the Blugolds have been rolling along lately, winning four consecutive games.
Eau Claire has scored 81 goals, but in a matchup like this, defense is vital to success. Tyler Green has been stellar in goal, making 418 saves. He has a 1.84 goals-against average. If Green continues his stellar play, the Blugolds are going to be in great shape.
But the Pointers are equally tough. They have won three of their last four and have been an offensive machine, scoring 107 goals on the year, including 17 by Garrett Ladd. Scott Henegar has tallied 12 goals, Kyle Sharkey has scored 10 and Nick D'Avolio has come through with 10 goals as well.
That offensive attack will be tough to slow down, and it doesn't hurt that the Pointers have Brandon Jaeger in goal. Jaeger owns a 2.00 goals-against average. I expect this series to end in a split. Eau Claire 3-2, Stevens Point 4-3.
Wisconsin-Stout vs. Wisconsin-River Falls
Stout recently ended a four-game losing streak with a win over Stevens Point and now a series with another nationally-ranked opponent awaits as the Blue Devils battle the Falcons.
Chase Hollander has thrived in goal lately and will need to be ready to go if called upon. The Blue Devils also have Corey Koop between the pipes and he is capable of getting the job done as well.
Kevin O'Donnell leads the Blue Devils with 10 goals and nine assists and he and the rest of the offense will need to be effective be successful against the Falcons.
River Falls has been up and down, but is still in the mix for a league title. Tanner Milliron has a 2.16 goals-against average and has tallied 232 saves, while the Falcons have been led offensively by Willie Hess, who has come through with 10 goals and five assists. Four other players have scored at least five goals for the Falcons. River Falls 4-2, 3-2.
NCHA – Katie Carito
It's the last weekend of play for the NCHA and a lot is on the line. I'll pick some matchups conservatively, knowing full well that some dark horses may ruin it all.
Lake Forest at Adrian
Lake Forest (14-8-1) will travel to Adrian (18-1-4) for the final weekend of play. The Foresters are on a 10-game unbeaten streak, most recently sweeping Milwaukee School of Engineering with 3-2 and 4-1 scores. The Bulldogs battled to a 2-2 tie and a 5-3 win against Lawrence last weekend. Adrian has an outstanding home record, going 6-0-2 this season. Adrian 3-1, 3-2
Finlandia at Lawrence
Finlandia (2-19-1) is out of contention for the postseason and was swept by Marian last weekend. Lawrence (5-16-2) hasn't won a game since Jan. 25 when the Vikings knocked down St. Scholastica 3-2. Lawrence 2-1, 3-2
Northland at St. Norbert
Northland (4-19-0) split a weekend series with Concordia-Wisconsin with a 4-2 on Friday before a 7-2 loss on Saturday. St. Norbert (19-3-1) is the top ranked team going into the weekend. They swept St. Scholastica last weekend, including a 3-0 shutout on Friday. St. Norbert 4-2, 3-1
Marian at St. Scholastica
Marian (10-11-2) has won the past six straight, most recently sweeping Finlandia with matching 5-2 scores each game. St. Scholastica (12-7-4) was swept for the first time last weekend against St. Norbert. St. Scholastica 2-1, Marian 3-1
MSOE vs Concordia (Wis.)
MSOE (6-16-1) dropped two games to Lake Forest over the weekend. Concordia (9-10-4) split a weekend series with Northland. The Falcons' success this season has come in bunches and I think they are due for an upswing in luck. Concordia 3-1, 2-1
NESCAC – Tim Costello
It was another solid week of picks despite the competitiveness of the league.
A 4-1-0 (.800) week of picks brought the overall percentage back to my 70 percent success target. The overall season stands at 39-15-6 (.700), so now it is about finishing strong in the final two weeks of the regular season to stay at my targeted goal.
Here are the picks:
Friday, Feb. 14
Trinity @ Bowdoin
The Polar Bears are in a very tight battle for the fourth and final home-ice playoff seed and the Bantams will be a stern challenge at the "Sid." This one will see lots of offense and a playoff-like atmosphere. Bowdoin 5-4.
Middlebury @ Williams
The Rte. 7 home-and-home season finds both teams with all at stake in terms of position in the standings and earning a very valuable two points. This rivalry always brings out the best in the teams and for Williams that means Sean Dougherty is better than the guy in the Panthers' crease. Williams 3-1.
Wesleyan @ Colby
The Mules finally scored on a power play against Amherst last weekend, but it wasn't enough to garner any points. Back to basics with Sam Parker playing well and some more support for Ben Chwick and Nick Lanza offensively. Colby 3-2.
Saturday, Feb. 15
Williams @ Middlebury
It is always difficult to beat a team on back-to-back nights, especially when the return matchup is on the road. I would like to pick a tie here but think the Ephs can "be in the moment" as their coach likes to say and steal a needed extra point. Williams 3-2.
Tufts @ Hamilton
These two teams need to take care of their own business and then scoreboard watch to see if anyone helps them out in their drive to reach the top eight in the standings. The Continentals are closer to that goal and playing at home and these two points help a lot in keeping hopes alive for the final week of the regular season. Hamilton 4-2.
Connecticut College @ Amherst
The home team is an all-out battle for the top seed and the visitors are trying to confirm their place in the postseason dance. Hard to argue with how well the Lord Jeffs played at home last week against two very tough teams from Maine. Win and scoreboard watching may now commence. Amherst 4-2.
There are opportunities abounding for teams to change position and in some cases assure qualification for the post-season – drop the puck!
SUNYAC – Dan Hickling
Friday, Feb. 14
Brockport (6-12-3, 3-8-1) @ Cortland (4-13-3, 3-7-2) – Brockport 4, Cortland 3
Both teams desperately need the points as they scrap over the league's final playoff spot. The feeling here is that Brockport finds a way, this time.
Saturday, Feb. 15
Morrisville (5-15-2, 2-11-1) @ Potsdam (7-12-2, 2-8-2) – Potsdam 5, Morrisville 3
This will be the back half of a two-game set. The loser is as good as dead, while the winner will still be barely breathing. The Bears come in with the hotter hand.