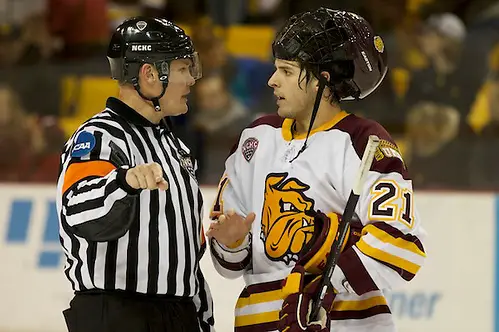 In theory, the technology exists to allow referees to see a video replay to help determine whether to assess a minor or major penalty or whether to give a game misconduct or game disqualification.
One of the big hurdles in implementation, however, seems to be ensuring that video of a sufficient quality can be available at all levels of college hockey where such a system would be put in place.
On top of that, however, is an intriguing idea that the NCAA men's and women's ice hockey rules committee will look at when it convenes for its annual June meeting this week.
A referee's decision between a game misconduct and a game disqualification puts at least the offending player's next game in jeopardy. A disqualification carries an automatic one-game suspension for a first offense in a season, two games for a second offense and so on.
What if it wasn't the referee who made that call? What if that decision in most cases was left to the conferences to handle in a supplemental-discipline procedure that could use all available video and officials input?
It's something that the rules committee will debate as it tweaks the rule book for the next two seasons.
As usual, there were a lot of rules issues discussed when committee members heard from coaches at their meetings in late April and early May.
But the topic of video review of major penalties was on the table for a good chunk of time, indicating the weight that's being placed on setting a course for getting calls right.
It needs to be a priority, considering what's on the line. Taking any player out of a game changes the bench dynamics, and taking a player out of his or her next game changes the team dynamics. So you'd like for those calls to be made using the best available knowledge. If that's video, so be it.
The committee's job, however, is to determine how to do things responsibly. A nationally televised Division I men's game obviously has a lot more camera lenses pointed on it than a Division III women's game, so writing one rule to cover the whole sport can be tricky.
And no one wants a 10-minute delay in a game, which needs to be a consideration for any use of in-game penalty reviews.
But a proposal to eliminate many in-game uses of the disqualification penalty (except for fighting and gross misconduct penalties) could serve as an important step toward at least making sure the supplemental discipline is handled without having to make a snap decision.
The 13-member rules committee, which includes coaches and administrators from men's and women's schools at the Division I and Division III levels, meets Monday through Wednesday in Indianapolis.
Chair Tom Anastos, coach at Michigan State, took to Twitter on Sunday:
Getting prepped for our @NCAAIceHockey Rules Committee meetings starting tmrw. Rec'd lots of input to consider from coaches. How about fans?

— Tom Anastos (@TomAnastos) June 1, 2014
He got some interesting responses:
@TomAnastos 3 on 3 Overtime. Just being greedy because I do like the 4 on 4 but I love more open ice.

— Gionni (@msuspartan86) June 1, 2014
@tomanastos I want shootouts and visors

— Jesse Desrochers (@JesseDesrochers) June 1, 2014
@TomAnastos @USCHO @NCAAIceHockey 3/4 shields. Please retire the full cages.

— Mike Waring (@Halesite147) June 1, 2014
@TomAnastos Ban shootouts (okay for holiday tourneys). Ten minute sudden-death OTs in regular season. No winner, game ends in tie.

— Bill Tuomala (@BillTuomala) June 1, 2014
@TomAnastos eliminate the rule enforcing a penalty even if a goal is scored during the delay.

— Marc Horwitz (@MarcHorwitz) June 1, 2014
@TomAnastos Shootouts should be gone. Play until there's a winner. Hits to head should be reviewed, evaluated, and penalized immediately.

— Ashley Chase (@AshleyChaseTV) June 1, 2014
@TomAnastos @NCAAIceHockey anyone wanting to drop shootouts never tried to sell tickets to college hockey games. This is a business too

— Colonel Doctor (@rollbleapp) June 1, 2014
@TomAnastos automatic majors/misconducts for hits to the head and hits from behind into the boards. Will help eliminate them from the game

— Andrew Wisneski (@arwisneski) June 1, 2014
@TomAnastos @NCAAIceHockey make teams use opposite side bench all three periods, would increase breakaways and odd man rushes. #scoremore

— Larry ODonnell (@LarryODonnell) June 1, 2014
The discussion of how to decide tie games will be interesting because the coaches didn't show much support for changing the overtime format.
A four-on-four format is already in the rule book in much the same way the shootout is — to be used "by conference policy or mutual consent of the participating teams." If it has been used, it has been in limited exposure.
It should be noted, however, that coaches aren't the only stakeholders in the equation. Administrators and conference officials get their say, too, before the rules committee makes a decision.