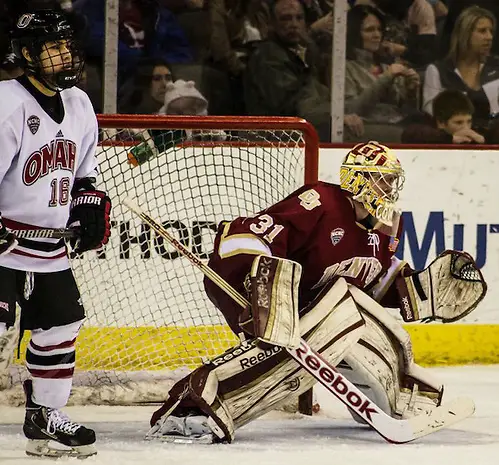 Seven goaltenders have been invited to the 2014 U.S. National Junior goaltender evaluation camp, set for June 9-11, in Ann Arbor, Mich.
Of the seven, two (Thatcher Demko/Boston College and Evan Cowley/Denver) are current collegians and one more (Edwin Minney/Michigan State) is an incoming freshman.
The netminders will audition for a spot on the U.S. National Junior Team that will compete at the 2015 IIHF World Junior Championship, which will run Dec. 26, 2014 to Jan. 5, 2015, in Montreal and Toronto.
The other four goaltenders are Brendan Burke (WHL's Portland Winterhawks), Brandon Halverson (OHL's Sault Ste. Marie Greyhounds), Alex Nedeljkovic (OHL's Plymouth Whalers) and Devin Williams (OHL's Erie Otters),
The three-day event will feature on-ice sessions led by New Hampshire grad Mike Ayers, also the goaltending coach for the 2015 U.S. National Junior Team, and Kevin Reiter, the goaltending coach of USA Hockey's National Team Development Program and coordinator of the Warren Strelow Goaltending Mentor Program. Reiter also played at Alaska-Anchorage.