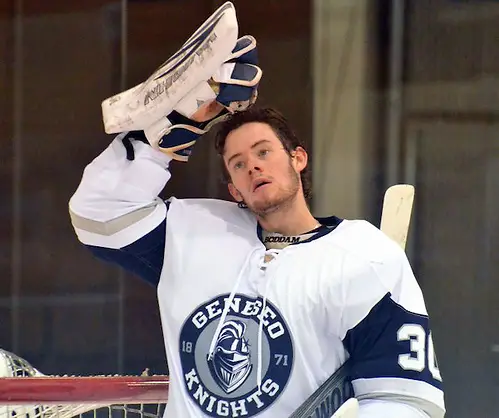 Our East columnist, Dan Hickling, and our West columnist, Brian Lester, get into full swing this week with their picks for the weekend's top games.
DAN HICKLING
Friday
ECAC East
Skidmore (1-0-0, 0-0-0) @ UNE (1-0-0, 0-0-0) – UNE 4, Skidmore 2
Two middle of the pack teams trying to grab some early season points. The Nor'Easters will use home ice to their advantage
ECAC West
Nazareth (1-0-0, 0-0-0) @ Utica (1-0-0, 0-0-0) – Nazareth 3, Utica 2
Teams play twice this weekend. Nazareth always pulls off some early-season surprises and this could well be another of those.
Saturday
SUNYAC
Plattsburgh (1-0-0, 1-0-0) @ Geneseo (2-0-0, 2-0-0) – Geneseo 3, Plattsburgh 1
Clashes of two titans often are decided by goaltending. Genny's Nick Horrigan has played in a Frozen Four. Plattsburgh's Spencer Finney has not (yet).
ECAC Northeast
Nichols (2-0-0, 0-0-0) @ Curry (1-2-0, 0-0-0) – Nichols 5, Curry 1
The defending conference champs seem to be ready for another roll through the ECACNE. It begins here with Curry.
MASCAC
Mass-Dartmouth (0-1-0, 0-0-0) @ Framingham (0-1-0, 0-0-0) – Mass-Dartmouth 5, Framingham 4
Could be a big night (and a game winning goal) for UMD's top scorer Luc Sauve.
BRIAN LESTER
Wisconsin-Stout (0-1) at Hamline (1-1): The Pipers are looking to build off the confidence they gained in a win over St. Thomas last week. Kevin Novakovich leads the team in goals scored with two, while John Sellie-Hanson and Santino Vasquez have both seen time in goal and give the Pipers depth between the pipes.
Stout has played just one game and was outshot 50-27 against Lake Forest. Chase Hollander and Spencer Veale have combined to make 44 saves. This one should be close but Hamline gets the edge at home. Hamline 4-2.
Wisconsin-Stevens Point (1-0) at Gustavus Adolphus (1-1): Gustavus was the runner-up in the MIAC tournament a year ago and is hoping to take the next step this year. This game is a chance for the Gusties to make a statement against the national runner-up of a year ago. Jake Bushey leads Gustavus with two goals and Erik Johnson has started the first two games in goal, tallying 52 saves.
Stevens Point flexed its offensive muscle in its opener, scoring 11 goals against Finlandia. Eight players scored goals and Brandon Jaeger racked up 11 saves. The Pointers will be tough to beat and should nail down a win. Stevens Point, 5-2.
Wisconsin-Eau Claire at St. Olaf (0-2): The Oles are searching for their first win of the year. They managed to score only four goals in the first two games. St. Olaf has had four different players score goals, while Steve Papciak has tallied 38 saves in two games. St. Olaf will have to be at its best on both ends of the ice to knock off a team that is one of the best in the country.
The Blugolds are playing their first game of the year and are coming off a season where they won the WIAC tournament championship. They scored 93 goals a year ago and will come in ready to go after feeling as if they were snubbed in the NCAA tournament selection process. Eau Claire, 4-3.
Concordia (Minn.) (0-2) at St. Scholastica (2-0): The Falcons are hoping to win their first game of the year. They managed only four goals in the first two games and allowed 10. They were outscored 4-2 on the power play in the two games and changing that trend will be a key to success against the Saints on the road.
St. Scholastica rolled to a pair of wins last week and will look to continue hot streak this week as it hosts the Falcons. The Saints have been led by Derek Sutliffe, who has scored five goals. Tyler Bruggeman started in goal twice and has allowed just four goals while making 65 saves. The Saints are poised to sweep the series. St. Scholastica, 5-2, 4-2.
Lake Forest (1-0) at Northland (0-2): Lake Forest scored six goals in its opener against Stout, with Jack Lewis showcasing his talent, scoring three times in the win. Leo Podolsky earned the win in goal, racking up 25 saves, and if the Foresters can put together that same type of effort this weekend, they should be in position to start off league play in style.
Northland is coming off a pair of losses to nationally-ranked Adrian and will need to get its offense going to have success against Lake Forest. The Lumberjacks scored just four goals in their first two games and gave up 16. Tyler Ampe made 49 saves in the first two games. The Foresters appear to have the edge in the series and should get a sweep. Lake Forest, 5-2, 6-3.