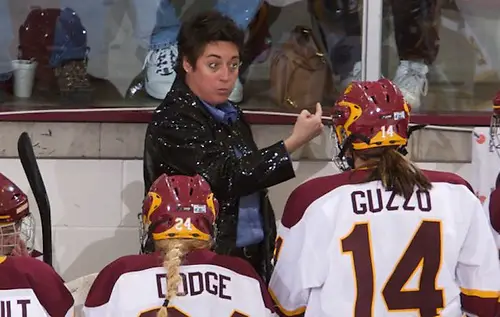 Shannon Miller's 16th season as Minnesota-Duluth's women's hockey coach will be her last.
The school announced late Monday that it will not renew her contract when it expires at the end of this season.
In a statement, Minnesota-Duluth cited financial considerations for the decision. Assistant coaches Laura Schuler and Gina Kingsbury and part-time director of operations Jen Banford also will not be retained.
According to TwinCities.com, Miller's salary in 2013 was $205,800.
Miller won five national championships with the Bulldogs, in 2001, 2002, 2003, 2008 and 2010.
"I am extremely shocked and saddened by this news, as is our entire staff and team," said Miller to the Duluth News Tribune. "But we are committed to staying here to coach these great young women for the rest of the season and to a national championship."
"We deeply appreciate and are proud of what Shannon has built and accomplished at UMD," added UMD athletic director Josh Berlo to the News Tribune. "She established a winning program, raised it to the highest level of competition and sustained a national championship tradition over the last 15 years. Today's decision about Shannon's contract was an immensely difficult and financially driven decision.
"Unfortunately, UMD athletics is not in a position to sustain the current salary levels of our women's hockey coaching staff. However, we remain committed to supporting the Bulldog women's hockey program."
A national search for Miller's replacement will start at the end of the 2014-15 season.