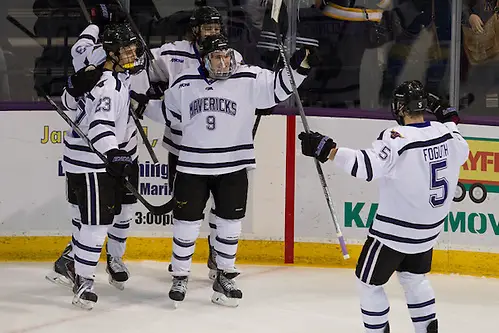 Each week during the season we look at the big events and big games around Division I men's college hockey in Tuesday Morning Quarterback.
Matthew: We're fresh off of a somewhat light weekend in college hockey, but we still have a fair bit to talk about. For one thing, we have yet another new No. 1 team in the USCHO.com Division I Men's Poll in Boston University after North Dakota split on the road against, in fairness, a solid Denver team.
It still seems to me like the balance of power is slightly tilted westward, however, when we look top-to-bottom at the top 10. Is that a fair assessment to make here around the halfway point of the season?
Nate: I think that's a valid point. Several top-10 teams were off last weekend, while No. 4 Michigan Tech and No. 9 Minnesota-Duluth split a series, in addition to North Dakota and Denver as you mentioned.
While there are some top teams out west, I've had Harvard at No. 1 after putting North Dakota there two weeks ago. Don't forget about Boston University, Massachusetts-Lowell and Vermont, which is allowing a national-best 1.53 goals per game after sweeping St. Lawrence last weekend.
Matthew: And Harvard is right up your alley, of course, as you're one of our ECAC Hockey columnists. Does anything Harvard's been able to do here in the first half the season surprise you, and do you think Boston's Hockey East powers have much to be worried about with the Crimson going forward?
Nate: I'll admit I've been surprised by the Crimson over the first two months of its Ivy League-shortened season. For several years, Harvard always seemed to have the talent but could never put it together. Credit to colleague Brian Sullivan, who picked the Crimson third on his preseason ballot; I picked them 10th.
There's really not much to dislike about Harvard so far. The Crimson are in the top 10 in the nation in defense, offense and both special teams. Right now, I think they are the best team in Boston and it should set up a great Beanpot in February.
Are there any teams out west that have surprised you as we head into the holiday break?
Matthew: Part of me wants to say North Dakota has surprised me considering UND has had a reputation of starting slowly under Dave Hakstol. But even with the handful of injury concerns it has had, UND has enough talent on that roster to make waves.
Omaha has really surprised me, however. It's not very often that a team with 11 freshmen can hit the ground running quite as well as the Mavericks have, and Ryan Massa has been outstanding in the UNO net.
Minnesota State and Michigan Tech also raised a lot of eyebrows, but I'd like to think that it's just more proof that the WCHA is better than it gets credit for. I look at Minnesota State and know that Mike Hastings has won everywhere he's gone to coach — being from Omaha, I still remember when he did well as the USHL's Omaha Lancers' bench boss for what felt like a few decades — and I think teams in that league like Minnesota State and Ferris State are showing that the WCHA isn't to be underestimated.
What about what's going on out east? Harvard has exceeded your expectations, like you said, but has anything else caught you off guard?
Nate: I know they are in the Big Ten, but Penn State's success in its third season as an NCAA program is impressive. The Nittany Lions have already surpassed last year's win total and are ranked this week in the USCHO.com poll for the first time in program history.
Elsewhere, Robert Morris is carrying over its hot second half from last season. There aren't a ton of surprises in Hockey East, although Massachusetts-Lowell's continued dominance despite several big losses shows how far that program has come in a few short years.
Outside of Harvard in the ECAC, the two big surprises for me are Brown and St. Lawrence, for different reasons. I thought Brown might make a push for home ice this season, but the Bears are one of the worst teams in the country. Even though the Saints were swept by Vermont last weekend, they still enter the break at 8-8, better than I expected after losing four of their top five scorers from a year ago.
BU's Jack Eichel is getting a lot of well-deserved attention as a freshman, but Saints goalie Kyle Hayton has been outstanding in his rookie year.
Looking ahead, what do you see for the final two months? Any teams you think will fade or make a second-half push?
Matthew: In terms of western teams, I'm particularly curious to see if Michigan Tech and Omaha can continue to have the kind of success that they've had over the first half of the season. Tech has been an outstanding story so far but I'm not sure how much staying power it has, and UNO has a history of faltering near the end of the season and into the league playoffs.
It still floors me that the Mavericks never went to the WCHA Final Five and weren't at the NCHC Frozen Faceoff last spring. That's got to change eventually.
It's as much a gut feeling as anything, I think, but I like Denver to make a big second-half push. Jim Montgomery has done an excellent job since starting with the Pioneers last year, and I think he'll have his team ready to do some damage come tournament time.
How about in the east? Who are your picks to take of business and, conversely, get little done?
Nate: Harvard might slow down a bit, but the Crimson should be in position for the Cleary Cup in the ECAC.
I don't have an obvious candidate for a second-half slump, but I wonder if Vermont can continue its success in Hockey East. The Catamounts face Boston University, Boston College and Massachusetts-Lowell twice in the second half. That's certainly a daunting schedule.
Thumbs up
To North Dakota's Bryn Chyzyk, who offered to let UND radio play-by-play commentator Tim Hennessy use Chyzyk's own phone to interview the player at Denver last weekend after Hennessy forgot his own recorder back in Grand Forks.
Tim Hennessy forgets microphone in Grand Forks, maintains poise, uses Bryn Chyzyk's own phone to interview Chyzyk. pic.twitter.com/Ad5xkOVoSP

— North Dakota MHockey (@UNDmhockey) December 11, 2014
Thumbs down
While it was the right thing to do, Saturday's game between Princeton and Minnesota State was canceled after the Mavericks didn't have enough players due to a flu outbreak. The game was declared a no-contest and ticket holders were reimbursed. Here's hoping everyone is healthy for the holidays and ready to go in the second half.
Coming up
There are four games left before we wrap things up for the holidays. Massachusetts hosts Northeastern in a nonconference game on Tuesday, while No. 12 Omaha hosts Alabama-Huntsville on Saturday and Sunday.
On Friday, Boston University plays the U.S. World Junior Team in an exhibition game at the end of the Americans' camp.