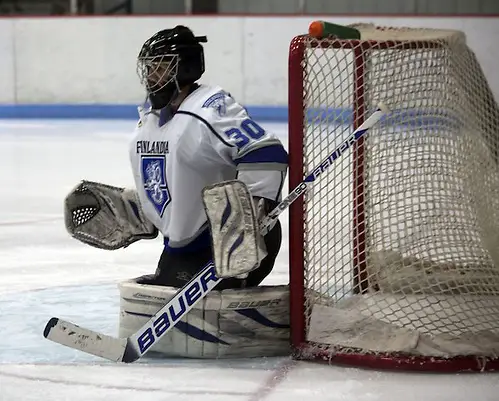 Lots of happenings this past weekend in the Division III ranks. Brian and Dan get right to it.
ECAC EAST – Where there was once a three-way logjam at the top between Norwich, Massachusetts-Boston and Babson, there is now clear separation. With this weekend's decisive two-game blitz through the Pine Tree State, and the resulting four-point conference lead, Norwich has become the team to beat in the East … The Cadets took lopsided wins at UNE (6-1) and Southern Maine (5-1). Norwich received great scoring balance with goals coming from nine different Cadets. William Pelletier notched four assists in the win over UNE … Meanwhile, Mass-Boston and Babson split a pivotal two-game home-and-home set, with Babson taking Friday's opener, 4-2. The Beavers opened up a four-goal lead early in the second period then put it in cruise mode. The following night, Babson went for the sweep and held a 3-2 third period lead before the Beacons replied with a pair of Colin Larkin goals. After knotting the score at 7:05 of the third, Larkin notched the game winner at 1:47 of the extra session with his eighth goal of the season.
ECAC NORTHEAST – Light activity in the league, just three games, including Saturday's routs by Nichols and Johnson & Wales. Both came by lopsided 5-0 scores, with league co-leaders (with Suffolk) Nichols thumping Salve Regina behind Alex Larson's 35-save shutout. Staying one point behind, J & W hammered Western New England, with goalie Joey Ballmer turning in a 26-save blanking.
ECAC WEST – Not much was settled in the West this past weekend, although Neumann grabbed a one-point league lead after trouncing Utica 9-0, then tying the Pioneers 5-5. After scoring just once all year, Zac Lazzaro scored three times on Friday while the next night, the Knights were forced to haul back from a 5-1 deficit to salvage the tie. Jory Mullin scored twice in the final 1:26 of regulation, including the deadlocker with just 12 remaining … Hobart and Nazareth remained tied for second after splitting their set and handing each other their first conference defeats. Nazareth won Friday's tilt behind two goals from David Seward. Mac Olson led the Statesmen to victory on Saturday, scoring both their goals in a 2-1 win.
MASCAC – Just two tilts during the weekend, including Massachusetts-Dartmouth's 9-2 blasting of Westfield State, which kept the Corsairs within three points of first place Plymouth State. The Panthers won 3-2, with Tord Thoresen and Josh Woody scoring 2:03 apart late in the second stanza to provide sufficient offensive oomph.
MIAC – St. Thomas moved into a tie for first place in the standings after sweeping Hamline in a weekend series. The Tommies beat the Pipers 4-1 on Friday and then rallied from a 3-1 deficit on Saturday to earn a 4-3 victory in overtime. St. Thomas improved to 11-3-3 overall and 5-1-2 in the conference. Alex Altenbernd scored the game-winning goal in OT. Johnny Roisum, Jordan Lovick and Derek Jacobson also scored goals, while Drew Fielding made 22 saves and improved to 8-3-3 in goal this season. The Tommies have won seven consecutive games and are unbeaten in their last nine games. Charlie Adams scored twice for the Pipers. Altenbernd and Tyler Richter scored two goals apiece on Friday and Fielding won his seventh game. Adams scored the lone goal for the Pipers, who had their three-game win streak snapped in the loss. Hamline is 7-6-4 overall and 3-2-3 in the league … Concordia (Minn.) came out of the weekend tied with St. Thomas for first place in the league after splitting a series with Augsburg. After a 4-2 loss on Friday, the Cobbers edged the Auggies 3-2 on Saturday. Concordia is 10-6-3 overall and 5-3-2 in the MIAC. It has won at least 10 games in each of the last five seasons. Ben Gislason and Jeremy Johnson both scored goals as did Jordie Bancroft. The goal for Gialson was the first of his career. Johnson's goal was his first game-winner of the season. Bancroft scored a goal and dished out an assist for his fourth multiple-point game of the season. Concordia won despite Augsburg's 35-16 advantage in shots. Alex Reichle earned his fifth win of the year. Augsburg scored twice in a two-minute span in the first period on Friday to hold off the Cobbers. The Auggies, who ended the weekend at 8-9-0 overall and 5-3-0 in the league, took an early lead on goals by Max Pernhem and Will Petersen. Drew Anderson scored twice for the Auggies, who finished with a 27-25 edge in shots. Both teams were disciplined throughout the game as only three penalties were called. Augsburg is still in good shape in the standings as it is tied with Gustavus for second and is just three points out of first.
NCHA – It was as big day for the Milwaukee School of engineering as it stunned top-ranked St. Norbert 2-1 on Saturday. The Raiders scored twice in the second period on goals by Cody Ganchar and Nick LaRue. Ganchar has scored points in six of his last seven games, including four goals. Nick Kohn was sensational in goal as he racked up 35 saves to help the Raiders seal the deal against the defending national champions. MSOE was outshot 36-16, but managed to hand St. Norbert goalie David Jacobson his first loss of the season. Jacobson is now 12-1-1. Cullen Bradshaw scored the lone goal for the Green Knights, who avoided their first shutout at home since November of 2009. The Raiders are 11-7 overall and 6-6 in the NCHA. The Green Knights fell to 14-2-2 overall and to 10-1-1 in the league … Finlandia didn't play like a major underdog on Friday night against eighth-ranked Adrian, stunning the Bulldogs 3-0. Finlandia was 0-15 against Adrian prior to Friday's win. Andrew Brownlee made 41 saves, while Lane King, Lucas Lahnala and Thomas Clayton all scored goals for the Lions, who won their second consecutive game. Adrian bounced back on Saturday with a 7-3 victory. Josh Ranalli scored twice and finished with four points in all to help the Bulldogs improve to 13-3-3 overall and 10-1-1 in the NCHA. Jeremy Olinyk came through with three assists. The Lions fell to 4-14-1 overall and are 3-9 in the league. Ryan Daavettila scored two goals for the Lions.
NESCAC – Trinity remained unbeaten (9-0-1) in the league and increased its lead to four points with wins over Connecticut College (3-1) and Tufts (4-1). Ryan Cole scored twice against the Jumbos to up his NESCAC-leading total to nine (10 overall), while Sean Orlando tallied twice in both games, giving him 11 overall … Williams stayed within four points of Trinity with wins over Colby and Bowdoin, while Amherst triumphed 3-1 over Hamilton in its only start of the weekend.
SUNYAC – Oswego had little trouble handling Buffalo State (6-0) or Fredonia (7-1), which helped the Lakers cut into Plattsburgh's league lead. Oswego now trails Platty by three points (18-15) and has one game in hand on the Cardinals. Plattsburgh easily handled Potsdam, 6-2, in its only start. Connor Gordon and Alex Brenton both scored twice for the Cardinals
WIAC – Wisconsin-Eau Claire made a statement over the weekend as it swept Wisconsin-River Falls in a pivotal conference series on the road. The No. 14 Blugolds capped the series on Saturday with a 4-3 win, beating the third-ranked Falcons for the ninth time in their last 11 meetings. Eau Claire rolled to a 5-2 win on Friday night. Third-period goals by Jack Callahan and Patrick Moore lifted the Blugolds to the win. Moore finished with two goals and an assist, while David Henry also scored a goal for Eau Claire, which is 11-4-2 overall and 3-1 in the WIAC. Moore's goal served as the game-winner. It was his first game-winning tally of the year. Henry's goal came off the power play. The Blugolds have now scored at least one power-play goal in each of their last seven games. Ross Andersen came through with two assists and Jay Deo racked up 31 saves en route to his fifth win of the season. Jake Hopfner and Ethan Nauman each scored twice in Friday's win. Nauman has tallied a team-best 15 goals on the season. Tyler Green got the start in goal and won his sixth game of the season. River Falls comes out of the weekend at 14-4-1 overall and 3-3 in the WIAC. The Falcons have only one win in their last six games. Cory Lushanko scored a goal in each game for River Falls … Goals weren't hard to come by for Wisconsin-Stevens Point in Saturday's series finale against Wisconsin-Superior. The sixth-ranked Pointers put up nine goals in a 9-4 win. On Friday, they skated to a 4-2 victory. Alex Brooks paced the Pointers with a career-best four points. He scored one goal and dished out three assists. Kevin Gibson came through with three assists as well. Kyle Sharkey scored two goals and dished out an assist. Jacob Barber scored two goals as well, while Brandon Jaeger racked up 31 saves en route to his 14th win. Stevens Point improved to 14-4 overall and 5-1 in the WIAC. Eric Shand scored three goals for Superior, which fell to 7-12 overall and 0-6 in the league. Sharkey and Joe Kalisz scored power-play goals in the third period of Friday's game to propel the Pointers to a victory. Ian Ecklund and James Hughes scored goals for Superior.