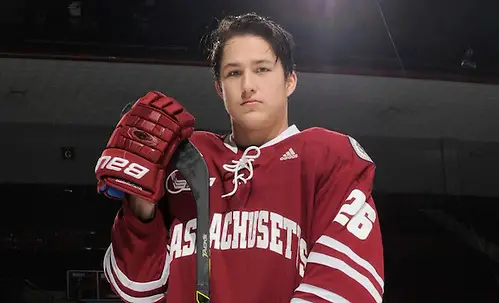 It was late in the second period. Massachusetts was on the power play.
As was already becoming customary, Brandon Montour — just four games into his collegiate career at that point on Jan. 2 — stepped on the ice to quarterback the man advantage.
Connecticut gained possession off a defensive-zone faceoff and dumped the puck the length of the Mullins Center rink, forcing the Minutemen to give chase and retrieve it. The first UMass player there was Montour.
The freshman seized the puck and made his trip down the ice, gliding effortlessly from defensive zone to neutral zone to the offensive zone. Huskies defensemen barely had time to spot the red Massachusetts letters stitched across the chest of his white jersey before he sped by and propelled deeper into the zone.
Montour was a gazelle. Step by step he moved gracefully toward the goal line, around the net and back out to the point — completely untouched — before passing it off. It was a subtle sequence. It didn't produce a goal, didn't change the outcome of the game — although he did score his first collegiate goal in the third period of UMass' 4-3 loss to the Huskies that night — and certainly didn't grab the attention of the few in attendance at Mullins Center.
That one small trip down the ice did, however, exemplify just who Montour is: a dynamic player with a knack for unintentionally avoiding the spotlight and easily going unnoticed.
Just two years ago, Montour was an unknown Junior B-level prospect playing in the Greater Ontario Hockey League. Back then, the only people who knew of his talent were his family and teammates in Caledonia.
One dominant season later with the USHL's Waterloo Black Hawks — a team and league he didn't originally have on his radar, and one that was lucky to find him to begin with — and his stardom immediately inflated. Seemingly overnight he became a USHL MVP and the highest selected NHL draft pick in UMass history.
"It's a great story," Waterloo coach P.K. O'Handley said.
Now Montour is viewed as the liberator of a program in the midst of what likely will be its fourth straight losing season; someone who single-handedly could change the fortunes of a program desperate for positives.
But for Montour, a modest 20-year-old with humble roots, it's just another step in his self-effacing hockey journey.
***
Trying to avoid hockey would've been fruitless for Montour as a child.
He grew up in a zealous hockey family that included an older and younger brother and a father who also played, in the small community of Tilbury, Ontario, where the sport was king.
Fortunately for Montour, by the time he began playing at 5 years old, he developed an unbreakable passion for the sport.
There was something about the freedom of skating and the challenge of handling a puck with a stick that immediately captivated Montour. He relished in the speed and the constant motion that took place on the ice. He enjoyed the child-like excitement of meeting new friends on each of his teams.
Although he was also a skilled and fervent lacrosse player, participating in organized leagues as recently as last summer when he played for the Six Nations Arrows of the Ontario Junior A Lacrosse League, hockey always took precedence. Even when the sun had melted the ice off the ponds of eastern Canada, Montour remained active in summer hockey leagues despite balancing lacrosse season as well.
"It just stuck," he said.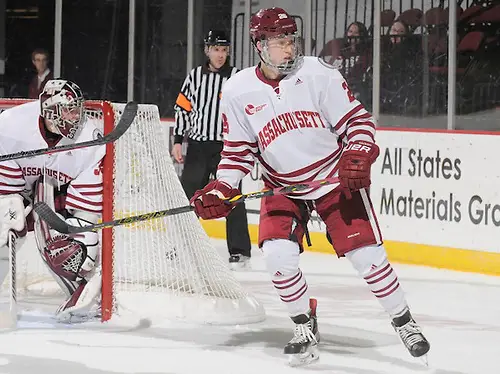 The time of day didn't faze Montour, either. His father, Cam Montour, barely would have time to say his son's name in the morning before Brandon jumped out of bed and ran down the stairs to prepare for a 6 a.m. practice.
"It was almost like he slept in his equipment, he was so fast getting up to go," Cam Montour said.
Soon enough, Montour's devotion to hockey translated into his game. Between that and lacrosse, he developed superior hand-eye coordination and physical conditioning. By the time he was in high school, Cam Montour said, Brandon already showed the potential to have the exceptional skating ability that eventually contributed to his remarkable success at Waterloo.
He attributed his son's growth simply to hard work.
"He just kept pushing himself," Cam Montour said.
Montour, however, was going to need more than a first-rate work ethic to garner the level of recognition his talent warranted.
***
Montour is not one to leave his comfort zone. It's the reason why he stayed so close to home during his junior hockey days.
He and his family moved to Brantford, Ontario, just before he began high school. At 16, he played local Junior B hockey for the Brantford Golden Eagles of the GOHL.
After two years in Brantford, Montour's family moved to Caledonia, where he played for the Caledonia Corvairs, also of the GOHL. There, he experienced his first breakout season, scoring 67 points on 18 goals and 49 assists in 49 games.
The problem for Montour, despite the impressive numbers, was the lack of attention a small league such as the GOHL generated. He wasn't receiving the recognition he may have been given somewhere else.
Montour, however, enjoyed his three seasons in the GOHL. He said he cherished playing close to home, in front of his family, and improved his game significantly. But he also knew he had to move on to someplace bigger if he wanted a chance to reach his hockey career's full potential.
"There wasn't too much recruiting out there or people to come out and watch us play there," Montour said. "I might've been there a little longer than I should have, but it was good."
Montour's achievements in Caledonia during the 2012-13 season did catch the attention of UMass coach John Micheletto, who was prompted to go watch him play. Montour's statistics, Micheletto said, were extraordinary in comparison to the rest of the league, despite the GOHL not historically producing comparable collegiate talent to more prominent leagues such as the USHL or BCHL.
"With a guy like Brandon, it's easy to go out there and see the positive attributes and his skill set that he has," Micheletto said. "That's identifiable no matter where he was playing."
Micheletto was mesmerized by Montour's dynamic skating ability. The third-year coach said it was apparent to him that Montour would be an asset on both ends of the ice, serving as a player who can lead the rush on offense, or get back into defensive-zone coverage, using his speed and mobility to get into position.
Micheletto and assistant coach Joey Gasparini began recruiting Montour in the summer of 2013 and invited him for a visit to the university. Montour was attracted to both the hockey program and the campus environment, and didn't hesitate to verbalize his commitment to the school.
"I loved the facilities, the arena here," Montour said. "It's a very nice community."
Not too long before being discovered by UMass, Montour was still uncertain about the next phase of his hockey career.
***
Montour originally believed he'd be playing Tier II hockey in Alberta. The offer was there, he was clearly wanted and it seemed like the best-case scenario to prepare him for collegiate play.
Then he received a call from O'Handley. The Black Hawks had just selected Montour in the 18th round — the 287th overall pick — of the USHL draft.
Waterloo first noticed Montour thanks to nothing but good fortune after an assistant coach received word through unnamed contacts about Montour's existence. Eventually they were informed he might be worth a chance.
"We had a couple of scouts that had seen him play. We cross-referenced some colleges that were friendly with us and had seen him play," O'Handley said. "It's communication and trusting with the people that were able to see him."
Perhaps the biggest risk was using a draft choice on him to begin with. O'Handley said the Black Hawks drafted Montour in order to acquire his rights, but odds are he wouldn't have been selected in the USHL by another team because he was invisible to everyone else.
"One could argue maybe we saw him and no one else did in our league and we didn't need to draft him at all," O'Handley said. "Had he been playing in Detroit or Boston or some place that was more in the scouted area, then you have a little different story."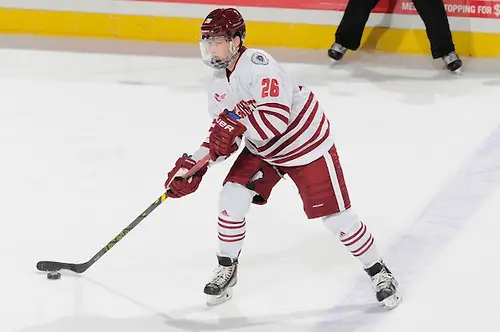 Montour's father immediately advised he accept the offer from Waterloo for the exposure if nothing else.
"There's going to be a lot of people watching him," Cam Montour said.
Montour went to Waterloo hoping to simply make the team, saying, "I didn't know what to expect with a big jump like that."
Ultimately, the situation worked out perfectly for both sides.
O'Handley said it usually takes about 20 games for him to determine a player's potential. Montour's ability was noticeable right away.
Montour had arguably one of the best single seasons of any defenseman in Black Hawks history, setting the franchise record for points in a season with 62 (14 goals, 48 assists) and finishing sixth in the league in plus/minus with a plus-35, which earned him USHL player of the year honors.
Waterloo finished the year with the best record in the USHL and was just one win short of a postseason championship.
It was a perfect storm O'Handley said will be hard to replicate.
"I think Brandon's story gets a little bit magnified because no one really knew who he was," O'Handley said. "I'm sure if you talked to his team back in Caledonia, they'll tell you that teams are out there looking for the next Brandon Montour. I don't know if those things are going to happen. They're going to be rare.
"It was a bit of a throwback acquisition. No one really looked at that team, and you're able to acquire him late in the draft and have a storybook season."
***
As Montour's father predicted, he reaped the benefits of the added exposure.
On June 28, 2014, with his parents, advisers and Micheletto and Gasparini in attendance at Wells Fargo Center in Philadelphia, Montour was drafted in the second round (55th overall) by the Anaheim Ducks in the NHL Entry Draft, making him the highest selected player in the history of a program that also bred Jonathan Quick.
"Just the thought of watching it with your friends, years past on TV back home, you wouldn't expect but you'd wish to hear your name called to some team," Montour said. "But actually being there, experiencing it all. It was a packed arena. Hearing my name called by Anaheim was something I'll never forget."
Said Cam Montour: "It's hard to describe. It's hard to believe because only two years ago he was playing in front of us in Caledonia. Before that he was at minor hockey. All of a sudden he's taken off. It really is hard to believe. It's a great feeling."
That was the last bit of joy Montour would experience that offseason.
At the end of the summer, just before the start of the Fall 2014 academic semester, Montour was ruled ineligible for the first half of the season due to an NCAA Clearinghouse issue.
It was crushing news for both Montour and the program. Instead of taking a step forward in his career, he went back to the Black Hawks to wait out his time.
"It was very difficult for him," O'Handley said.
Montour's return to Waterloo failed to produce the kind of magic it did the season before. In fact, it was quite the opposite.
Montour was unhappy being back with a group of new teammates, and the results were indicative of that. Despite scoring 21 points in 17 games, he finished minus-11 on a significantly less talented Black Hawks team and lacked the same drive as a season ago.
"In Waterloo they understood the situation, but I was definitely more focused on what's to come instead of there in a sense," Montour said.
Montour said he took on a mentorship role in his short time with the Black Hawks in the fall. He said he took the time to give players advice and help a young team that was clearly still in a learning curve. It was something he felt he owed to the team.
When asked about Montour's mentorship role, O'Handley gave a dejected, deflective response.
"I think everybody's intentions were that it was going to be easy and fine," he said. "It's just difficult when you know you're not going to be here in 40 days, 20 days, whatever it is. Brandon did the best he could under the circumstances he had. When the dust settles, UMass got a really good hockey player."
***
Given where he was drafted and how well he performed at Waterloo, Montour naturally has been given immense expectations from UMass fans hoping he can be the savior of a team that's spent the season in the Hockey East cellar.
Those expectations, one could easily argue, are unrealistic.
But as Montour is asked about these high hopes from the outside, his unpretentious nature fully exposes itself. He puts his head down, stops to think for a few seconds and smiles shyly as he translates his thoughts into words.
Montour is not oblivious to the situation. He is well aware of those outside expectations. Those, Montour said, are of no concern to him.
Montour has been on both ends of the spotlight. He's been overshadowed by larger names in larger leagues yet was unfazed and found success. He's also thrived under the public eye, as his individual success turned into team success in Waterloo. His experiences have humbled him and have taught him how to ignore unnecessary pressures.
"For me, I'm not the kind of guy that would think about it for a long time," Montour said. "It's nothing to me. I'm just going to practice, have fun. I always have a smile on my face; I enjoy what I'm doing. As long as that keeps coming it's just going to keep getting better."
Montour's modest personality, Micheletto said, makes him well-suited to triumphantly handle lofty expectations.
"His natural disposition is pretty unassuming," Micheletto said. "He's hard-working, he's a really pleasant kid to talk to, easy to get along with.
"He's gone through the last year and a half under a bigger and bigger microscope, more powerful microscope. He's continued to develop and he's been able to handle all the outside influences very, very easily and continue to focus in on being a good player and help the team to win. I wouldn't anticipate anything changing for him."
Whether one wants to acknowledge the pressure placed on Montour or not, he's certainly lived up to the billing so far. In just 10 games, he's already significantly upgraded UMass' weak defensive corps, scoring 10 points on two goals and eight assists.
Montour's elite skating has already translated to the collegiate level. He's a regular on the power play, aggressive on the rush and sets up teammates for grade-A scoring opportunities with his vision.
According to Micheletto, Montour has transitioned to the college game well despite joining the Minutemen halfway through the season.
"It's obviously brand new," Micheletto said. "You're coming in at the midway point, trying to develop relationships with individuals and understanding the philosophy that we have, penalty kills, schemes.
"In spite of all that, he's been a productive player. I would only expect that to continue as his comfort level continues."
However, if you ask Montour, he'll tell you he hasn't accomplished anything yet. His goals are too big for complacency, and he's quick to admit that his game needs improvement in numerous ways.
But if there's anything Montour has accomplished, it's excelling on every team he's played for. Except now, the spotlight is brighter than it's ever been.
"It's definitely going to be improvement each and every day," Montour said, "so I'm excited for what's to come."