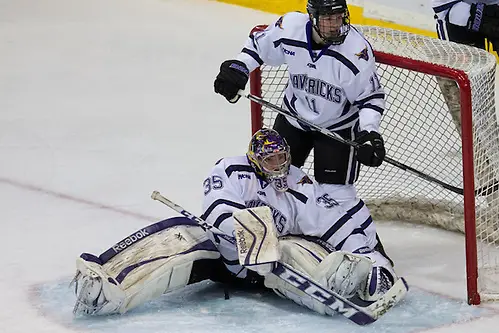 Each week during the season we look at the big events and big games around Division I men's college hockey in Tuesday Morning Quarterback.
Jim: It was another week of musical chairs for the teams near the top of the USCHO.com Division I Men's Poll. In the end, the No. 1 team has changed again, with Minnesota State retaking the top spot and all three of the top three teams virtually splitting the vote.
The Mavericks garnered 20 first-place votes, second-ranked North Dakota took home 14 first-place votes and Boston University, despite winning 9-5 on Friday against Massachusetts, dropped a spot to third and took 16 first-place votes. For this late in the year, it seems there simply isn't a consensus No. 1.
Matthew: That's true, although this week's poll did surprise me a little. Minnesota State pounded Ferris State 5-1 both Friday and Saturday night in Mankato, so I can certainly see why the Mavericks are the new old No. 1 this week in our poll.
I have to admit that I kept North Dakota at No. 1 on my ballot because I didn't think it could really be punished for splitting a pair of overtime games on the road at the No. 5 team in the country in Omaha, and Boston University outlasted Massachusetts in a 9-5 game on Friday.
You're right about there not being a consensus No. 1. Isn't it fairer to say that, at this point, it's more a matter of there being a 1A, 1B and 1C?
Jim: I think that's a really good way to describe it. All three of those teams come with solid reasoning to keep them at No. 1 right now.
Now that we've turned the calendar to February, I think it makes sense to take a more in-depth look at the standings for each conference, as some of these conferences have just four regular-season weekends remaining. We can start with Atlantic Hockey, where it looks like Robert Morris is a runaway. The Colonials could find themselves in position to clinch two weeks from now with a dominating 16-3-3 mark in league play to date.
In no other conference is the race for first place more than a two-game difference right now, although the WCHA is now a two-horse race between Minnesota State and Michigan Tech. Those two teams will lock horns again on Feb. 27-28, the penultimate weekend of the regular season.
When you look at the standings, what are some of the major story lines you like?
Matthew: Well, I look at the NCHC in particular and I love how tightly bunched up it is not just in terms of the top two or three but even, you could say, the top six. Omaha has done incredibly well so far this season and yet is only one point ahead of North Dakota — same as last week before they split last weekend — and Minnesota-Duluth is still within striking distance, too, only three points behind Omaha.
There's also only four points separating fourth-place Miami and sixth-place St. Cloud State, so I think we're in for a really exciting last month and change for that conference.
Good call on the WCHA, too, as I don't think anything's going to be decided there at least until Minnesota State and Michigan Tech meet. It's funny, though: They've both been No. 1 in our poll this season and, I don't know about you, but both of those teams have showed a little more staying power than I thought they had in terms of keeping themselves in national prominence.
Jim: I agree with that statement was well.
The ECAC Hockey and Hockey East races for first place each have a team in the driver's seat. Quinnipiac continues to pull the bulk of the points from each league weekend, while Boston University could really gain an edge this Friday night when it travels to UMass-Lowell for a single game. A win there and games in hand might leave Boston College as the only team the Terriers are concerned about.
In the Big Ten, I also feel like it is far too early to even talk about standings, although Michigan has built itself a respectable league with a 7-2-0-0 mark, good for a five-point lead over Michigan State. The Wolverines failed, however, to really get some breathing room last Friday night at Joe Louis Arena when they fell to the Spartans.
Let's look away from the races for first place in the standings. What races (home ice, first-round byes, etc.) intrigue you the most?
Matthew: What I'm most interested in seeing is whether Denver, Miami and St. Cloud State move around much from now until we get to the postseason. If the NCHC regular season ended today, eighth-ranked Miami would be at home in the first round of the playoffs but No. 10 Denver would be on the road. It seems incredible to me that one of the top 10 teams in the country wouldn't host first-round playoff games this season, but here we are.
That's what sticks out to me more than anything else. What about out east? Any middle-of-the-pack races that you'll be keeping a particularly close eye on?
Jim: Hockey East has become a virtual accordion in the middle of the standings after Connecticut took three points from Maine last weekend. In eighth place, the Huskies are three points out of a first-round bye but also hold just a slim one-point lead on home ice in the opening round.
In the ECAC, just five points separate fourth-place Clarkson and Yale from 10th-place Union. Yes, if you haven't been following the ECAC, you read that right. The defending national champions are two games above .500 overall but a dismal 5-8-1 in league play. We've seen teams have an off year after winning a title, but I have to admit having seen the Dutchmen play, I feel like they are much better than their record.
Matthew: That's definitely true, and that's not an altogether uncommon theme this season. I look at Colorado College in much the same way apart from that, you know, CC didn't win a national championship 10 months ago. It'll be interesting to see what the Dutchmen do from here on in, however. If they get hot at the right time, their subpar record up to now could make Union a great story once again this season.
Thumbs up
To St. Cloud State, which swept Colorado College last weekend. That's not really a surprise, but the Huskies did sweep all four of the NCHC's player-of-the-week awards.
Thumbs down
To Mother Nature. Seriously, lady, don't you know that the first two Mondays of February are reserved for the Beanpot in Boston? Dumping a foot of snow on top of the two-and-a-half feet from last week and forcing the Beanpot to postpone for a night was just plain rude.
Coming up
That delayed Beanpot kicks off Tuesday night with No. 3 Boston University playing No. 6 Harvard before No. 11 Boston College plays Northeastern.
Those ranked Beanpot teams then go on the road Friday to play other ranked teams: BU at No. 12 UMass-Lowell, Harvard at No. 15 Yale and BC at No. 18 Merrimack.
And on Saturday, No. 20 Colgate hopes to end a four-game winless streak when it hosts No. 16 Quinnipiac.
Turning outdoors, Western Michigan plays Miami and Michigan plays Michigan State in the Hockey City Classic at Chicago's Soldier Field on Saturday.