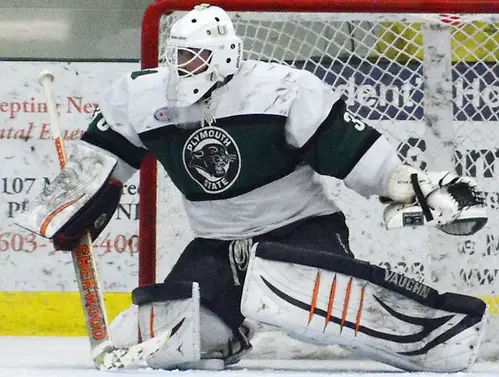 The last weekend of the regular season makes us realize how fast time has gone by.
Wasn't it just yesterday that the freshmen were moving in and practices were starting up?
That said, games this weekend all have bearing on conference tournaments, some of which that start this weekend.
DAN HICKLING – East
Friday
SUNYAC
No. 9 Plattsburgh (17-5-1, 12-2-0) @ No. 1 Oswego (17-2-3, 12-1-1) – Oswego 3, Plattsburgh 2
Strange things often handle after a team rises to the top of the polls, but the Lakers should be full of focus. Platty, too, for that matter. Is there a better rivalry in all of D-III? Conceivably they could meet twice more – for the SUNYAC title and in the Frozen Four.
ECAC WEST
No. 13 Hobart (18-6-0, 11-3-0) @ Elmira (11-10-3, 5-7-2) – Hobart 5, Elmira 3
The Statesmen have been in playoff overdrive … since New Year's Day.
NESCAC
No. 3 Trinity (19-2-1, 14-1-1 ) @ Wesleyan (3-19-0, 2-14-0) – Trinity 5, Wesleyan 2
On any given night? Not this night.
Saturday
ECAC EAST
Playoff quarterfinal No. 5 Univ. of New England @ No. 4 Castleton – UNE 2, Castleton 1
Such middle-of-the-pack playoff matchups tend to be the most unpredictable and spine-tingling. The teams split their two regular season meetings, with the visitor prevailing both times. That trend may continue here.
MASCAC
Plymouth State (12-7-3, 12-2-1) @ Framingham State (5-14-2, 4-10-1) – Framingham 5, Plymouth 3
Having already wrapped up the conference crown, PSU could be in store for a letdown. If so, this could be it.
ECAC NORTHEAST
Becker (4-18-0, 0-10-0) @ (12-9-2, 5-6-1) Curry – Becker 4, Curry 2
Just because Becker's day hasn't come yet doesn't mean it won't. Time is getting short, though.
BRIAN LESTER – West
The final weekend of the regular season has arrived for teams in the MIAC and WIAC, while the NCHA teams begin postseason play this weekend.
St. John's (11-8-5, 7-6-2 MIAC) at St. Thomas (15-5-4, 9-3-3): St. Thomas won the opener of this series on Thursday, edging St. John's 3-2. With the Tommies coming home to close out the regular season and eager to put the finishing touches on another league title, I don't expect them to stumble against their rival. The Johnnies will keep it close, but St. Thomas is 10-1-2 at home. St. Thomas, 4-3.
Hamline (11-8-4, 7-4-3) vs. St. Mary's (12-9-2, 7-5-2): The Pipers and Cardinals come in tied for third place in the league standings. Both teams are jockeying for playoff position. Hamline has enjoyed a turnaround season while St. Mary's has been one of the hottest teams in the league in the second half. I don't expect a sweep either way. The Pipers have won two in a row and the Cardinals, led by Martin Gruse (18 goals, 15 assists), are looking for a bounce-back win. Hamline, 4-2, St. Mary's 3-2.
Adrian (19-3-3) vs. Concordia (Wis.) (8-17): The Bulldogs are the champions of the NCHA and have won their last seven. The Falcons have dropped their last two and face a daunting challenge of beating the Adrian on its home ice in a playoff series. It should be an easy weekend for the Bulldogs, who have scored 119 goals and allowed just 58. Adrian 6-0, 7-2.
Marian (13-11-1) vs. Milwaukee School of Engineering (16-9): This could be the most intriguing series of the opening round. The Sabres head out on the road to battle the Raiders with a ton of momentum. Marian has hit its stride at the right time and have won six in a row. MSOE has won its last two games. Marian has scored 74 goals and allowed 74. MSOE has tallied 80 goals and has given up 57. The Raiders get the edge at home in what should be a tight series. The Raiders are 10-3 at home. However. I won't be surprised if Marian comes out on top. MSOE, 4-3, 3-2.
Wisconsin-Stevens Point (18-5, 8-2 WIAC) at Wisconsin-River Falls (18-4-1, 7-3): The Pointers can wrap up the league championship with a win in this game and while they will have to do it on the road, I think the 2014 national runner-up will get the job done. The Pointers have won six of seven and have racked up 103 goals while getting solid play out of starting goalie Brandon Jaeger. The Falcons have won their last four and are headed in the right direction. Stevens Point, 4-3.
Wisconsin-River Falls (18-4-1, 7-3) at Wisconsin-Eau Claire (16-6-2, 8-3): The Falcons will be hungry going into this game, but the Blugolds have already beaten the Falcons twice during the season. I won't be stunned if River Falls wins this game, but Eau Claire has won four of five and is clicking offensively, scoring five goals in each of its last four wins. Eau Claire, 5-3.