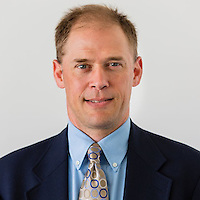 Neil Sinclair has been named the head coach of the Middlebury men's hockey program, taking over for the recently-retired Bill Beaney.
Sinclair, a 1993 Middlebury graduate, is just the fourth men's hockey coach at Middlebury since 1946. He comes to Middlebury from Skidmore, where he has served in the same role for the past 10 seasons. The former Panther All-American was Middlebury's interim head coach in 2002-03 after serving three seasons as an assistant coach under Beaney.
"We are thrilled to have Neil Sinclair as the next head men's ice hockey coach at Middlebury College," said Middlebury director of athletics Erin Quinn in a statement. "Neil's experiences both as a player and coach at Middlebury, along with his growth as a coach at Skidmore, have prepared him well to return to Middlebury. The student-athletes will benefit from his coaching expertise and leadership on the ice, in the classroom, and in the community."
"I am honored for this opportunity to work at Middlebury College and coach the men's ice hockey program," added Sinclair. "As a hockey alumnus, I know the history of the program and have a deep respect for the legacybuilt by Duke Nelson, Wendy Forbes, and Bill Beaney. I couldn't be happier about returning to the athletic department family as well as the Middlebury community.
"I look forward to the challenges and opportunities that lie ahead – the hockey tradition at Middlebury is second-to-none. I'm excited to work with the Middlebury student-athletes to write the next chapter in Middlebury hockey history."
Sinclair led Skidmore to the ECAC semifinals three times and was named the league's Coach of the Year in 2006-07 when he was also a finalist for the Edward Jeremiah Award as the National Coach of the Year.
While at Skidmore, Sinclair obtained his Master of Arts degree in 2011. As part of his master's work, Sinclair published a piece in The International Journal of Sports and Society titled "Building a Collegiate Athletic Leadership Model for NCAA Teams," which he wrote with Tim Harper and Jeff Segrave in 2014.
As a player at Middlebury, the defenseman was a first-team All-American and ECAC selection in 1993. He began his coaching career at Middlebury Union High School, leading the team to the 1996 State Championship.
Sinclair was also head coach at Williams for two seasons prior to arriving at Skidmore.