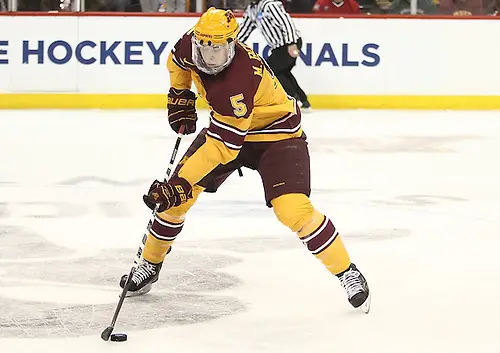 According to The Hockey News, Minnesota senior defenseman Mike Reilly will not sign with the Columbus Blue Jackets and will instead meet with nine teams this weekend after deciding to become a free agent.
In a TSN report, Reilly will meet with the Chicago Blackhawks, Detroit Red Wings, Edmonton Oilers, Los Angeles Kings, Minnesota Wild, Montreal Canadiens, New York Rangers, Pittsburgh Penguins and the team that drafted him in the fourth round (98th overall) in 2011, the Blue Jackets.
Reilly reportedly informed the Blue Jackets that he would be testing the free agent waters in mid-May and it appears he will head for free agency on June 16.
The Big Ten defensive player of the year and a First Team all-star in 2013-14, Reilly was also a West First Team All-American each of the past two seasons.
In 2014-15, Reilly posted six goals and 42 points in 39 games with the Gophers.