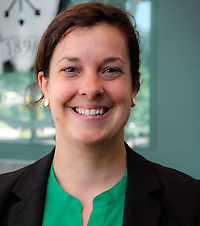 Meredith Roth has been named the new head coach for the St. Norbert women's team.
Roth comes to St. Norbert after serving as an assistant coach at Providence for the last three seasons, in addition to being on the Friars' staff from 2006 to 2010. She was also a volunteer assistant coach at Cornell for two years from 2010 to 2012.
"Coming to us from a similar institution, Meredith is highly compatible with the mission of St. Norbert College and its athletic department," SNC athletic director Tim Bald said in a news release. "She is personable, experienced and well-suited to take over her own program. We are excited she is joining us at St. Norbert College."
"I am honored to be named the women's ice hockey coach at St. Norbert College," Roth added. "I want to thank the administration for providing me with a great opportunity. I am excited to be joining the St. Norbert community, one that values learning, growth and development of its students. I am looking forward to carrying these values forward while working with the women's ice hockey program."
Prior to her college coaching experience, Roth led the Shattuck-St. Mary's U-16 program to the USA Hockey Tier I national tournament for the first time in school history in 2006.
A decorated four-year player at Providence, Roth was selected as the Friars' co-captain her senior year and assistant captain her junior year. Roth was selected the team's "Unsung Hero" as a freshman in 2001. She also played for the United States national team during the IIHF World Championship in 2003.