It should be another strong season for goalies in the Division I men's ranks, with the return of nine netminders who were rewarded with national and league all-star honors.
No fewer than 15 goalies who posted GAAs of 2.10 or better will return to their clubs.
Yale's Alex Lyon leads the way, having won the triple crown with the nation's best GAA, save percentage and shutout marks.
Here's a look at 10 goaltenders to watch around Division I men's college hockey in the 2015-16 season, in alphabetical order.
Jayson Argue, Bentley sophomore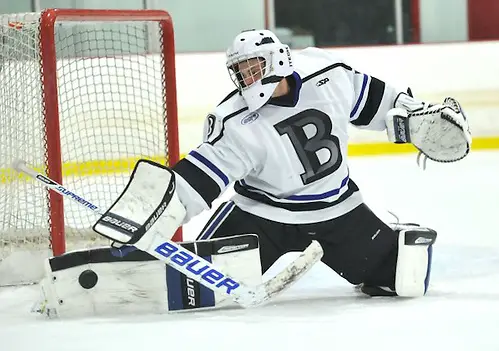 As a freshman last season, Argue had to wait his turn behind two veterans, and when he got his chance to start he never let up. Argue won his collegiate debut, making 23 saves to beat Army West Point. He went 3-1-1 in his first five starts, and when the calendar turned, Argue made all but three starts over the final three months.
A 6-foot netminder out of Swan River, Minn., Argue was a first-team all-star and MVP runner-up in the British Columbia Hockey League. His 2.00 GAA and .934 save percentage last season actually were improvements over his final season of juniors, and he was even a touch better in Atlantic Hockey play. He earned third-team all-league honors and helped Bentley take Mercyhurst to three games in the quarterfinals.
"Jayson has the ability to be a game changer," Bentley coach Ryan Soderquist said. "He is not the biggest goalie out there but he reads the play extremely well and has great feet. His compete level is extremely high, and he hates to lose."
Michael Bitzer, Bemidji State sophomore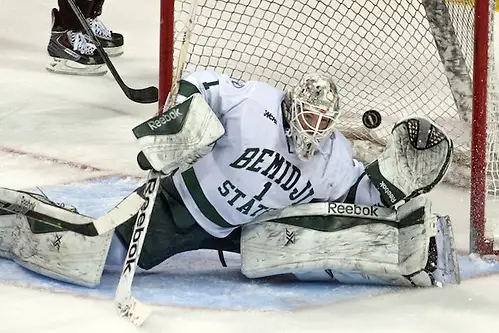 Bitzer was Minnesota's top senior goaltender at Moorhead High School and a former USA Under-19 team member when he decided to take his talents 2½-hours northeast to attend Bemidji State, following two years of juniors. Coach Tom Serratore gave him the season debut at Ralph Engelstad Arena last season, and Bitzer posted 25 saves in a 5-1 win over North Dakota, the first of many big wins.
Not unexpectedly, Bitzer stumbled a bit, losing five of his next six starts, but he rebounded well with a 6-2-2 mark in December and January. Bitzer put on a huge show at the North Star College Cup in late January, stopping 54 of 55 shots against No. 7 Minnesota-Duluth (a 4-0 win) and No. 1 Minnesota State (a 3-1 win) en route to MVP honors. He also posted a 6-0-1 streak from mid-February to early March. Bitzer lost both of his playoff starts against Ferris State but not before posting 41 saves, including 19 in 46 minutes of overtime action in Game 2.
Bitzer ranked third in GAA (1.80) and second in save percentage (.929) in the WCHA, making him an obvious choice for rookie of the year. His GAA was the best for a Bemidji goalie since freshman Mathieu Dugas posted a 1.93 in nine games in 2009-10, and the best for a No. 1 keeper since freshman Matt Climie in 2004-05 (1.80).
"Mike is a highly competitive goalie who is very athletic," Serratore said. "He's got great instincts, excellent rebound control and has a history of winning big games."
Thatcher Demko, Boston College junior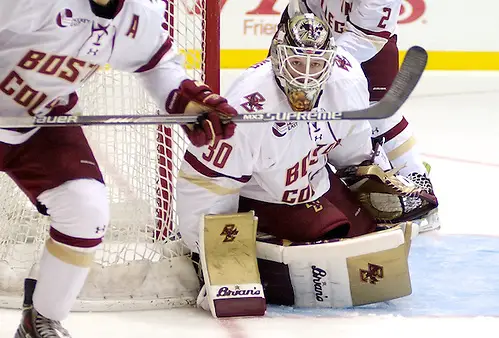 Hockey East favorite and preseason No. 1 Boston College will be eager to get Demko back in nets after offseason hip surgery. The April procedures should help his internal rotation, essential for butterfly-style netminders like Demko.
Even with the painful injury — built up over time — Demko managed to trim his freshman numbers by posting a 2.19 GAA (ranking sixth in Hockey East) and .925 save percentage (ranking fourth) as a sophomore for the Eagles. He had one shutout, nine games in which he allowed one goal (5-3-1 record) and 15 games in which he allowed just two (11-2-2 mark). Hockey East coaches voted Demko an honorable mention all-star.
Not many young goalies have had as much international exposure as Demko, a native of San Diego and second-round draft pick of the Vancouver Canucks in 2014. Demko won the silver medal at the 2012 Under-17 and 2013 Under-18 World Championships. He was the USA backup keeper at the 2014 World Juniors and starter at the 2015 tournament.
Michael Garteig, Quinnipiac senior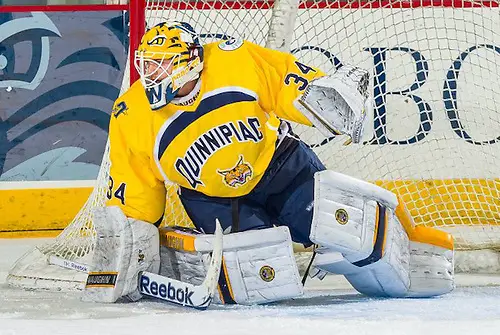 Garteig has been a model of consistency for Quinnipiac since taking over from Hobey Baker Award finalist Eric Hartzell two years ago. He started all 40 games as a sophomore, posting 24 wins and a 1.94 GAA. Last season, he started every ECAC Hockey game and all but six overall, putting up 22 wins, a 2.03 GAA and .917 save percentage. He was named third-team All-ECAC.
"Garts will be expected to carry us night in, night out," said Quinnipiac coach Rand Pecknold. "He is poised for a great senior season."
Garteig got Quinnipiac off to a good start last season with an early six-game winning streak, including back-to-back shutouts of Colgate and Cornell. He blanked Cornell a second time and Princeton twice. He made 10 of his 21 stops in extra time as Quinnipiac outlasted Union in a triple-overtime ECAC quarterfinal game. He kept the Bobcats in a one-goal game with Harvard for 58 minutes of an ECAC semifinal.
Twice, he was the BCHL's GAA champ.
"Garts' main strength is he is a warrior," Pecknold said. "Our team feeds off his battle level."
Kyle Hayton, St. Lawrence sophomore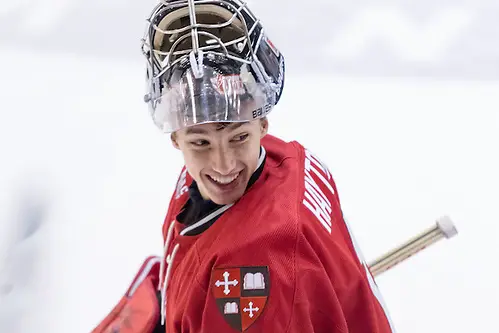 St. Lawrence men's hockey has been around since 1925. Hayton showed up in the fall of 2014 and smashed all sorts of Saints records. His 1.95 GAA, .937 save percentage and five shutouts established new marks. He was named the ECAC rookie of the month in October, November and January, naturally making him the obvious choice for rookie of the year, the first Saints goaltender to do so since Derek Gustafson in 2000.
The 6-foot, 160-pounder out of Denver was a busy backstopper, making 1,062 saves. He had 15 games with at least 30 saves, including games of 44, 46 and a season-high 51 at Miami. His GAA and save percentage ranked second in the ECAC to Yale's Alex Lyon.
"Kyle has tremendous value for the success of our team," said St. Lawrence coach Greg Carvel. "He is one of the quickest goalies in the NCAA, but what makes him even more important for our team is his competitive spirit. Our team gets energy from not only big saves but how hard he competes. … He is very comfortable in pressure situations, which helps bring a calmness to our team, especially on the road."
Jake Hildebrand, Michigan State senior
There's no stating the importance of Hildebrand to the Michigan State program aside from these two facts: He played every minute of last season, and he's the fourth player in Spartans history to be named team MVP three times. He added Big Ten player and goaltender of the year awards and first-team All-American status last season.
"He's the catalyst of our team," said Michigan State coach Tom Anastos.
Hildebrand led Big Ten goalies with a .930 save percentage and a career-best 2.18 GAA, and he was even sharper in league play (.940, 1.94), allowing two or fewer goals in 13 of 20 league contests (and 20 of 35 overall games). He was the bane of existence for Wisconsin, blanking the Badgers three times, in addition to shutouts of Ferris State, Ohio State and Penn State. The proud stopper of 1,006 shot attempts, Hildebrand was a Mike Richter Award finalist.
"He provides great consistency in his play and can make the big save," Anastos said. "He is very talented, with great focus and quickness."
Dalton Izyk, Robert Morris junior
Izyk has made his mark on the Robert Morris record books in two short years. His 2.70 career GAA is just off the school record of 2.69, and his career total of four shutouts — three coming last season — is one shy of the school mark. With 20 wins over two seasons, Izyk could challenge Christian Boucher's career mark of 42 before he's through.
Izyk saw three times the starts (21) in his sophomore season compared to his rookie year. He posted a 28-save shutout over Lake Superior State in his season debut and added blank sheets against Army (36 saves) and Bentley (34). Izyk got the hot hand late in the season, posting a 9-2 mark in his final 11 games. Sporting a 15-5 record and .923 save percentage, he was named a third-team Atlantic Hockey all-star.
"The best compliment I can give him is that he wins," said Robert Morris coach Derek Schooley, whose team was voted favorite to win Atlantic Hockey this season. "Dalton is a competitor. He hates to be scored on and he hates to lose in any type of competition. That attitude carries over to the team."
A pairing of Izyk and senior Terry Shafer (24 wins, 2.75 GAA), gives the Colonials a tremendous one-two punch in net.
"We really like our goalie situation, and believe that is a major strength of our hockey team," Schooley said.
Izyk is something of a scout, as well.
"He studies other goalies and notices what other teams are trying to do against us," Schooley said.
Charlie Lindgren, St. Cloud State junior
Lindgren was handed the starting chores for St. Cloud State from the get-go last season, splitting early series with Colgate, Union and Minnesota. He started to gain more traction in mid-November, and ended up winning 11 of his final 18 starts, with win streaks of three and four games over the final two months and a GAA under two during the stretch.
Lindgren was good in close contests, posting two shutouts and going 10-0-1 in one-goal decisions. He recorded 45 saves in a double-overtime playoff win at Omaha.
"He finds ways to shine in the big moments," said St. Cloud coach Bob Motzko.
Lindgren posted a 19-18-1 record and .919 save percentage, earning NCHC honorable mention honors a year after making the league's all-rookie team. He was USA Hockey's Junior Goalie of the Year in 2012-13.
"Charlie gained confidence each week and grew stronger and more determined as the season progressed," Motzko said. "More important, his teammates grew confident and got behind him and believed in his ability as a true leader in our team."
Alex Lyon, Yale junior
Yale coach Keith Allain said he believes "the sky is the limit" with Lyon, and who could doubt him?
Lyon was named first-team All-American, winner of the Ken Dryden Award as the ECAC's top goaltender and was selected to the U.S. National Team that competed at the IIHF World Championships in May.
"Alex has the three things you need," Allain said. "He understands the game, he has physical talent and he has the mental toughness."
Stingy is a word to describe Lyon in the nets: He posted seven shutouts — including two over Ivy rival Harvard — to go with nine games allowing one goal (8-1 record) and seven contests allowing two markers (2-0-5).
He did just about all he could before dropping overtime playoff games to Harvard and Boston University in his last two outings. He played a dozen games against teams with offenses ranked in the top 20 nationally and stopped 93 percent of shots he faced with three shutouts.
His 1.62 GAA, .939 save percentage and seven shutouts topped the nation and established Yale single-season records. His 10 career shutouts is also a school mark.
Jamie Phillips, Michigan Tech senior
No Division I goaltender in the nation got off to a better start last season than Phillips. He won his first 10 contests, blanking Ferris State and Alaska-Anchorage and allowing one goal in five other contests. Standing tall at 6-foot-3, he also blanked Alabama-Huntsville three times as part of his six-shutout season, taking Tech to a runner-up spot in the WCHA, one point behind Minnesota State.
Only Zane McIntyre of North Dakota posted more wins (29) than Phillips' 28, and his 41 starts topped the NCAA. His 1.74 GAA ranked third in the nation and his .933 save percentage ranked fifth. He led the WCHA in conference wins (23), save percentage (.935) and shutouts (six), and was named a first-team all-star.
Phillips, a seventh-round draft pick of the Winnipeg Jets in 2012, was one of five finalists for the Mike Richter Award, recognizing the top Division I goaltender in the nation.
"Any team is only as good as its goaltender," said Michigan Tech coach Mel Pearson, "and Jamie Phillips has proven that he can be one of the best goaltenders in the country. His ability to shut down other teams gives our team confidence."
Pearson said he likes Phillips' understanding of the game, his calmness and his puck-handling skills. Phillips trimmed his GAA by more than a goal from his sophomore season (2.82).