As one group of talented forwards departs college hockey, it's time for another set of players to take their place.
Many of the nation's leading scorers from the 2014-15 season have moved on from their teams, creating opportunities for returning players to make bigger names for themselves.
Here's a look at 10 of the forwards to watch around Division I men's college hockey in the 2015-16 season, in alphabetical order.
Sam Anas, Quinnipiac junior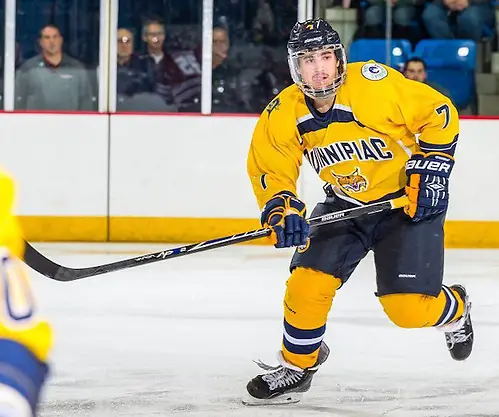 Anas made a huge splash in his rookie season of 2013-14 as the only freshman in NCAA Division I to record 40 points (43 in all) and the first to do so in two years. Anas was heralded with a handful of rookie of the year awards, from USCHO, ECAC Hockey and the Hockey Commissioners Association.
His sophomore season was hardly a step back, if only by four points. He ranked fifth in ECAC points (39) and third in goals (23), leading the Bobcats in both categories for the second year in a row. He was voted second-team All-ECAC and second-team All-American by the American Hockey Coaches Association.
"Sam has a very high hockey IQ and the ability to slow the game down and make plays in high-traffic and high-pressure situations," said Quinnipiac coach Rand Pecknold. "Sam will be counted on heavily to not only produce offense, but also to drive our puck-possession game."
Bryce Gervais, Minnesota State senior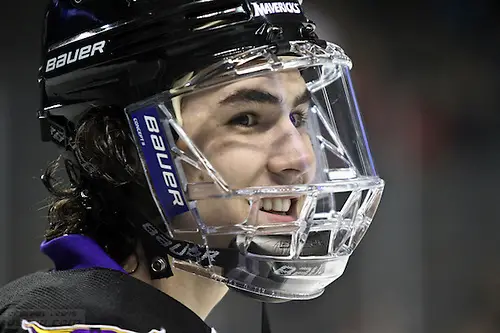 It is no coincidence that Minnesota State has posted the highest three-season Division I win total (79) and made the NCAA tournament three times with the emergence of Gervais, who has played all 122 games during that span.
Last season, the Mavericks were 18-2 when Gervais scored a goal and 21-3 when he posted a point. Nine of his WCHA-leading 27 goals came on the power play, and he's pretty good at even strength as well with a plus-11 rating. He scored five game-winners and added two short-handed tallies. He was voted second-team All-WCHA and third-team All-USCHO.
For his career, Gervais has 51 goals and 24 assists. He is the WCHA's preseason player of the year.
Gervais is a former BCHL scoring champ (42 goals), adding six more goals during playoff action as he led Pentiction to a Canadian national Junior A championship. He played on a BCHL Select team that toured Russia in 2011.
Andrew Gladiuk, Bentley senior
Gladiuk has been as reliable a player as they come since he arrived at Bentley. He's been a point-per-game guy, producing 108 points through 106 contests. At this pace, he should crack the top five in all-time scoring for the Falcons and top three in goals.
Gladiuk is a top-line player and will lead Bentley's top power-play unit — he led the nation in power-play goals (16) as a sophomore and has 27 in his career.
The 2013 Atlantic Hockey rookie of the year has posted 13, 22 and 20 goals over his three seasons, respectively. Last season he had one hat trick against Mercyhurst and a pair of two-goal contests. He followed third-team all-league honors as a sophomore by making the first team last season.
"Andrew is a great leader on and off the ice," said Ryan Soderquist, Bentley's coach and all-time leading goal-getter (84) and point-scorer (173). "He has a high hockey IQ, combined with great speed and a shot that makes him a threat at all times."
A.J. Greer, Boston University sophomore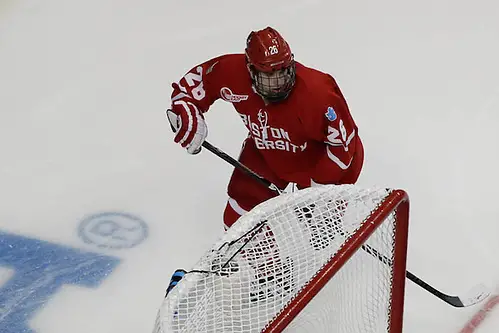 The youngest forward in Division I men's college hockey last season had no problem breaking in with the Terriers. A 6-foot-3, 205-pounder out of Quebec, Greer posted three goals and four assists over 37 games.
What's notable is three of those points came in critical playoff wins for BU, perhaps a sign of things to come for his sophomore season. He had an assist in the Hockey East title game against UMass-Lowell, a helper in the NCAA Northeast Regional final win over Minnesota-Duluth and a goal in a Frozen Four semifinal win over North Dakota.
With Jack Eichel headed to the pros, the Terriers are looking for scoring to fill the void of 26 goals and 71 points by the new Buffalo Sabres star.
Greer had 39 goals and 53 assists in 61 games and two seasons at Kimball Union Academy in New Hampshire.
Justin Kloos, Minnesota junior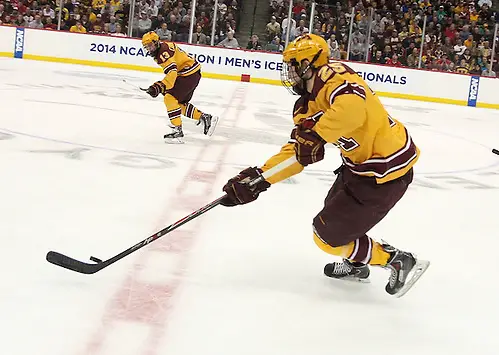 The Gophers have high hopes for Kloos, who was named team captain. He has posted back-to-back 32-point seasons, and seven of his 13 goals as a sophomore came on the power play. He ranked third in Gophers goals and fourth in points last season, with his first collegiate hat trick in an overtime win over St. Cloud State and the game-winner against Michigan in the Big Ten championship game.
In 2013-14, Kloos was the first Minnesota freshman to lead the team in goals (16) since Jay Barriball in 2006-07. He scored twice in an NCAA quarterfinal win over St. Cloud State and was named most outstanding player of the West Regional.
Kloos likely will be counted on for more production with the loss of three 40-point producers (Kyle Rau, Travis Boyd and Mike Reilly) to the pros and two more dozen-goal scorers.
Trevor Moore, Denver junior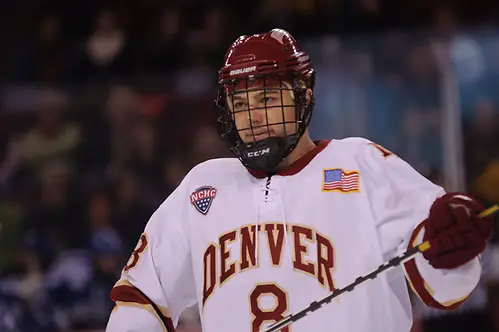 Moore took a major step forward in his production from his freshman to sophomore seasons, raising his goal totals from 14 to a league-leading 22 and points from 32 to 44. He was the leading scorer in NCHC play with 13 goals and 30 points. He has led the Pioneers in scoring both seasons and finished one shy of the points leadership last season. Moore posted a plus-19 rating, and scored four game-winners.
"Trevor is an incredible, dynamic offensive player," said Denver coach Jim Montgomery. "He can beat people one-on-one but he can pass the puck and make elite-level vision plays, along with finishing plays."
His postseason accolades included NCHC forward of the year and second-team All-American honors.
"I think if we're going to have excellent team success, Trevor Moore is going to have to be an impact player for us," Montgomery said. "His work ethic in the second half of last year, especially stripping opponents of pucks and creating turnovers and odd-man rushes, was instrumental in the finish that we had. He was the best forward we had at the NCAA tournament."
Moore played for Team USA at the 2012 Under-18 World Junior Cup, scoring once, and played in the 2013 USHL/NHL Top Prospects Game. He had 32 goals and 95 points in 111 career USHL games.
Tyler Morley, Alaska senior
Inch for inch, Tyler Morley is one of the finest players in the nation, Alaska coach Dallas Ferguson said.
"In my time in the game I have not seen many players, regardless of their size, play the game as hard as Tyler," Ferguson said.
The 5-foot-8, 174-pound Morley is a two-way center who plays at a high pace on one end and isn't afraid to get down to block a shot on the other. His value is clearly on offense, leading the Nanooks with 15 goals and 22 assists, and producing a point in 23 of 32 games last season. He scored a pair of goals twice against Minnesota State and had a trio of three-point efforts.
Morley was an all-rookie team selection in the old CCHA.
"Tyler is a go-to player that plays in all situations and has the ability to impact the game shift by shift," Ferguson said. "Tyler is one of our hardest-working players and most-prepared player on our roster. These types of personal qualities are what makes him a great leader for our hockey program."
Austin Ortega, Omaha junior
Ortega scored in his first collegiate game in 2013 and has kept on scoring. His 20 goals tied for third in the NCHC last season, ranking second among sophomores. Eight of his goals came on the power play and 11 went as game-winners for the Mavericks, setting a single-season NCAA record. Ortega was named a honorable mention NCHC selection.
Ortega had an assist against Harvard in the NCAA Midwest Regional and posted a goal and assist in the regional final win against Rochester Institute of Technology that sent the Mavericks to their first Frozen Four.
Ortega, a 5-foot-8, 174-pound forward out of Escondido, Calif., had 53 goals and 93 points in 125 career USHL games, plus eight goals and 13 points in 15 playoff games.
Kevin Roy, Northeastern senior
Jim Madigan coaches Northeastern hockey and does not manage the Boston Red Sox, but you can pardon him for making a baseball analogy about Roy.
"He's like a No. 1 starting pitcher in baseball," Madigan said of his second-team All-American, "where he sets the tone and the opposition really focuses in on Kevin and it makes it a lot easier for the rest of our guys to create offensively. He embraces that role very well and he wants to be the go-to guy offensively, and for three years he has produced very well for our team."
Roy has been a solid producer for the Huskies. He has 55 goals and 124 points in his career for 1.23 points per game. He would be Northeastern's three-time leading goal scorer had he not come up one goal shy as a sophomore, with seasons of 17, 17 and 19 goals, and he led the Huskies in points all three seasons. He had 44 points and posted a plus-12 rating as a junior, earning recognition as a Hobey Baker Award candidate and a first-team Hockey East star.
Madigan often double shifts Roy and uses him on the power play and in four-on-four situations.
"He's a highly intelligent offensive player with tremendous stick skills and hockey intelligence," Madigan said of Roy, a draft pick of the Anaheim Ducks. "His hockey IQ and skill set are that of an NHL player. He sees the ice very well, he can set up plays, he can score and he has a pretty good tool box when it comes to offensive stick skills.
"One thing that goes a little unnoticed for Kevin, although not big in stature, he protects pucks very well. He's very good down low in the corner; he escapes out of traffic very well. He's not afraid to battle for pucks and win pucks back in the offensive zone. When he gets inside the blue line and penetrates in the offensive zone, his eyes light up and you know that's where he's going to make his bread and butter."
Jimmy Vesey, Harvard senior
Vesey led the nation in goal scoring (32) last season, and it's no wonder why. Harvard coach Ted Donato uses him in all key situations, whether a goal up or down, on the power play and the penalty kill.
"Jim has really developed into a 200-foot player," Donato said. "Jim is a very dangerous and productive offensive player. He is also very versatile offensively as a goal scorer. He scores off the rush, has a great shot and release and also plays the price to score from the 'dirty' areas. He is also a very underrated playmaker and passer."
Vesey has averaged more than a point per game for his career. His 58 points as a junior brought him up to 100 for his career. He had seven power-play goals, one shorty and six game-winners. Perhaps most impressive was his plus-23 rating.
Vesey came up huge at playoff time. He had a pair of three-point outings in an ECAC Hockey series with Brown. He scored a goal in two games against Yale, including a double-overtime series clincher. He added goals in the ECAC semis and finals, and added Harvard's only goal in the NCAA matchup with Omaha.
Vesey was named first-team All-American and garnered the ECAC and Ivy League player of the year awards. A third-round selection by the Nashville Predators, Vesey played for Team USA at the World Championships in May. He's been elected to be Harvard's team captain.
"He has size, strength, plays with pace, plays with an edge and shows up every shift," Donato said. "He really is an elite player by any and every measurement."