Both of the Eastern first-team All-Americans from last season are back in college hockey, which should make life difficult for some opposing offenses.
But it's not just Boston University's Matt Grzelcyk and Yale's Rob O'Gara who are expected to be big on the blue line this season. They're joined by a number of talented defensemen across the country in making up a strong corps at the position.
Here's a look at 10 of the defensemen to watch around Division I men's college hockey in the 2015-16 season, in alphabetical order.
Michael Downing, Michigan junior
Downing is a rugged, two-way hockey player. As a sophomore, he ranked third in the Big Ten among defensemen with 22 points (six goals). He led the Wolverines in penalty minutes (76) and ranked third on the squad with 47 blocked shots — he once blocked five shots against Michigan Tech during his freshman season. Downing, a 6-foot-2, 200-pounder out of Canton, Mich., finished with a plus-3 rating, and posted second-team All-Big Ten honors.
"He is physical, intimidating and has a high IQ," said Michigan associate head coach Billy Powers.
Downing, an all-rookie team honoree in 2013-14, will play in most situations and is the leader of the Wolverines' top penalty-kill unit.
Dennis Gilbert, Notre Dame freshman

Gilbert heads to South Bend with great expectations. Notre Dame coach Jeff Jackson anticipates Gilbert will become a top-four defenseman for the Fighting Irish this season.
"He is a great skater, which will help both his defensive and transition game," Jackson said of the Williamsville, N.Y., product. "He may see some power-play time once he gains some offensive confidence at this level, but we expect him to become a great penalty killer immediately."
Possessing good hands and a heavy shot, Gilbert had four goals and 27 points last season with the Chicago Steel of the USHL, his points ranking 14th among defensemen. He was named a USHL All-Rookie first teamer, and he played in the USHL/NHL Top Prospects Game. The Chicago Blackhawks tabbed Gilbert as the 91st overall pick (third round) of last summer's NHL Draft.
"As a young guy, I also see strong character traits in him, which bodes well for his development and potential leadership in the future," Jackson said.
Gilbert played football, lacrosse and hockey at St. Joseph's Collegiate Institute in Buffalo, N.Y. He originally committed to play at Niagara.
Matt Grzelcyk, Boston University senior
Grzelcyk has evolved into one of the most potent scorers in the nation among blue liners. He ranked fourth in points per game (0.95) last season, recording 10 goals and 28 assists over 41 games and posting an incredible plus-32 rating. He had five power-play tallies, one shorty and three game-winners. The Terriers team captain was honored with first-team All-American and Hockey East recognition.
Grzelcyk earned the Beanpot MVP honors last season and was a five-time Hockey East top weekly performer. He twice posted three-assist efforts and scored a pair of goals against New Hampshire and against Northeastern in the Beanpot final, including the overtime winner. He had assists in the NCAA Northeast Regional final and NCAA semifinals.
Grzelcyk's successful junior season came on the heels of a season-ending shoulder injury suffered during practice in the middle of his sophomore season, limiting him to only 19 games. And the Terriers will have to start the 2015-16 season without him; he's on the shelf after surgery to repair a torn ACL.
A third-round draft choice of the Boston Bruins in 2012, the Charlestown, Mass., product previously played for the U.S. National Under-18 team.
Brady Norrish, RIT sophomore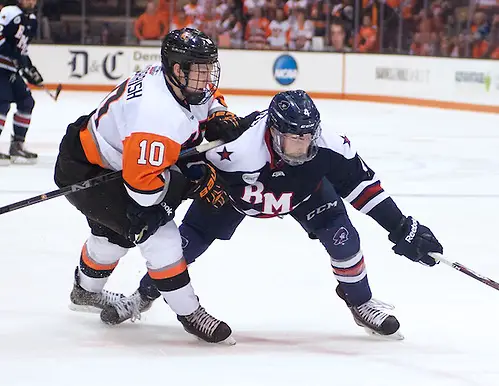 Norrish made an immediate impact with the Tigers last season. RIT coach Wayne Wilson decided to put Norrish on the top power-play unit, and he was paired with Alexander Kuqali as the top shutdown pairing. He posted four goals, a plus-18 rating and ranked fourth on the Tigers with 22 points. He had a seven-game stretch with 10 assists over the final weeks of the season.
"Not many freshmen in the country had the impact Brady had in his first year, although his brother, Chase, was very similar," Wilson said. "We were able to match him up against the other team's top line because of his defensive awareness, competitiveness and skating ability. He is very versatile and plays a smart, tough game."
The 5-foot-10 forward out of Saskatchewan was named second-team All-Atlantic Hockey and made the all-rookie team and all-tournament team.
Norrish led his junior team, the Yorkton Terriers, to the Saskatchewan junior and Canadian Junior A championships in 2014.
Rob O'Gara, Yale senior
Yale coach Keith Allain can't help but praise O'Gara, his first-team All-American.
"Robbie has been a fantastic player for us and a great representative for Yale hockey on and off the ice," Allain said.
Who can blame him? O'Gara has been a solid citizen, a talented film director and writer and an outstanding hockey player.
Yale's top defenseman led the team with 15 assists and 70 blocked shots. He nearly doubled his point production from his sophomore year, posting six goals and 21 points as a junior. O'Gara is considered a shutdown defenseman, and he posted a plus-15 rating. Postseason awards also included first-team All-ECAC Hockey, All-New England and All-Ivy League.
"He works as hard as he can every day, has a high level of talent, a terrific mind for the game and unmatched energy and enthusiasm," Allain said. "He has a very bright future ahead of him."
The 6-foot-4 O'Gara, a fifth-round pick of the Boston Bruins in 2011, continues to put weight on his frame, last weighed at 205 pounds.
Troy Stecher, North Dakota junior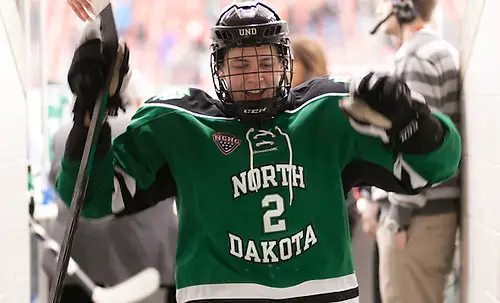 On a team stocked with 14 NHL draft picks last season, the undrafted Stecher earned the reputation as a leader.
"Troy Stecher brings great leadership ability on and off the ice," North Dakota coach Brad Berry said of his appointed alternate captain for this season. "He helps guide our team from day to day in practice, games and workouts."
Stecher has good offensive instincts on the rush and in the zone and posted a plus-11 rating last season. He moves the puck well and has a strong stick. He posted three goals and 13 points, and bounced back well from a lower-body injury in December that sidelined him for eight games.
"He is ultra-competitive in the way he plays the game," Berry said. "He will be counted on in all situations of the game. He is a player that will be playing against the opposition's top forward lines and will be that defenseman to play the last minute of periods.
"He makes other players around him better," Berry added.
Eric Sweetman, St. Lawrence junior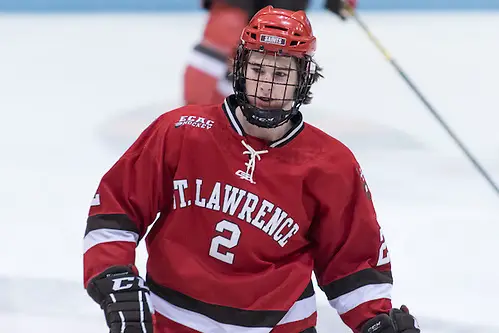 Sweetman does most of his talking with his actions and not his speeches.
"He is a quiet leader that leads the team by how hard he plays the game and how honest he is as a player," St. Lawrence coach Greg Carvel said. "He is hard-nosed and physical, which makes him a hard guy to play against, always pushing himself to get better."
Sweetman has become a reliable, two-way defenseman for the Saints. He led the team last season and was third in ECAC Hockey with a plus-21 rating. His power-play goal against Miami proved to be a game-winner, one of his five tallies for the season. He also recorded 15 assists, with three coming in one game against Brown. Sweetman was named second-team All-ECAC.
The 5-foot-11 product of Woodbine, Md., is expected to play on the power-play and penalty-kill units for St. Lawrence.
Travis Walsh, Michigan State senior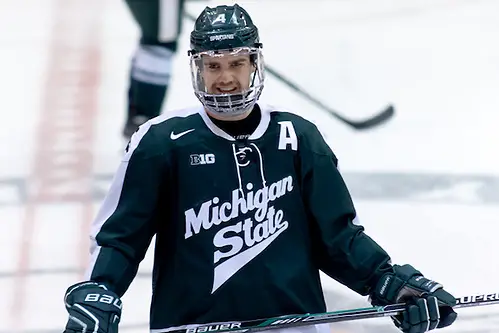 One of Walsh's greatest attributes proved to be his downfall as well. Walsh blocked 63 shots (more than two per game) last season, and had four or more in five contests. However, he fractured his jaw while blocking a shot against Minnesota on Feb. 26 and missed the season's final six games. As a sophomore, he averaged 2.58 blocks per contest.
Big Ten coaches saw his talents and named him a second-team all-star. Walsh led the Spartans defensive corps with 14 points and earned the program's defensive player of the year award.
"Travis is a very smart player," said Michigan State coach Tom Anastos. "He's a puck-moving defenseman that can play a lot of minutes and matches up against opponents' top lines."
Walsh can be expected to play in all key situations and contribute on both ends of the ice.
"He is very respected as a leader by his teammates," Anastos said.
Walsh is the son of the late Shawn Walsh, the successful Maine coach, and grandson of former Michigan State coach Ron Mason. Travis Walsh said his father was his hero for his hard-working nature and positive attitude.
Andy Welinski, Minnesota-Duluth senior
Welinski has steadily improved his offensive numbers each season in his hometown of Duluth, leading the Bulldogs blue liners each season thus far. His nine goals last season was the second-best total among defensemen in the NCHC — no doubt the result of firing 100 shots on goal — and matched his total from his first two seasons. Three of his goals came on the man advantage. Welinski had 21 points and a plus-2 rating, and was named second-team All-NCHC.
Welinski served as an alternate captain last season and has been promoted to team captain for his senior year. He was named to the NCHC preseason team, with more votes than any of the other selections.
Welinski was named the 2012 USA Hockey junior player of the year after leading Green Bay to the USHL playoff title.
Zach Werenski, Michigan sophomore
Werenski made an immediate impact on the Big Ten as a freshman, producing the most goals by a defenseman (nine), and his 25 points ranked second among the league's blue liners. Three of his goals came on the power play, and he posted a plus-9 rating. Werenski got down and dirty, posting 59 blocked shots. He was named to the Big Ten's first team and all-rookie team.
The Columbus Blue Jackets (deep in the heart of Ohio State territory) tabbed Werenski as their first-round draft choice at No. 8 overall.
Werenski will play in all situations and is expected to quarterback the Wolverines power play.
"Zach is an elite defenseman because he possesses a great hockey IQ and is a top skater and offensive contributor," Powers said.
Werenski played on the U.S. National Under-17 team in 2013-14, posting 27 points, and had a goal in four games with the U.S. Under-18 squad.