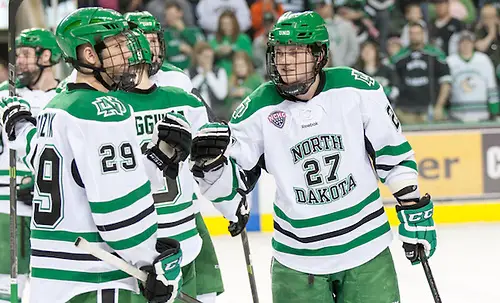 Each week during the season we look at the big events and big games around Division I men's college hockey in Tuesday Morning Quarterback.
Paula: Jim, last week we talked about the craziness of the first full weekend, the unpredictable nature of both outcomes and rankings in the early going this season. Is it too early to talk about individual conferences?
I am struck by how strong the NCHC looked last weekend, going 11-2-1 in nonconference play against opponents from a variety of leagues. Western Michigan also beat Bowling Green the previous Tuesday. Three NCHC teams combined for four shutouts on the weekend as well.
Is this an early indication of a particularly strong league? Another thought that strikes me, though, is that many of these nonconference matches were set up between teams that are very familiar with each other, having been conference foes before the realignment in 2013-14. Do you think that could be a factor?
Jim: I don't think that it is early to look at the individual conferences, as this is the time of year when 90 percent of the nonleague play takes place and it is, of course, nonleague play that most influences the PairWise Rankings.
At 11-2-1, that's one heck of a weekend for the NCHC. Through the first two weeks, NCHC teams have had their way with two conferences — going 6-0 against the Big Ten and 10-1-2 against the WCHA. Those two records alone aren't just impressive for the NCHC, but also pretty ominous for the Big Ten and WCHA.
On the other side, Hockey East joins the NCHC in a fast out-of-conference start. Hockey East's clubs hold a 19-11-4 record through two weekends of interconference play and, probably most impressively, are 5-2-2 against the aforementioned NCHC.
So maybe this feels like deja vu all over again with last year's top regular season conference (the NCHC) and best postseason conference (Hockey East) dominating early.
Paula: Glancing at Hockey East, I was thinking that as well. I was encouraged a week ago by the way Wisconsin fought hard to tie Northern Michigan twice, then watched Boston College and Boston University crush the Badgers by a combined score of 10-1 — which, perhaps, is exactly what should happen when two of the top teams in the country meet a team that was one of the worst a season ago.
Then there was Notre Dame's split at Penn State and fast starts by Massachusetts, UMass-Lowell and Providence. It does look a little like the same-old, same-old from a season ago.
Given the NCHC's record against the Big Ten and the WCHA and then more importantly Hockey East's record against the NCHC, it seems to me that maybe what we're witnessing is a sort of realignment jetlag. The conferences are different, but Hockey East in general still has most of the alleged west's collective number, and there are teams whose dominance of opponents that were once league foes is just continuing beyond the current new boundaries. It does leave me wondering if it will take a few years before this changes, if it will change at all.
In the meantime, I'm really enjoying the nonconference play more than I have in previous seasons, and the PWR implications are pretty exciting because of the realignments.
Jim: Well, it's not all rainbows and unicorns for Hockey East. New Hampshire and Northeastern, both of which had high expectations heading into this season, each finished last weekend winless. UNH posted decent comebacks in each only to lose late in regulation or overtime.
But Northeastern's losses were concerning, coming to a Bentley team that was swept the previous weekend by Mercyhurst. Yes, it seems the Huskies ran into a hot goaltender in Bentley's Jayson Argue, who finished the weekend with 89 saves. But Northeastern, traveling to No. 19 Minnesota for two games this weekend, is in position to have yet another slow start to the year. There was a lot of hope with the return of Kevin Roy for his senior year that could easily dissipate before we reach Halloween.
Paula: I'm not so sure that losing to a team that was beaten by Mercyhurst is the kind of barometer that you're implying, Jimmy. While the Lakers are .500 to start their season and sophomore goaltender Brandon Wildung's save percentage isn't yet near the .924 he posted in his first season, the Lakers began their season with a win against ranked Colgate and played ranked Michigan to two close decisions last weekend. Two Lakers players — freshman Taylor Best and sophomore Jonathan Charbonneau — both have four goals in six games. I do think that Atlantic Hockey is competitive, and maybe Mercyhurst will be better than expected. At the very least, the Lakers are starting the season by playing respectable hockey.
You mention Northeastern playing No. 19 Minnesota this weekend. The Golden Gophers are not only beginning the season 0-3, but in three games, Minnesota has mustered exactly one single goal, scored by freshman Brent Gates in last Friday's 3-1 loss to Minnesota-Duluth. The Gophers were swept by the Bulldogs in a home-and-home series, which in itself isn't such a shocking development; the Bulldogs appear to be starting the season nearly at the level where they left off last season, while the Gophers are nearly rebuilding from scratch, with five freshmen forwards and only four seniors on the roster, only two of which have seen ice time.
With such a young team, I wonder if Minnesota will go through growing pains similar to what Wisconsin saw last year — perhaps not to the same extent, but in terms of finding the right chemistry before a few things click. Certainly, the Gophers need to find some scoring.
In fact, scoring seems to be an issue for the Big Ten in general. With the exception of Penn State and Michigan, no one has outscored opponents, and in the cases of Minnesota, Ohio State and Wisconsin, the scoring has been decidedly lopsided in favor of opponents.
Jim: It certainly doesn't seem like good timing for Big Ten teams to be struggling to score goals as, looking at the scoreboard across the country, teams seem to be popping in goals quicker than the normal pace. It seems like every night at least one player records a hat trick — on Friday, we had four different players tally three goals.
As we're writing this on Monday night, I'd be remiss if I didn't mention that Travis Roy is very much on my mind. When this runs on Tuesday, it will be 20 years to the day since Roy suffered a catastrophic injury 11 seconds into his college hockey career that left him paralyzed. He will be a guest on Tuesday's USCHO Live and Dave Hendrickson has a must-read feature on Roy's life.
Roy's life inspires me often. For a kid who was dealt a horrible hand, he has done miraculous work inspiring others and, through the Travis Roy Foundation, raising both awareness and money for spinal cord research. So I think a nod to Travis is more than an appropriate way to end this column.
Thumbs up
To St. Cloud State goaltender Charlie Lindgren, who has begun the season with three shutout wins, including back-to-back shutouts last weekend against Minnesota State.
Thumbs down
To some UMass-Lowell fans. This is a tough thumbs down because it should be a thumbs up. The fans on Friday night set a world record for number of glow sticks lit simultaneously, just north of 4,000. If it ended there, perfect. But someone decided to throw one on the ice and that was followed by probably around a thousand more. Credit to the facilities crew that cleaned it all up with only a nine-minute delay, but c'mon, folks. Was all that necessary?
Coming up
It's a big weekend for East-West matchups. No. 9 St. Cloud State takes its 4-0 record to No. 14 Quinnipiac for a series against the 3-0 Bobcats.
No. 15 Miami travels to No. 17 St. Lawrence for a pair of games, and No. 11 Michigan is at No. 18 Union on Friday.
In Hockey East play, No. 7 UMass-Lowell and No. 19 Merrimack play a home-and-home series.