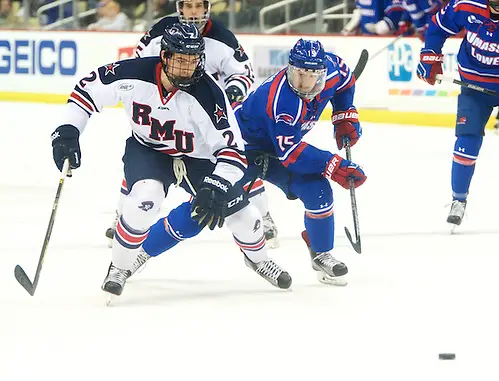 Each week during the season we look at the big events and big games around Division I men's college hockey in Tuesday Morning Quarterback.
Jim: Well, Paula, the end of the season predictably provides us with some difficult-to-predict outcomes. We can look at the top teams in the nation. No. 1 Quinnipiac played overtime both nights in the North Country, losing Friday to St. Lawrence before beating Clarkson on Saturday in the extra session. No. 2 North Dakota was swept by Denver. And Boston College, albeit in a three-game week that included a win in the Beanpot final over Boston University, still lost a league point on the road in a 5-5 shootout with Merrimack.
I have found that in the average season, the last three weekends often become unpredictable for seemingly no reason for the best teams. Does that feel like what we are seeing right now?
Paula: Absolutely. It's not just the top teams in the country, but teams on top in other ways. Going into last weekend, Robert Morris was 6-1-1 in Atlantic Hockey play in the second half of the season and then split with Army, a team with just six AHC wins all season before last weekend.
Minnesota State still leads the WCHA but tied twice with last-place Alabama-Huntsville, losing an opportunity to put more distance between itself and second-place Bowling Green, which played a single nonconference game against Miami.
And Michigan, among the top teams in the country, entered the weekend tied with Minnesota at the top of the Big Ten standings but lost a point to last-place Wisconsin because the teams skated to a 4-4 tie Saturday night.
With some teams having as few as three regular season games remaining, there is a sense of desperation as we approach the end of the season — in a good way. Maintaining a high level of performance throughout a season can take a toll on a team, making it vulnerable, while teams that aren't contending for regular season titles often put everything they have out there, every week, to better their finishes or attempt to improve their PairWise Rankings.
And even though parity doesn't seem to be as big an issue in midseason, it's something that seems to be a factor at this point with some teams that have improved in the second half, like Miami, Denver and Minnesota.
Jim: I have had a number of coaches tell me something similar in the months of November, December and January: "We just want to be playing the best hockey come March." That's the reality of today's NCAA. You make your playoffs and put together any sort of a streak and next thing you know you have a tournament championship and an NCAA bid.
Listen, I don't think there are a lot of teams that are in the bottom of their respective conferences that can have this belief. If you're the 10th, 11th or 12th seeds in a conference, you're looking to play our your season respectably, hoping to keep your head coach off the hot seat. And that's not even an issue in most of the programs around this country.
But let's look at the conference you cover, Paula, the Big Ten. The last-place team can force the issue against the top team. If that same team can win three games in three days, it wins a conference title and heads to the NCAA tournament. Now let's assume that team is Wisconsin. With Mike Eaves behind the bench, don't you think a coach that has won a national title can devise game plans to win three straight games at the Big Ten tournament? I don't think I am crazy to believe this could happen, right?
Paula: I don't think you're crazy to believe this can happen, Jim, not at all. With a six-team league like the Big Ten, there is every possibility of a last-place team making a three-game run to an autobid. In 2013-14, the first season of Big Ten play, last-place Penn State in its first season affiliated with a conference beat Michigan in overtime in the first game of the B1G tournament and then fell to eventual tournament winner Wisconsin 2-1 on the second day.
In 2004, when the CCHA had its Super Six format, Ohio State was the No. 6 seed and put together three great games to capture the league playoff championship. I know that Yale had done the same thing before in a similar playoff format, three consecutive wins to capture the conference championship. It's not out of the realm of possibility.
Whether it's a six-team league like the Big Ten or a league with 10 to 12 teams, the last-place team can play spoiler in all kinds of ways, and if that team happens to make it to the conference playoff championship tournament and did so because it's playing its best hockey of the season in March, that team can make a run for the title and capture an autobid — especially if it's a team that has had fairly recent success in postseason play.
What it does to the PairWise Rankings and all those teams on the bubble that we talked about last week, however, is another story. There will always be people who complain that someone with an autobid isn't as deserving as a seemingly more capable bubble team, but my counterargument is this: A team that can't take control of its own fate for whatever reason during the regular season isn't necessarily more deserving than a team that played its way into an autobid, regardless of the conference, regardless of the records.
And some teams that reach that one-and-done NCAA format through sheer guts and willpower in the final weeks of the season have spent all they had just to get there.
Jim: I have never understood, in the day of the PairWise Rankings where teams and their fans know the second the final game of championship weekend is done which 16 teams will qualify for the tournament, how fans consistently complain their team got the short end of the stick.
If you miss the tournament, there is a reason. College hockey has a wonderfully objective system for picking the NCAA field. I may not love the current system (personally, I miss the "record in your last 16" criterion). But I do believe that there is never a question as to which teams should and should not be in the field.
All that said, I don't agree with your assessment that any team can win a conference tournament. Yes, I know in theory that can happen. But generally teams that finish at the bottom of their league would struggle with winning two straight best-of-three series, particularly if both were on the road, and then winning two games during conference tournament weekend.
I think if there is an upset in the works in a 12-team (or 11-team, in the case of Atlantic Hockey) league, you need to have a first-round series at home. Pulling off six wins in eight games (a best-case scenario that assumes you win both best-of-three series) with all those games away from home seems simply impossible for teams that couldn't get to the top two-thirds of their league after a regular season.
Paula: In fairness, I'm not saying that any last-place team can win a conference championship. I don't think that's realistic at all. I do think that circumstances have to be favorable, like a team that experienced a bunch of injuries that thwarted success that finds itself whole and finally playing up to its ability at the end of a season, or a team that finds itself in front of a really hot goaltender.
And playing spoiler doesn't mean winning the whole thing. A last-place team can certainly put a first-place team's postseason hopes in jeopardy if that first-place team loses in the first round of playoffs and was on the bubble to begin with.
Regardless, it's interesting to see how far passion can take a team beyond its relative potential and how much havoc that can cause for the more comfortable teams at the end of a given season.
Thumbs up
We hardly mentioned Denver, and that's not right. The Pioneers pulled away from North Dakota in the third period each night last weekend, earning a 6-4 and 4-1 sweep on home ice. It is the first time all year North Dakota has suffered a weekend sweep. In fact, the Fighting Hawks haven't lost back-to-back regular season games in a weekend since Nov. 1-2, 2013. Plenty of time left in the season, but Denver can take a bow for that accomplishment.
Thumbs down
To Omaha, which on Saturday night racked up the penalty totals. The Mavericks had to kill a five-minute major while having separate players assessed misconduct penalties. All told, the Mavericks posted 10 penalties for 39 minutes, which added to 10 minutes in Friday's game against Western Michigan, gave Omaha 49 minutes on the weekend. Is there a silver lining? Yes, maybe two. For one, Omaha scored twice short-handed and more importantly, the Mavericks won both games.
Coming up
The only outdoor game of the 2015-16 college hockey season takes place on Saturday when Denver plays Colorado College in the Battle on Blake at Coors Field. According to The Gazette, 25,000 tickets have been sold.
It's the penultimate weekend for the three eastern leagues, and there are some key battles in all of them.
In Atlantic Hockey, first-place Robert Morris travels to second-place Air Force, which is three points behind.
In ECAC Hockey, No. 8 Yale hosts No. 18 St. Lawrence on Friday and No. 20 Clarkson on Saturday. No. 1 Quinnipiac travels to No. 17 Rensselaer on Friday, the same night that No. 13 Harvard hosts No. 16 Cornell.
No. 7 Notre Dame looks to hold onto first place in Hockey East when it plays two at No. 5 Providence, which is in third place, three points behind the Irish.
And in the NCHC, No. 12 Omaha hosts No. 3 St. Cloud State in a two-game series.