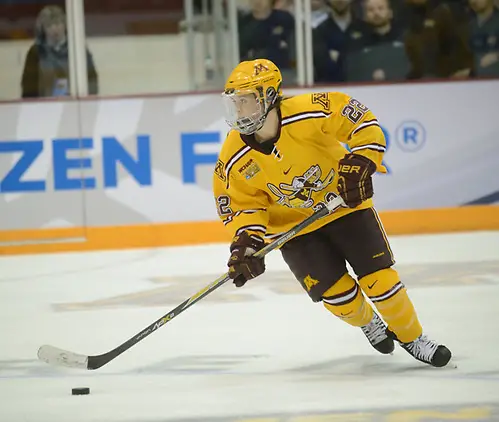 It is said that even the longest journey starts with a single step. For the four teams looking to complete their journey this weekend, the final two steps can seem the longest.
Minnesota knows this better than anyone, as outside of those in their first year as Gophers and Amanda Kessel, whose career started way back in 2011, all they know is playing on the final day of the season. Last year, they finished with a win.
Two years ago, Clarkson showed them what the other side of the coin looks like, when the Golden Knights made their only previous trip count. Their upperclassmen are the only competitors in this field who've experienced winning a Frozen Four in the East.
Boston College has strolled through its journey without having to take any painful steps. Hardest to date were its three one-goal wins, including 2:17 of overtime in one of those over Boston University. The Eagles look for all the world as though they learned their lessons well from last season's ill-timed stumble.
Like BC, Wisconsin has been to this level before, but in each of the last two years, this is where its advance ended.
It's been a testament to the number of times Minnesota has played in the tournament that not only has it defeated each of the three programs in past years, the Gophers have also been eliminated by each of the others. Boston College has been bounced by its three competitors, but has yet to gain the upper hand on Wisconsin in the NCAAs. Clarkson has experienced both winning and losing in the national tourney with BC and Minnesota as opponents, but it hasn't previously faced Wisconsin on this stage. Thus, the Badgers have eliminated two out of three programs. However, they've not been defeated by the Eagles or Golden Knights, although the Gophers have victimized them three straight times.
Which of the four will complete the course by Sunday's end? That's a complicated question, because each game is a journey of its own, comprised of not steps, but skating strides made all about the vast surface of the ice sheet in the Whittemore Center, strides taken by individuals, but the team that coordinates its strides most effectively will be the one to triumph.
Let's look at some of the individuals who may prove pivotal for each.
Boston College
It's hard to say which is more surprising: that Boston College has arrived at the Frozen Four with a perfect record, or that the Eagles aren't a bigger favorite to finish off their season still perfect. Humans remember the times BC came up short in the past, but even some of the computers aren't convinced.
WCHODR favors the Eagles to defeat Clarkson; they are the choice on Friday by almost a full goal, but in the final, they'd be a slight underdog to either of their potential opponents, and WCHODR predicts Wisconsin, its top-ranked team, by .85 goals over BC.
What needs to happen to make the win over the Golden Knights a reality and back it up by handing the WCHA its second loss in the championship that didn't come from a conference rival?
BC just has to keep doing what it's done all season: put the puck in the net. It has been aided in that regard by having the country's second-most successful power play at 31.7 percent, and a healthy campaign where the 15 players on the roster with double digits in points have only missed one game combined.
Key player: Alex Carpenter
Over her 148-game college career, Alex Carpenter has amassed 275 points. In NCAA history, only four players have produced more: Meghan Agosta, 303; Julie Chu and Jocelyne Lamoureux, 285; and Hannah Brandt, 283. Over those four years, Carpenter has averaged almost 1.86 points per game. In three games at her previous Frozen Four appearances, she has totaled one goal and one assist. In Carpenter's 76 NCAA games as an upperclassman, her average has jumped to more than 2.18 points per game, so one has to think that she's sitting on a big weekend. If that happens, it will go a long way to rewriting the Frozen Four legacies of both Carpenter and the Eagles.
Her 133 tallies in her career rank fifth in the NCAA. In a championship where goals figure to be at a premium, none of the other participants has a sniper with as accomplished a record of hitting the twine.
Other key cogs
As a team, BC has scored 209 goals this season. Only four teams in NCAA history have poured in more. It's unlikely that the Eagles can match Minnesota-Duluth's mark of 226 set in the 2002-03 season, but there's a chance that they can wind up third, or even second. With all that firepower, there's a long list of people who can star on any given day.
On just about any other roster, Haley Skarupa would be the featured player. She's piled up 242 points and 113 goals of her own during her years as an Eagle, including 77 points as a senior.
Sophomore Megan Keller led all defensemen in the country with 50 points this season. Her 12 goals ranked second from the blue line.
Sophomore goaltender Katie Burt looks destined to rewrite the record book with a 64-3-2 record in her young career. Although she had a strong .941 save percentage as a rookie, Burt managed to up it to .945 this season.
Possible dark horse hero: Kenzie Kent
It might be a stretch to refer to someone with 42 points on the year as a dark horse, but hey, that's only good for sixth on this squad. Kent skates on a line with Carpenter and Skarupa, so the sophomore is bound to get opportunities while the defense's attention is focused elsewhere.
Clarkson
It's always said that defense wins championships. The Golden Knights aren't sure whether or not they want that to hold true this weekend. Their scoring defense ranked fifth in the country, but that's only fourth-best in this field.
Unseeded Clarkson knocked off fourth-seeded Quinnipiac, featuring the NCAA's second-toughest defense, in a quarterfinal, ending a six-game winless streak versus the Bobcats. That final score was 1-0. Ironically, while tying the mark for fewest goals in an NCAA tournament game, it also set a record for the fastest goal, as the unassisted snipe came just 10 seconds in. Fittingly enough, it came off the stick of a defenseman, senior Renata Fast.
Boston College and Clarkson have split encounters in the quarterfinals the past two years. This time, they meet a round later and on neutral ice.
Key player: Cayley Mercer
Among players in ECAC Hockey, only Quinnipiac's Taylar Cianfarano had more points than the 49 earned by Clarkson's Cayley Mercer. Heading into a showdown against a team wtih three players that have more points and two more are within a couple points of her, it's important that Mercer has her A game on Friday. She's been Clarkson's leading scorer in each of the last two seasons.
Mercer is still waiting for her first NCAA tournament goal, having assisted twice through her previous five tourney games. She has buried 24 pucks as a junior, equaling her goal output from her sophomore season.
Other key cogs
Olivia Howe hasn't been in the spotlight that much during her career, but her power-play goal in the series-clinching win over Cornell gave her 100 points in her Clarkson career. She's tied for second on the team with 37 points this season and she shares the team lead with Mercer with a plus-36.
In spite of missing 10 games with an injury, defenseman Erin Ambrose still finished fourth on the team with 28 points. For her career, she has 137 points, averaging over a point a game.
After a quarterfinal win in which she was only called upon to stop 14 pucks, Shea Tiley figures to be the busier sophomore goalie in the semifinal. Her save percentage fell off a touch to .931 this season, but she can more than make up for it with a big final weekend.
Possible dark horse hero: Loren Gabel
One never knows who is going to come up huge when the lights shine brightest. Against Quinnipiac, it was Fast coming through with her fifth goal of the year and biggest yet. The odds favor the scorer of a big goal being someone who is a big goal scorer, and Loren Gabel is second on the team with 18 tallies in her debut campaign.
Wisconsin
The Badgers scored nearly half a goal more per game this year, which was a nice achievement after graduating four forwards who had at least 25 points last season, including three who exceeded 35 points. However, the primary factor in their improved record was at the other end of the ice.
After allowing a modest 45 goals a year ago, that number plummeted to 26 goals this season. The defense only allowed more than two goals on three occasions, but when it did, the offense couldn't pick up the slack; Wisconsin lost all three.
A big part of that stingy defense was the penalty kill, which was successful 94.7 percent of the time. That's actually behind its pace of a year ago when it also led the country, killing penalties at a 95.8 percent clip. The PK does outperform opposing power plays. Wisconsin has scored eight short-handed goals while only allowing opponents to convert on the PP six times.
Key player: Ann-Renée Desbiens
The latest in a line of great goaltenders at Wisconsin, Desbiens is putting up numbers that won't be broken soon, if ever. She set a new NCAA record for season shutouts with 21, including all five postseason games. Her save percentage of .962 and 0.71 goals-against average would also set new season marks.
Her only drop off has been offensively. To date, she has only two assists; she assisted three times as a sophomore.
Other key cogs
Sophomore Annie Pankowski improved upon her prolific freshman season with 58 points. That led Wisconsin, as did her 36 assists.
Classmate Emily Clark ramped up her production even more, nearly doubling her goals as her points increased by 63 percent to 44. She led the Badgers in game-winning goals.
On the blue line, senior Courtney Burke and junior Jenny Ryan provided an effective duo, logging a lot of minutes and both pushing beyond 30 points.
Possible dark horse hero: Sarah Nurse
Although Sydney McKibbon, who currently has nine goals on the season, scored the only goal of the WCHA championship game, it's more likely that she'll be setting up Nurse, her linemate who leads the team with 25 goals, while McKibbon is third on the team with 27 assists.
Minnesota
For the first time since 2012, Minnesota arrives at the Frozen Four as something other than the top-seeded favorite. This is the second time in program history that the Gophers have reached the Frozen Four for five straight years.
They actually have a better winning percentage this year compared to last year at this stage, but other teams have made greater improvements. Because of that, they'll need to do something they haven't accomplished before — win an NCAA title as the third seed. Minnesota was essentially the third choice when it won the national championship in 2000, the final year the tournament was run by the AWCHA.
The Gophers haven't won an NCAA title outside of the state of Minnesota since 2005. Coincidentally, that was also the last time it was held in Durham, New Hampshire.
Key player: Hannah Brandt
In the NCAA tournament, Minnesota has gone as Hannah Brandt goes. When she scores a goal, the Gophers are 8-0. When she does not, they are 1-1.
On the season, she has 62 points, three shy of her previous low for a season. She's also three points short of posting the second-highest point total for an NCAA career.
Other key cogs
Junior Dani Cameranesi leads Minnesota in points (68) and goals (33), both career highs. Moved off of Brandt's line soon after Kessel returned, she has clicked just fine on Minnesota's second line.
Kessel is as instrumental to her team's hopes as anyone with 15 points has ever been at the Frozen Four. Eleven games probably weren't enough to get her in peak condition, but they will have to do.
Senior Amanda Leveille enters the weekend with a personal record of 6-1 in the NCAA tournament. Since the inception of the event, the Gophers are 14-0 when starting a junior or senior in goal.
Possible dark horse hero: Cara Piazza
There are many options here, including four defensemen with point totals in the 20s and three more forwards with 40 points or more. Piazza had 34, but even should she not make an offensive impact, she has strengthened Minnesota's third line since she was moved to center the unit.