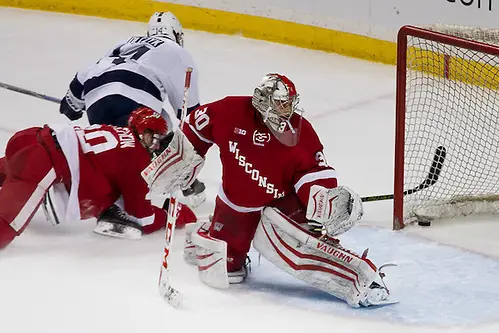 ST. PAUL, Minn. — Mike Eaves knew that for Wisconsin to be successful against Penn State, his players would have to play a disciplined game with the puck.
The Badgers fell behind early and then forced their hand too many times in a 5-2 loss Thursday to the Nittany Lions before a sparse crowd at Xcel Energy Center in the quarterfinals of the Big Ten tournament.
Big Ten tournament
See the tournament bracket and get links to schedules and stories at Big Ten Playoff Central.
"Those are the kind of guys that have some pretty good puck skills and they want to test that water," Eaves said. "It happens at the next level, too, and [you're] trying to convince them to believe in that there's a time and a place.
"We talk about taking what is given, and they try to force things in there. To use a football term it causes interceptions and sometimes it's a pick-six when they do that."
The Badgers played a solid game — they outshot the Nittany Lions 37-29, gave up only one power-play opportunity and generated four chances on the man advantage for themselves. In the end, like many times during an 8-19-8 season, they came up short.
"You know, this group of kids, there were many times that we were behind in a game and came back and tied and fought," said Eaves. "I think [sports information director] Paul Capobianco had a stat that 24 of our 36 games before coming in this weekend, we were tied or better going into the third period. They were a persistent group. They were a resilient group."
Juha's return critical for Nittany Lions
Penn State missed defenseman Luke Juha from its lineup in the regular season finale, but getting him back was key to its transition game, according to coach Guy Gadowsky.
"Defensemen that have the ability to move the puck are really important, but then ones that can also see the ice very well are really exceptional in transition," said Gadowsky. "And that's a big part of his game as well as his partner."
Juha's teammates were also happy to have the senior back in game as his three assists were pivotal to their success.
"Our game plan is we like to backcheck a lot and we can cause a turnover right around [the blue line]," said Ricky DeRosa. "We definitely try to transition the other way quick and get some opportunities."
"Quick transitions, that's one thing we've been focusing on a lot this year," said Eric Scheid. "I thought our D men did a nice job having a good gap tonight and our forwards [were] getting back hard."
Penn State will have a big challenge in Friday afternoon's semifinal to maintain its transition game against Michigan.
On the crowd
Eaves wasn't sure what the future will hold for the Big Ten Tournament, but he said he hoped that teams will continue to get chances to play at Xcel Energy Center.
"This is such a great building. I love coming here," said Eaves. "I think that there has been talk about taking it back to campus because of the atmosphere for the student-athlete. I mean, today we saw again, I know it's Thursday afternoon, but I hope the crowds get bigger for tonight's game and the evening games."
The Big Ten tournament is scheduled for Joe Louis Arena in Detroit again next season, the location of the tournament in 2018 and beyond s is still up for debate among conference administrators.
No official crowd size was available for the first game of a two-game session.