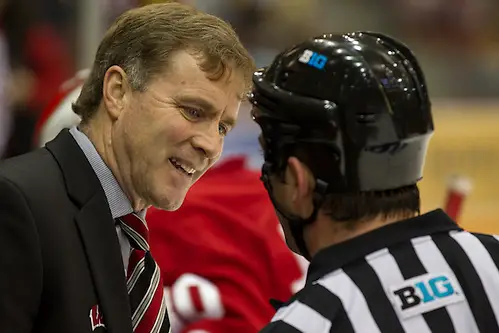 Wisconsin fired coach Mike Eaves on Friday, one day after the Badgers completed a second straight season in which they failed to reach 10 victories.
Eaves, who led the Badgers to the 2006 national championship and to seven NCAA tournament appearances in 14 seasons, won only 12 games over the last two seasons.
The Badgers finished 8-19-8 in 2015-16 after going 4-26-5 the previous season.
"I told Mike I appreciated the work he's done here," Wisconsin athletic director Barry Alvarez told UWBadgers.com. "I also told him that we have great tradition and standards here in hockey. He's the gate-keeper of hockey. I'm the gate-keeper of the department. We both have a responsibility.
"After last season, because of the success we've had in the past, we felt that Mike had earned a chance to get the ship righted. But now, after back-to-back seasons like the last two we've had, I feel we need a change."
Eaves was under contract for three more seasons; his five-year contract wasn't extended after the 2014-15 season.
The contracts of associate head coach Luke Strand and assistant coach JB Bittner are tied to that of Eaves, a Wisconsin spokesperson said. Strand and Bittner, who joined the program last offseason, have agreed to stay on through the coaching transition.
Eaves' tenure at Wisconsin was bookended with losing seasons.
The Badgers were 13-23-4 in 2002-03, a season in which Eaves was reprimanded by school officials for physical contact with one of his players, Alex Leavitt, at the team hotel after a game at North Dakota.
At the time, it was Wisconsin's worst season since resurrecting its program in 1963.
But Eaves then led the Badgers to three straight NCAA tournament appearances, culminating in the school's sixth national championship in Milwaukee in 2006.
Wisconsin returned to the title game in 2010 but lost to Boston College. The Badgers were a No. 1 seed in 2014; they lost to North Dakota in the first round.
Overall, Eaves was 267-225-66 as head coach at his alma mater.
The downturn in the program's on-ice fortunes since has carried with it a financial impact.
In 2015-16, Wisconsin had its lowest average announced attendance in 18 seasons playing at the Kohl Center. The 8,849 average for games at the Kohl Center this season was down 19 percent from a year before and down 39 percent compared to the program high of 14,430 in 2006-07.
Season ticket sales were off 23 percent compared to last season, and down 52 percent compared to 2006-07.
"I like Mike and I respect Mike," Alvarez said. "All those things play into it. That's what makes it very hard.
"These are never easy decisions, but I've got a responsibility to the university, to our fans and to everyone else. It's just not acceptable at Wisconsin to have a hockey program in this state where we are right now."
Badgers alumni are expected to be prominent among the names mentioned as possible replacements.
Former Ohio State head coach Mark Osiecki had a successful run as a Badgers assistant from 2005 to 2010. He's an assistant with Rockford in the AHL.
Don Granato is in his fifth season as the head coach of the USA Hockey National Team Development Program and has also been a head coach in the AHL and an NHL assistant.
And Wisconsin women's coach Mark Johnson frequently is mentioned as a possible men's team coach; he was a candidate when Eaves was hired in 2002. His father, Bob Johnson, coached the Badgers to three national championship in 15 seasons as coach from 1966 to 1975 and 1976 to 1982.