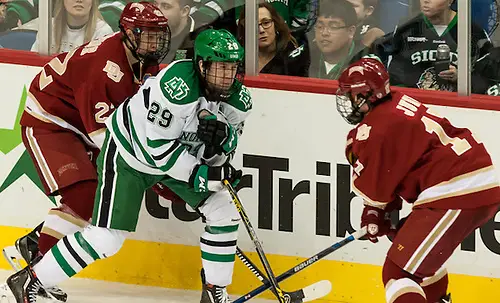 MINNEAPOLIS — The atmosphere was curiously subdued for a game between North Dakota and Denver, especially considering North Dakota's rabid fan base, which again was well-represented.
The seats at the Target Center were a sea of green and black. If it wasn't quite like playing in Ralph Engelstad Arena, it wasn't too far off.
NCHC playoffs
See the tournament bracket and get links to schedules and stories at NCHC Playoff Central.
However, the energy in the building never really seemed to catch. Perhaps that was the result of the setting on Saturday, a third-place game in the NCHC's Frozen Faceoff. Nothing was really on the line. Either team might have moved up or down one spot in the seedings, but both are already in the NCAA tournament.
Given that, it was only fitting that North Dakota and Denver battled to a 1-1 tie and finished their season series tied at 2-2-1.
"Playing a third-place game is tough for both teams coming in there, and I thought it was another NCHC battle," North Dakota coach Brad Berry said. "We saw two good teams playing against each other, and it was a battle that resulted in a tie, which happens most nights in our league."
"It's the second year in a row unfortunately we're in this consolation game, but I have to say, both times, the consolation game, I think from a fan's perspective, was a better game to watch because plays were being made and the pace of game was really high, and it shows the character of both dressing rooms how hard they play in the consolation game," said Denver coach Jim Montgomery.
The question then becomes whether there should be a third-place game. No other league has one. It's a relic from older days, as the old CCHA used to have one, but all five other conferences have dropped having a third-place game.
Two years ago, the third-place game enabled North Dakota to get into the NCAA tournament, but the last two years have seen Denver and North Dakota square off with nothing on the line.
"I guess yes and no," Berry said when asked if he likes the third-place game. "Obviously, a situation like tonight where you are guaranteed to be in the national tournament, there's not a lot of movement in it unless you move up a seed or down a seed. I know a couple of years ago we had to win the third-place game to get in, and a team had to lose, so in that case it helped out. I think it's 50-50 if you ask people. You know what, we had a lot of fans here and it's great to play two games in front of them in a great venue, so from that standpoint I like playing."
Denver in each game sat some of its best players. This year, defensemen Will Butcher and Matt VanVoorhis, forwards Grant Arnold, Matt Marcinew, Gabe Levin and Quentin Shore, and starting goaltender Tanner Jaillet all sat out. In the lineup were defenseman Sean Mostrom, who had played only one game all year, and forward Rudy Junda, who had played three games this season.
"I think it's important to build our brand and our league," said Montgomery. "For us to be able to sell tickets, first of all. A lot of people think there's nothing in the consolation game, but our players are used to playing back-to-back nights, so when we go to the NCAAs we have to be in that kind of condition and if you get out of that rhythm, it does have an effect on your body physically."
The players seemed to want to make the best of the situation, talking about playing for pride. The third-place game is probably not going anywhere anytime soon, but whether it should exist is open to debate.
"Regardless of what the situation is, you just have to show up and play the game," said North Dakota senior forward Drake Caggiula. "You don't look at it as if it doesn't mean anything because it can have an effect on PairWise and an effect on momentum heading into the national tournament. It doesn't really matter what the circumstances are, you go out there and play it like it's any other game. It shouldn't affect you, but it's tough, like Coach Berry said. It's a third-place game and both teams are in the tournament."