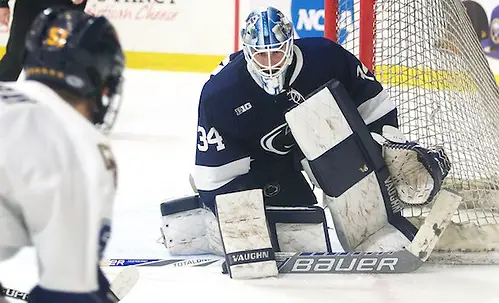 Penn State junior goaltender Eamon McAdam has become the second Nittany Lion in program history to sign an NHL contract, inking a three-year, entry-level deal with the New York Islanders on Tuesday.
McAdam forgoes his senior season in pursuit of his NHL dream and joins Casey Bailey as the first two Nittany Lions to sign NHL contracts. McAdam was a third-round pick (70th overall) in the 2013 NHL draft prior to arriving at Penn State.
"We are very proud of Eamon and his growth as a goaltender and a teammate," said PSU coach Guy Gadowsky in a statement. "He had a tremendous season and we will surely miss him, but we are very excited to watch his success with the Islanders. Eamon is also an excellent student and has assured us he will graduate. I know Eamon loves Penn State and he will always be a big part of our hockey program and the university."
"Thank you to everyone at Penn State," added McAdam. "All the staff, fans and my teammates who I've had the opportunity to play with here. Thank you for all the opportunities and chances they've given me over the past three years. It's been an amazing time, the best three years of my life and I'm excited to see where this program will go in the near future. I came here to help set a foundation for future Penn State hockey players and I hope I helped make this program better than it was when I got here."
In 2015-16, McAdam started a career-high 22 games and posted season-bests in GAA (2.98), save percentage (.913), saves (631) and record (13-8-1). His 13 victories were a school record, as was his .614 winning percentage for a single-season.
McAdam leaves Penn State second all-time in games played (44), games started (44), goalie minutes (2420:08), saves (1,256), save percentage (.905), GAA (3.27) win percentage (.463) and victories (18). He is the only Penn State goaltender to record points, tallying four assists in his three years, three of which came this past season to tie him for the nation's lead.
McAdam is also a 2014-15 Academic All-Big Ten selection and on track to earn the honor again in 2015-16.