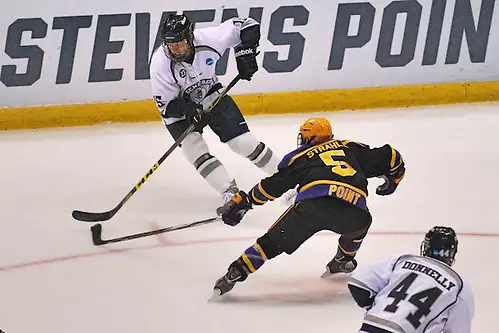 LAKE PLACID, N.Y. — The Geneseo Ice Knights came up short in their ultimate mission.
That didn't deter the large contingent of Geneseo fans who made the trip north for the team's 5-1 loss to Wisconsin-Stevens Point in Friday's Division III semifinals. They stood and cheered in the waning seconds, shouting, "GEN-E-SEE-O!"
It's been a long and trying season for the hockey team, college, and local community ever since the deaths of captain Matt Hutchinson and basketball senior Kelsey Annese.
Coach Chris Schultz talked about his team: "They provided our community with a lot of strength."
Geneseo found itself down 4-0 but continued to push. It finally scored late in the second and Dave Ripple smacked the post early in the third.
"We said we were going to do anything it took to win, and I think that is the best way we honored his memory," senior captain Ryan Donnelly said. "I think Hutch would be proud with how we have competed all season."
Donnelly was especially fond of how the team pulled together.
"We [the captains] can't say enough about the group of guys we led this year," he said. "I've played 20 years, and I never felt a closer bond with a group of guys."
When asked how he wanted this team to be remembered, Donnelly said, "I want us to be remembered as a family."
Mission accomplished.