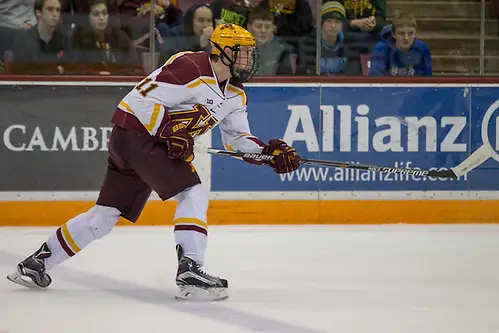 Minnesota defenseman Nick Seeler signed with the NHL's Minnesota Wild on Saturday, giving up his final year of collegiate eligibility.
Seeler, a fifth-round pick of the Wild in 2011, played one season for Minnesota after starting his collegiate career at Omaha.
"I am thrilled and grateful for the opportunity to join the Minnesota Wild organization," Seeler said in a Gophers news release. "I want to thank the entire Gopher Hockey program for giving me the chance to be part of such a great tradition. I have been very fortunate to play hockey in Minnesota in high school and in college and could not be happier about the opportunity to continue my career in my home state."
Seeler had 10 assists in 36 games for Minnesota this season after sitting out the 2014-15 season because of NCAA transfer rules.
He had six goals and 19 points in 70 games over two seasons for Omaha.
"Nick has a great opportunity to play for his hometown team in the Minnesota Wild, and we are happy for him," Minnesota coach Don Lucia said in a statement. "Nick was a vital part of our team this season as well as last season, and we thank him for his contributions to the Gopher Hockey program."