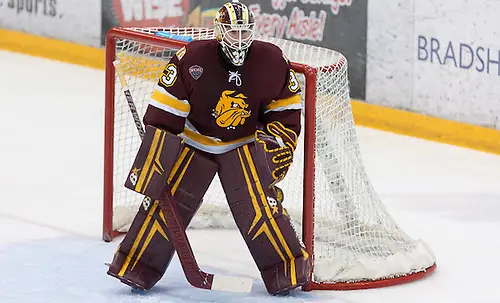 Minnesota-Duluth sophomore goaltender Kasimir Kaskisuo has given up his final two years of NCAA eligibility to sign a two-year contract with the Toronto Maple Leafs.
"I feel like I'm ready," Kaskisuo said to the Duluth News Tribune. "UMD has given me two awesome years and time to develop, but now I feel like the opportunity is there and it's time to take the next step and develop even more at a higher level. It's always tough to leave a team like this, especially how close of a group we were. But sometimes you just need to be selfish in a way. I'm not trying to say it as a bad way, but when the opportunity is there and you feel like you're ready to go and think this is personally best for you, it would be really, really hard to say no to that.
"I feel like that's the best move for me right now."
The News Tribune article said Kaskisuo had numerous NHL teams after his services and also states UMD coach Scott Sandelin was a not surprised with the signing.
"The way he played his freshman year, he gained a lot of attention," Sandelin said in the report. "Being a free agent, he was in a great spot. He followed it up with another year and that's why I'm not really surprised. You always hope to keep guys around a little bit longer, but I'm happy for him and, hopefully, he does well. He was a lot more consistent this year from start to finish, in my opinion, and part of that is maturity and I think (volunteer goalie coach) Brant Nicklin did a good job with him as well. Those are all good signs if you're moving on."
In 2015-16, Kaskisuo went 19-15-5 with a 1.92 GAA and a .923 save percentage.