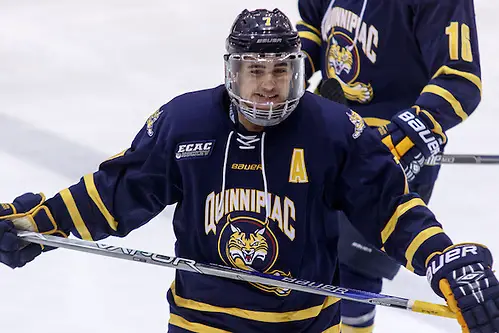 The Minnesota Wild announced Friday that the club has signed Quinnipiac junior forward Sam Anas to a two-year, entry-level contract starting with the 2016-17 season.
Anas tallied a team-best 50 points in 2015-16 on 24 goals and 26 assists in 43 games.
In addition, Anas was named to the 2015-16 AHCA/CCM Hockey Men's Division I All-America First Team, to the NCAA tournament All-East Region Team, as well as the ECAC Hockey First Team.
He tallied 132 points (69 goals, 63 assists) in 121 games during three seasons with the Bobcats.
Anas recorded 39 points in 38 games during his sophomore season and was named to the 2014-15 AHCA/CCM Hockey All-American Second Team, becoming the third player in Quinnipiac history to receive All-American honors. He led NCAA freshmen in goals (22) and points (43) as well as points-per-game (1.07) in 2013-14 and received the Tim Taylor Award from the Hockey Commissioners Association as the NCAA Division I Men's National Rookie of the Year. Anas was also selected as the ECAC Hockey Co-Rookie of the Year and was named to the 2014 ECAC Hockey Second Team and the ECAC Hockey All-Rookie Team.