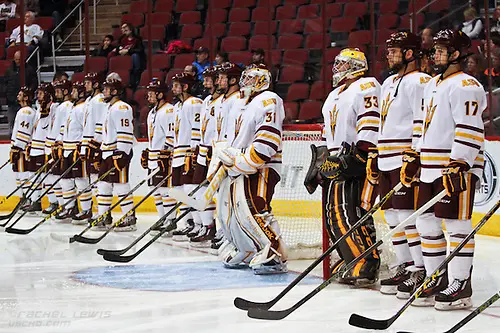 The NCHC is poised to add Arizona State as a ninth member if school officials sign off, sources have told USCHO and College Hockey News reported on Friday.
A source said school presidents could vote in May on whether to admit Arizona State, which played its first season as a Division I program in 2015-16. (Editor's note: An earlier version of this story said the presidents will vote in May, which has been put in doubt.)
NCHC commissioner Josh Fenton disputed the reports in a statement:
"Since the formation of the National Collegiate Hockey Conference, the topic of membership remains a priority," he wrote. "The focus has been and always will be strengthening our current member institutions. The opportunities to discuss expansion are grounded in our belief of what maximizes the value of the NCHC and strengthens college hockey as a whole. Although we will continue to discuss expansion, the reports made earlier regarding an impending change of membership within our conference are inaccurate. We remain guided by a keen focus to strengthen the NCHC and helping to grow the game of college hockey."
Both the NCHC and the WCHA were known to have been courting the Sun Devils among the western conferences. The Big Ten, which is adding affiliate member Notre Dame as a seventh team in 2017, reportedly backed away from pursuing Arizona State.
Concerns about travel costs were part of the league discussions with Arizona State, a source said. The NCHC has two of the closest schools to the Sun Devils' Tempe, Ariz., location in Colorado College and Denver, but each is more than 750 miles away.
It was unclear whether a Sun Devils move to the NCHC would take effect for the 2017-18 season or 2018-19. The league schedule for 2016-17 has already been released.
Arizona State was 5-22-2 in its first Division I season, including 2-3-2 in home games. Dating to their years as a club-level powerhouse, the Sun Devils have called 747-seat Oceanside Ice Arena, but they had four games in 2015-16 at Gila River Arena, home of the NHL's Arizona Coyotes.
The school and the Coyotes have been reported to be in talks about a partnership for a new arena in Tempe.
Arizona State has hopes to be in a new arena by the 2018-19 season.