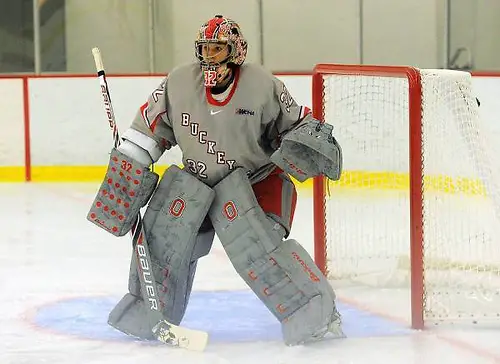 Arlan: We saw some unexpected results in the 2016 portion of the schedule, and that's continued in the early days of 2017. That has been particularly true in ECAC Hockey.
St. Lawrence split a series with Mercyhurst in Arlington, Virginia. The 5-2 loss in the opener marked the first time that the Saints came away without a win in a game against someone other than Clarkson. After opening 15-0-2, SLU lost back-to-back games before salvaging the second game with the Lakers, 3-2.
Cornell is another team from the top half of the ECAC that had to settle for a split against a team with a losing record, Providence in this case. Freshman Clare Minnerath made her first start for the Friars and stopped all 26 shots that the Big Red put on the cage in PC's 2-0 upset. Cornell bounced back in the second game with a decisive 5-1 win, and smashed Syracuse 7-2 on Tuesday night.
Perhaps the biggest surprise was Colgate going winless on its trip to St. Cloud. The Raiders went into the break with a 15-2-2 mark, with both losses coming in one weekend in November on a trip to Princeton and Quinnipiac. Meanwhile, after starting 3-4-1, the Huskies had won only twice over their next dozen games, including losing their final six of 2016. Colgate started well enough against St. Cloud State, scoring on four of its first 18 shots to take a 4-3 lead midway through the second period. Taylor Crosby exited the Huskies' net, usual starter Janine Alder replaced her, and that was the end of the Raiders' offense for the weekend. Alder stopped all 17 shots Colgate fired at her on Friday and turned in a 40-save shutout on Saturday.
SCSU was able to keep its offense rolling on Friday after Alder extinguished the opponents' attack, culminating with a Hannah Potrykus hat trick in a 7-4 win. However, the Huskies couldn't figure out freshman Liz Auby, making her third career start for Colgate on Saturday. Auby made 30 saves of her own in a 0-0 stalemate, helping the Raiders mitigate the damage of the road trip to some extent. Still, they fell to eighth in the PairWise.
What stood out to you? For me, I'm not sure if it was the Huskies' success this weekend or Alder, who was her team's best player when I saw them, being on the bench to start the weekend.
Nicole: Adler had started 14 straight games before Taylor Crosby got the start on Friday, so her sitting was a mystery to me, as well. She's been a huge factor for them and the Huskies don't have to look far to find teams who've built successful seasons on the back of a stellar goalie; multiple WCHA squads have done it in recent years. I spoke to St. Cloud State coach Eric Rud this week and he said he'd wanted to get Crosby a chance in net, as she'd been injured for much of the first half. He also mentioned that the Huskies had lost their final six games before the break and he said any coach not looking to change things up in situations like that probably isn't going to be around very long.
You said throughout the first half that you expected Mercyhurst to break out of their fog and play more like the team they've proven they can be, so though it's been a rough stretch for them, I don't see their win over St. Lawrence as all that surprising.
St. Cloud's performance this weekend was so wonderfully surprising because it was a complete one. They didn't eke out a win or steal a win from a ranked team, they won decisively on Friday. They scored to tie the game, and then they just kept scoring. Despite showing what they can do on Friday night, a tie is actually an incredible result for them. Taking four points from this weekend series is a big boost for the Huskies, who've been building up to a moment like this for most of the season.
They have a few big wins, but based on what they showed this weekend, some of their losses become a bit confusing. There's obviously going to be a confidence boost from a series like this, but hopefully the Huskies learn something about playing a full and consistent series as well.
Now they head to Wisconsin for a series that looks a lot more interesting than I'd have thought a few weeks ago. It's Wisconsin's Fill the Bowl event, so they'll play on Saturday in the Kohl Center in front of what has historically been a crowd of at least 10,000 fans.
How do you see the weekend playing out? The Badgers last hosted a Fill the Bowl in 2014, and it was a game best forgotten as they came out totally flat against Minnesota and lost 4-0. Does that event factor into how you think the weekend will go? The Kohl Center ice sheet is seven feet wider than the LaBahn at 97 feet and the Huskies are used to playing on a sheet that's 100 feet wide. Will that give St. Cloud an advantage, or does the wider ice play into Wisconsin's speed and stick-handling?
This could very likely come down to a game decided by the goalies. Wisconsin is still without Ann-Renée Desbiens. Nikki Cece has been acquitting herself well in her stead, but is surely bolstered by the Badgers' ability to score. If Adler is as shut-down as we've seen and Wisconsin struggles to score, something they've shown a propensity to do at times, could the Huskies pull an even bigger upset?
Arlan: I doubt St. Cloud State can win in Madison. While it has had more success over the years against Wisconsin than it has against Minnesota, a team it hasn't beaten since 2010, I'm not expecting the Huskies to get the better of the Badgers this coming weekend.
Playing in the Kohl Center shouldn't alter the result much from what we'd see in LaBahn. Yes, the Badgers have speed, but St. Cloud skates fine. They've always been a decent skating team, recruited to play on the big ice sheet as you pointed out. The big ice favors the team that has possession of the puck, and that will be Wisconsin more often than not. The Huskies will likely have to spend more energy chasing the puck then they would if the game was in LaBahn.
The big crowd should be about a wash. In the 2014 game that you spoke of, the crowd almost worked against the Badgers. While you thought that they were flat, they may have been almost too excited for that game. As it progressed and they didn't score, the pressure mounted. Wisconsin was in the midst of a long losing streak to the Gophers, and at a certain point as the hosts fell farther and farther behind, reality set it. While you'd prefer to forget it, I'll remember it, at least until I watch a college game with a larger crowd than that.
This time, the Badgers will be the more skilled team, and they'll realize that they own that advantage, and if they keep skating, they'll be rewarded eventually. Wisconsin will be extra determined to not let the visitors ruin the celebration, as was the case for the previous Fill the Bowl.
The Huskies should be excited to play before a big crowd as well. For most of them, it will likely be the largest crowd they've ever had the privilege of playing in front of, but at the end of the day, I expect that the better team will take care of business.
That isn't the only major event in the women's hockey world this week. Boston College and Harvard squared off in Fenway Park on Tuesday night. The organizers likely imagined the event having a bit more luster, but a one-win Harvard team put a crimp in that plan. Somewhat predictably, the Crimson stayed stuck on that lone victory as the Eagles skated to a 3-1 win outdoors in front of an announced crowd of 801.
Before we leave the WCHA, there were a couple of notable results since you and I last spoke. One was North Dakota following up a convincing win over Lindenwood with an equally convincing loss. The second came this weekend when Ohio State visited Penn State, and all of the highlights were colored Scarlet and Grey, as Kassidy Sauve made 55 saves in earning 5-0 and 6-0 shutout wins. In the WCHA standings, 13 points separate the Fighting Hawks and the Buckeyes, but do you see much of a gulf separating the two squads?
Nicole: I think the biggest thing separating those two squads at this point is experience. North Dakota has quite a few players with international experience for various countries. That has helped their first year players be effective and comfortable more quickly, and serves them well in close games. With all the personnel changes at Ohio State over the past few seasons, North Dakota also has the edge in terms of WCHA experience. Brian Idalski is in his 10th season navigating the WCHA, and I don't think that knowledge and experience can be overlooked.
Another big difference is confidence — or, maybe better put, perception. North Dakota believes they are an elite program and they carry the confidence and swagger that are a byproduct of that. Between the lack of past success and the coaching changes over the past few seasons, Ohio State is a program that's still being built. The teams themselves view their spot in the WCHA hierarchy differently.
However, I don't see the Buckeyes staying complacent or "underdogs" for long under Nadine Muzerall. My impression is that Ohio State is starting to act like they belong and with players like Sauve and Jincy Dunne to provide a foundation to build upon, they're not far from making a serious impact on the conference.
I've heard coaches say that one of the biggest indicators they've seen of the growth of women's hockey is the narrowing of the gap between so-called elite players and everyone else. There's always going to be a top tier, but over the past few seasons, they've seen the difference between tier one and tiers two and three narrow significantly. It seems to me that description could easily be used in the WCHA. The teams are far less spread out, talent-wise, and the gaps between the "haves" and "have-nots" has gotten much smaller.
Ultimately, they're both teams that I'm never surprised by a win or a loss. They both have the capability and talent to beat top squads and they both lose games I expect them to win.
I wanted to ask you about Harvard. They tied no. 8 Quinnipiac this weekend before losing 2-1 to Princeton. They're still just 1-10-2 on the season. You mentioned in an earlier WW the amount of players with international experience on their roster. I think it's fair to say that they are better than their record, but that doesn't really get at the root of what's going on with them. This is a team just two years removed from playing in the national championship game. Surely that sort of turnaround can't be fully explained by graduation?
What's your insight on what's happening with Katey Stone's program? And which team is closer to the one that we can expect to see on the ice in Cambridge in coming seasons — the one that tied the Bobcats or the one that lost 3-0 to Cornell?
Arlan: At any given moment, it could be either one, but if I had to guess, I'd lean toward the former. The talent pipeline hasn't dried up, although Harvard supporters might bemoan the fact that the Crimson don't get the Kazmaier Award caliber players that they once did. I think that the depth of talent at Harvard is at least as good and likely better than it was in the days when Stone tended to ride two lines heavily and Harvard was still a Frozen Four regular.
As for what is going on with Harvard this year, my first guess was that it was falling behind early much of the time, but that's not truly the case. In addition to the win at Dartmouth, the Crimson opened the scoring in both games versus Princeton, both games against Minnesota-Duluth, and when they hosted Quinnipiac, but they wound up losing all five games. The math tells us that they struggle to hold leads, but the question is why?
The schedule is part of the problem. All of their opponents to date, except Dartmouth and New Hampshire, have winning records. Harvard was once fully capable of beating good teams routinely, but apparently, it isn't yet at this stage of this season's evolution. Do players start to doubt when something bad happens? Is Stone's system based on having a superiority over opponents, and if that edge isn't sizable, are the systems flawed? Has a leadership vacuum not yet been filled after graduating the team's core in the last couple of seasons? I don't know the answer to any of these questions, but clearly, Harvard hasn't yet figured out how to win games.
This isn't the first time that a Stone team has started slowly, although the starts have never been this close to a dead stop. Even the most recent edition to reach the championship game was only .500 through its first six games. Last year, the start was the strength of the season. After dropping the opener to Dartmouth and tying Clarkson, the Crimson rattled off seven straight wins. However, they were just 10-11-2 the rest of the way. Maybe that was a signal of darker days ahead, and the graduation of stars like Emerance Maschmeyer and Michelle Picard further compounded the problem.
All that said, Harvard sits three points out of the final playoff spot. I think it will rally and advance to the postseason, but then what? Home ice is 13 points away, and although it has games in hand, that's a lot of ground to make up, especially for a team that hasn't proven it can beat contending teams. The writing on the wall suggests that it'll be another first-round exit. The situation could change drastically, and in six weeks we could be talking about Harvard being the team that nobody wants to face in the opening round, but I'm skeptical.
What other ECAC teams could you see experiencing a shift in fortunes in either direction in the weeks ahead?
Nicole: A quick glance at the remaining slate promises at least as much drama in the ECAC as we've had up until this point, if not more. Between the volatility of the league and my complete ineptitude at the weekly picks, I'm not sure you could pay me to choose the final standings of the conference. The top half all play each other — some twice — and there's still so many chances for the bottom teams to pull an upset and throw a wrench in everything. And we just mentioned Harvard's potential — if they make a small run for the playoffs, we could see more shuffling.
In the immediate future, Colgate is the team with the toughest path. Looking at their remaining games, I just don't think they end the season ranked. Six of their final 13 games are against teams currently ahead of them in the ECAC standings.
Their next five games are against Quinnipiac, Princeton, Cornell, St. Lawrence, and Clarkson. That's quite the gauntlet, and one they won't come through unscathed. It does get moderately easier there for a few weeks, but their final two games are against St. Lawrence and Clarkson. At the moment, they are four points back from home ice, but it'll likely be a very different landscape in mid-February.
Clarkson and St. Lawrence's final four games are against Princeton, Quinnipiac, Colgate, and Cornell — though obviously in different order. That's a tough final month and every point will be critical. There won't be much, if any, room for mistakes, so the team that most takes care of the puck will control their own destiny.
On the other hand, Quinnipiac and Princeton could see their stock rise. By comparison, the rest of their slates looks much friendlier. They've got the chance to pick up points while Clarkson and St. Lawrence face top-half teams.
It could go down to the end over in the CHA, as well. Robert Morris has just five points up on Syracuse. The teams have a two-game head-to-head series yet to play on the final weekend, but before that, Robert Morris has to face the rejuvenated Mercyhurst Lakers. They'll both face Lindenwood. Syracuse also has Penn State.
It's a narrow margin, but Robert Morris has to be in the driver's seat, don't you think? They've not lost a conference game yet and have just one loss overall. Meanwhile, Syracuse has won just once in their past six games.
Arlan: There are things to like about Syracuse's chances in the race. Six of the nine losses for the Orange are by a single goal. Combined with the five ties, it shows that they aren't that far away from being a more-successful team.
The schedule is in their favor. They get the other three teams in the CHA's top four — Robert Morris, Penn State, and Mercyhurst — on home ice. Robert Morris has to go to Erie in addition to its trip to Syracuse.
There's also an intangible for a team that has been so close to an NCAA berth in overtime in the CHA Championship the past two years. Maybe this year if the Orange get that close to a title they've learned enough from the heartbreaks to find a way to close the deal.
However, there are other factors that aren't as friendly to Syracuse. Each team has yet to face one of their league opponents. RMU will see fifth-place Lindenwood four times, while Syracuse has four games with third-place Penn State. All three Robert Morris goalies have a higher save percentage than that of Syracuse junior starter Abbey Miller's .910. Alysha Burriss leads the Orange with 14 points. That would rank fifth for the Colonials and is only 40 percent of Brittany Howard's 35 points, the second-highest total in the country.
Plus, five points is a sizable lead with just 12 league games left. Even if Syracuse can find a sweep of the Colonials — and it has only one series sweep to date this season — it will still need help to climb up to first.
The Colonials should have their eyes on another prize. If they keep winning, they could have an NCAA spot nearly locked up before the CHA tournament gets underway. Should they secure a first-round bye, they would lose at worst one playoff game before the selections are made. Teams like Boston College and Minnesota-Duluth are definitely in range. Even though fifth in the PairWise doesn't clinch a national tournament invitation, it would take a perfect storm to prevent it. Should RMU keep winning one game at a time, both the CHA crown and the NCAA tournament will follow.
If the ECAC has you stumped, then what do you make of Hockey East? Yes, the top spot with Boston College is much easier to predict, but between the Eagles and Maine on the bottom, everyone else could have been placed by a random number generator. Northeastern looks secure in second with 20 points, but Vermont is only five points back with four games in hand and owns the head-to-head tiebreaker.
Everywhere one looks, there are questions. Vermont and BU are tied for third with New Hampshire, but the Catamounts have games in hand and the Terriers are done with the Eagles in conference play. Connecticut and Providence are tied for sixth. Can Merrimack continue its upward arc and move out of the eight-place spot that could bring a trip to BC, or should the Warriors be more worried about getting passed by Maine as they were a year ago? Even if you can't figure out how the individual games in Hockey East will turn out, and believe me, that's something I never mastered, how will the big picture play out?
Nicole: The thing is, I'm sure some of our obvious distress at being completely baffled comes off as complaining, but I'm actually kind of loving how chaotic things are. I know you're one to temper excitement and remind Candace and I that things probably aren't any more confusing than they have been in years past. I'd certainly like to feel that I have a better grasp on things than I do — and feel more competent at my job — but the fact that teams are continuing to defy expectations, pull upsets, and get more competitive is what makes women's college hockey so great. Ultimately, the sport is still very young in this iteration, so we get to see a lot of the peaks and valleys that come from growth.
I love that some of the most interesting battles in Hockey East are the ones happening in the bottom half. Merrimack has been one of my favorite teams to keep an eye on this season because I'm really impressed with their quick progress. I know they do need to keep an eye out for Maine, but if they take care of their own business, that shouldn't matter. Catching Providence or UConn needs to be their focus.
The best part about what's happening in the middle of Hockey East is seeing how it reverberates. While there is a lot of uncertainty in spots 2-8, I'm not entirely sure any of it will matter this year. Even with some key player losses, I don't think any of the teams are quite up to beating BC twice to take the title away from them. So the jockeying for position might be pointless for this season, but will be crucial for confidence and recruiting in the future.
A pessimist might say that BC has Hockey East all locked up, so the rest is boring, but I think watching to see how these up-and-coming squads handle themselves in crunch time could be some of the most fun we have in the final weeks.
Over in the WCHA, the top half looks to be pretty set, but just four points separate the bottom four teams. I don't know which team is scarier for a squad like Minnesota-Duluth in the first round of the conference tournament: Ohio State or St. Cloud State? UMD is currently fifth in PairWise. What would a hypothetical first-round conference tournament exit do to their NCAA tournament hopes?
We've seen flashes of brilliance from both the Buckeyes and the Huskies, but does either team have what it takes to win twice against North Dakota or Duluth? It's been a rough year after losing such a pivotal senior class for Bemidji State, but should we be considering what they could do to change up the order of the bottom half of the standings?
Arlan: First, to your point about nobody in Hockey East being capable of beating Boston College twice, that's why it is vital for teams with championship aspirations to avoid the eighth seed and a first-round date with the Eagles. After that, it becomes single elimination and it only takes one win over them to advance. Someone like Connecticut has a far better chance of riding a hot goaltender to an upset over 60 minutes than via a best-of-three format.
As for whether or not Minnesota-Duluth could reach the national tournament after hypothetically being bounced from the WCHA tourney in a quarterfinal series, Princeton managed it last year. In theory, that should be tougher to accomplish for an Ivy League team coming off of a 29-game regular season. The Bulldogs opted for two exhibitions versus the Minnesota Whitecaps, giving them 32 regular-season games instead of the maximum of 34. Still, they should have a bit more of a buffer than the Tigers had in advancing after a first-round conference exit. The trick is that the other leagues have to follow form for the most part; too many surprise auto-bid winners dooms a team stuck near the tournament bubble.
One way to not leave that to chance for UMD is to keep as far above that bubble as possible. The Bulldogs did well in that regard in the first half, losing only four times. Half of those losses were to Minnesota, and UMD deserved better in that series than two overtime defeats. The Bulldogs get a chance to exact some revenge when they host the Gophers this weekend. After cobbling together a lineup last weekend when they were without the injured Dani Cameranesi and Nation's Cup participants Sarah Potomak and Lindsay Agnew, the Gophers hope to have their squad intact to resume WCHA play. They were certainly more vulnerable all over the ice without Cameranesi in recent weeks, but Kelly Pannek continued to do much of the heavy lifting and Kate Schipper elevated her game. If Minnesota is back to full strength, can the Bulldogs still carry play as they did for long stretches in October? We'll have to see, and FSN North will televise the game Friday afternoon to make that possible.
As to teams having the potential to knock off North Dakota or Minnesota-Duluth in a quarterfinal, the Fighting Hawks would seem to be on shakier ground in that regard. They've already lost to both St. Cloud State and Ohio State, teams UMD swept. The Bulldogs did succumb to last-place Minnesota State, so it isn't like they're impervious to teams below them, but they've been far steadier than UND.
And yes, Bemidji State's young forwards like Haley Mack, Abby Halluska, Kiki Radke, and Jacqueline Kaasa could start hitting the score sheet with more regularity. They've combined for 27 points over their first semester, and if one or two starts to get the swing of college hockey, that could make the Beavers more formidable than they were in the league race to date.
No matter who winds up paired in the opening round, the teams in third and fourth aren't going to be completely confident of emerging from that series. I didn't expect UMD to sweep Bemidji State last year, but when all of these teams are fairly close in terms of skating ability and offensive proficiency, it often comes down to whose goalie is hot on that day.
Speaking of goalies being hot or not, St. Lawrence and goalie Grace Harrison were pretty much unbeatable over the opening months of the season. Although Harrison's statistics weren't gaudy, she kept a zero in the losses column while her wins mounted. Then Clarkson touched her for four goals and the Saints went down in defeat for the first time to close 2016, and she yielded another four spot in losing again to Mercyhurst out of the break. Harrison got the day off when SLU bounced back with a win over the Lakers on Sunday with Brooke Wolejko and Sonjia Shelly splitting the minutes in goal. What's your prognosis for the Saints and Harrison going forward? Will the loss to the Golden Knights cause confidence to unravel?
Nicole: Working in the Saints' favor is that eight of their next 10 games are against teams in the bottom half of the conference standings, and all 10 of those games are against teams currently sitting lower than themselves. A thing that may be working against them is that they are a young team. Harrison is a sophomore. Fifteen of their 23 players are underclassmen. They are in uncharted territory and don't have a lot of experience dealing with adversity this season. They'll need to rely on their leaders to keep them focused, to help them through the drag of the final few weekends and to stay confident. They are all learning how to play with a lead, so to speak.
It'll be interesting to see how Harrison responds and whether she takes Sunday's game as a day off and looks at the opportunity to get back into it or if she lets those losses get in her head. It's such a difficult mental thing to be a goalie and take all the pressure of the team on yourself. Hockey folks like to joke that goalies are a special kind of breed, but the truth is few of us could handle the stress and mental strength it takes to be an elite goalie.
The teams the Saints played in the first half had an average total offense of 2.38 goals per game and Harrison's goals-against average is less than 1.50. She's acquitted herself well, so there's no reason one or two losses should cause her any crisis of confidence.