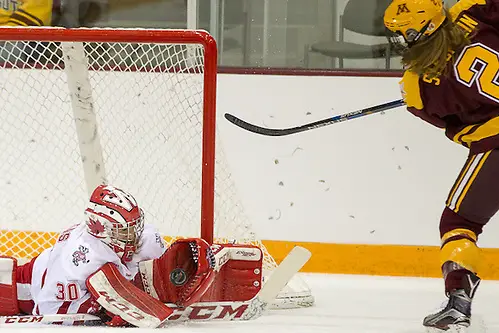 Arlan: No league had more questions to resolve heading into the final weekend of its schedule than ECAC Hockey, with uncertainty at the top, bottom, and in the middle.
Could St. Lawrence somehow pull off a miraculous final weekend and gain a share of the conference title? Clarkson had sewn up at least a piece of the trophy, as it held a four-point lead over the Saints with only two games remaining. We didn't have to wait long for an answer to this one, as SLU couldn't hold a 2-0, third-period lead at Cornell and had to settle for a 2-2 tie, while the Golden Knights yielded an early goal at Colgate, but then stormed back with five unanswered goals in winning 5-2. Either of those results on its own would have been sufficient for Clarkson to clinch the crown outright.
Quinnipiac and Colgate both entered the weekend with a shot at hosting a quarterfinal but came up short. The Bobcats did their part by sweeping Rensselaer and Union. Amelia Murray made the second of those games interesting by making 49 saves for the Dutchwomen, surrendering only the first career goal to freshman Abby Cleary, but her teammates couldn't get anything going offensively. The Raiders could have assured themselves of hosting for a second straight year with a weekend sweep, but the task proved too formidable against the circuit's top two teams, and Colgate didn't earn any points and settled to sixth. Thus, Princeton takes the final hosting spot, seeded fourth behind Clarkson, St. Lawrence, and Cornell.
In the fight for the eighth and final playoff berth, Harvard faced a similar predicament to St. Lawrence in its quest for a championship in that it needed four games to all go exactly as scripted. Ultimately, the Crimson also came up short and saw their run of playoff appearances snapped, although they were undone by a single result. In looking at the schedule before the weekend, I thought Yale at Harvard was the game where the Crimson's Houdini act was most in jeopardy, because it was the only contest where Harvard needed a team to defeat one above it in the standings. Harvard cruised to a fairly easy 5-0 victory over the Bulldogs on Friday, and coupled with RPI's loss at Quinnipiac, Harvard was just a single point down heading into the final day. It got the help it needed on Saturday when Princeton rallied from behind with three third-period goals to deny the Engineers a clinching point. Instead, it was Brown that proved to be Harvard's nemesis.
Over the last decade, the Bears have seldom presented much of an obstacle in anyone's path, so they've been an easy team to look past. This time, Brown played some inspired hockey in earning a road sweep at Dartmouth and Harvard, its first ECAC road sweep since January 2009. This weekend was also the only time it had swept the Big Green and Crimson anywhere since they became a travel pair in 2005-06. The Bears end their season on a high note, thanks in large part to senior Monica Elvin saving 78 of 81 shots she faced on the weekend, including all but one of the 43 fired by Harvard. They also got huge offensive contributions from a couple of freshmen. Veronica Alois had a hat trick against Dartmouth, more goals than she scored in the rest of her games combined. Sena Hanson chipped in with a pair of three-point contests, including two goals in the upset of Harvard.
You and I certainly haven't spent a lot of time discussing Brown this year. Before we turn to the more immediate future and consider the ECAC playoffs, could this weekend be a sign of more competitive seasons ahead for the Bears? They'll need to find someone to take over for Elvin in net, but there aren't a lot of shifts that will be lost to graduation among the skaters. Or was this just a lone bright spot in an otherwise long stretch of dark winters?
Nicole: It's so difficult to make any assumptions based on just a pair of games, but it certainly does seem to be a positive sign from a squad that has struggled. If so, it would be nice to see the historic program start to climb back up the standings. As you mention, they've got a solid bunch of returnees and saw contributions from their youngest players, all good signs for next season.
Most concerning is their goal differential with someone of Elvin's talent in the net. The Bears weren't just barely getting beaten, they were losing by wide margins. And it happened throughout the year. So while I'd hope the team can take a lot of positives and momentum from that final weekend, I'm not ready to anoint the series as a harbinger of changing tides.
For a team in that position to really start to change, they have to commit the time in the off season and head back into next year at the level they are at now; there's no room for them to regress and have to build back up. With such a large returning core, that shouldn't be too difficult, but time will tell.
Turning to those aforementioned ECAC playoffs, there are certainly some interesting matchups. Both Clarkson and St. Lawrence have the depth and talent to carry them through that first round pretty easily, but both the other series are a bit up in the air, in my opinion.
Cornell and Colgate each won a game when they played during the regular season and both games were 2-1. Cornell has gotten stronger as the season progressed but Colgate bounced back well after a rough start to the second half. Both teams have had incredibly strong goaltending. They match up pretty equally across a ton of categories. I could argue for or against each team pretty convincingly and I'm not sure I have any solid idea who'll win this one.
Quinnipiac will head to Princeton. At the break, I would definitely not have correctly predicted where either of these teams finished. The Tigers took both the games they played in the regular season. Quinnipiac has the advantage on defense, but Princeton goalie Steph Neatby has shown tremendous growth in her freshman season and proved herself to be a huge part of their success. The Bobcats have a couple of really potent players up front, but seem to be unable to find a way to get them the help they need.
Do you see any upsets happening in the ECAC tournament? Who's the most likely to pull an upset?
Arlan: Yale looked the most dead in the water to close out the season, so the way things have gone, that must be sure sign that the Bulldogs are sitting on a major upset. Not really. Yale has the misfortune to not be playing Princeton, the one hosting team that it had success against, taking three of four points. Beyond that and a tie with Cornell, it didn't get much done against the teams above it in the standings. Maybe the miserable trip to Harvard and Dartmouth can be chalked up to Yale not having incentive to win those games, but it isn't cause for optimism. St. Lawrence wasn't as strong in its last 16 games (9-4-3) as it was in its opening 16 (15-0-1), but nothing suggests an outcome much different from the two regular-season meetings for the Saints and Bulldogs.
I'm sure that Rensselaer will play with pride and give a good account of itself, but the bottom line is that Clarkson is second in the country to Wisconsin in scoring margin, and the Engineers rank 30th in that category. The Golden Knights are just better than the Engineers, and 120 minutes of hockey should be enough to prove that.
The other two series are far more interesting. One reason is that they match teams that are travel partners during the season. Because of this, when they do play each other, it is usually a single game stuck by itself. For example, Quinnipiac's first visit to Princeton occurred on New Year's Day. It's an entirely different feel to be playing games on back-to-back days, especially the same opponent, which is also an adjustment for ECAC teams. Another complication in trying to gauge who will emerge on top is that my assessment of which team was stronger often changed from week to week.
Colgate seemed to ride momentum from last season and a friendly schedule early to a fast start. The Raiders were still unbeaten midway through November at 12-0-1. From that point, they limped home at 10-9-2. That doesn't suggest "playoff run." On the other hand, Cornell can't feel all that comfortable when it looks at the numbers and sees that it really doesn't have a statistical superiority over the Raiders. Somehow though, the Big Red have managed to be more that the sum of their parts this year. They have the edge in goaltending, which is huge in the postseason, so I think Cornell will emerge. It may take a few overtimes to get the job done, however.
It's not a shock that the series most likely to produce an upset is No. 5 at No. 4, Quinnipiac at Princeton. The Bobcats had the better record heading into 2017 — in fact, they still have a better record, in spite of losing twice to the Tigers. That's one of the reasons I expect to see Quinnipiac advance in three games. Another reason is that Quinnipiac isn't a fun team to face. I don't know that they're quite as imposing as last season when Chris Wells joked that he'd park some road graders on the ice to simulate playing the Bobcats. Still, I can see them wearing down a skating team like Princeton over the course of a series. Postseason history is also not kind to Jeff Kampersall's crew. They haven't advanced in a playoff round since 2006. Yes, they have the better goaltender and the more potent offense, one that is far deeper. It won't matter. I can't pick a team that hasn't gotten it done in 10 years.
Am I wrong? Should I be looking elsewhere for an upset winner?
Nicole: It looks like we're pretty well agreed on how the first round of the ECAC tournament will shake out.
Looking over at Hockey East, I'm not sure we'll have near the same amount of possible drama. This round of the tournament looks pretty cut and dried.
I was incredibly excited to see Merrimack make the tournament after a strong final weekend. You've noted my love for underdogs in the past and this is no exception. It's an accomplishment for the second-year squad and a definitive marker of growth for them. Of course, their reward is to play Boston College, so it looks like their story ends here, but I think there's a lot to take away from how well they played this weekend when so much was on the line.
So Boston College has the no. 1 seed and shouldn't have any problems advancing to the finals. Northeastern is second and will host Connecticut, a team they beat three different times this year. The Huskies should also find their way through the opening series with ease.
I think BU got a bit lucky in this draw. They've had some stumbles against teams in the bottom half, but New Hampshire is not one of them. The Terriers handled UNH in all three of their previous meetings and while I still think BU is a bit shaky, I don't think the Wildcats have the ability to unseat them.
Merrimack earning that final spot necessitated Vermont not earning home ice. The Catamounts head to Providence to play a Friars team that I didn't expect to earn a win over BC this past weekend. They'll be riding that momentum, but it won't be an easy match for them. The teams met three times this year — Providence took the first game 5-2, but the teams tied the other two meetings. Obviously, we won't see any ties this weekend. We've seen a lot of growth from Vermont this year with a couple of big series and I think they have a serious chance to advance.
Do you see this round of the Hockey East tournament playing out differently? Are you at all surprised at how the standings shook out now that we've got the benefit of hindsight?
Arlan: In hindsight is the only way I can ever see what is happening in Hockey East. More than any other league, I'm frequently confused by the goings on in the conference. To be fair to myself, we are talking about a league where Boston College can win the title fairly easily, yet one of its losses was to Maine, the team that finished dead last and didn't reach the postseason. The Eagles also lost once to each of the other three host teams. I guess the good news for BC is that it didn't lose to any of the road teams in the upcoming round. The Eagles rattled off a 17-game unbeaten streak that culminated with the Beanpot win, but they've only gone 2-2 since then. Fittingly, they head into one of the odder playoff schedules, hosting the Warriors on Thursday and Friday afternoons. If a deciding game is required, that would take place Sunday night, but I don't see that being necessary, with a shaky Boston College or not. Anyway, congratulations to Erin Hamlen and her team on a historic accomplishment for Merrimack's program.
I think that the next one is trickier than you do. First, you don't get any credit for saying that the Huskies will advance, given that to do so they'll have to beat the Huskies twice. I don't know much about Hockey East, but I do know that much. If BU was lucky with the draw, the same could be true of Northeastern. It swept Connecticut, but lost on home ice to the other three home teams, including getting swept in Boston by Vermont. It also was swept in Orono. Part of me is wondering why Maine didn't advance when it had four wins over the Boston teams that finished one, two, and three. The rest of me knows it is because the Black Bears only had two wins against the rest of the conference combined.
There it is — Hockey East makes no sense, so I'm not sure that typical logic like thinking a team is in good shape because it is playing someone it handled during the season applies. That's not to say I'm expecting great things from UConn, which ended a five-game losing streak on January 28, but is currently on a three-game skid. Chris MacKenzie's squad just seems like that type that could frustrate a Northeastern team that likes to get up and down the ice.
One of the other things I've learned about Hockey East is that BU will be erratic during the conference season, it will come nowhere close to adding another Beanpot to the trophy case, but when the postseason lights go on, it will suddenly play its best hockey. The Terriers are leaky defensively, but UNH is no better. The Wildcats' offense is nowhere near as deep, nor overall as productive. Congratulations to senior Jonna Curtis on a season that is a point shy of 40 and a career where she has surpassed the century mark, but I don't see New Hampshire being long for the postseason.
As for Vermont at Providence, I have absolutely no idea. The Friars feature three freshmen defensemen, all of whom have at least 16 points. I don't remember that I've ever seen such a thing. I don't know if that means they have tremendous upside, that they will be prone to mistakes, or that it will be impossible to predict what they'll do. I'm leaning toward the latter. Then there is Vermont with the seven ties, plus two wins and two losses in games decided in overtime. We should have known something was up back in September when the Catamounts' exhibition went to overtime. You said that there won't be any ties in their playoff series, but I'm not totally convinced of even that. The league may make an exception just for the Catamounts.
The WCHA is usually easier to predict. Care to lead us off?
Nicole: Ha! I didn't even mean to pull a fast one and only pick "Huskies" there — I meant Northeastern and clearly wasn't paying enough attention. Or maybe I'll try that with Candace in this week's picks — anything to try and gain some ground.
I have to say I'd be pretty surprised if we didn't see straight seeds win out in the first round of the WCHA tournament. With apologies to both Minnesota State and St. Cloud State, Wisconsin and Minnesota-Duluth should both sail through with ease. To be fair, I don't think there's much of any team that can skate with the Badgers for three games — they wear teams down by midway through the second game of a regular series. St. Cloud has improved, but I don't think their blue line and goalies can overcome the barrage that Lara Stalder, Ashleigh Brykaliuk, and Katherine McGovern will put on them.
Of the matchups, I think Minnesota might be the team with the most to worry about, since Bemidji State is a team that seems to give them fits. They did lose one game to Bemidji early in the season, but I think in a three-game series, the Gophers are just too strong. I think Brittni Mowat gives the Beavers a heck of a boost and I would be more concerned for Minnesota in a one-and-done scenario. As it stands, I think the Gophers win.
I'd say similar logic applies to the Ohio State and North Dakota series, as well. In a single-elimination situation, Kassidy Sauve might be enough to stonewall the Fighting Hawks and give the Buckeyes a chance, but Ohio State hasn't proved the can sustain offense and I don't think they have a three-game series win in them.
I have to say I was pretty impressed with the Gophers this past weekend against Wisconsin. Sidney Peters played the series of her lifetime and the Gophers didn't look like much had changed, despite the bumps they've suffered this season. Whether they've grown a bit and learned to adjust in the past few weeks or it was the adrenaline of playing rival Wisconsin, I guess we'll see.
There's no one in the country that's been more affected by the Gophers' loss of Dani Cameranesi than Kelly Pannek. If Cameranesi was not injured, I think the Patty Kaz was Pannek's in a runaway, but losing her linemate seems to have shown how much of that line's success was about their chemistry. Cameranesi made them all better. Pannek had 40 of her 57 points before the winter break. Cameranesi played in just two games in the second half.
The upside for the Gophers is that they've found scoring from both their second and third lines. The opportunity opened up for those lines to take on a bigger role and they've answered pretty well.
You were at Ridder this weekend; what was your take?
Arlan: First, I've got a few comments on the WCHA quarters. Minnesota State took some big steps forward this season, winning four conference games after notching only one league win in the previous two seasons combined, and none in John Harrington's first year, but the best it did against the Badgers was a two-goal loss on home ice, and both previous games in Madison went to the hosts by a margin of five. The biggest problem was an inability for the Mavericks to generate anything offensively. Their highest shot total in any game against Wisconsin was 15, and in each series, they scored only once for the weekend. That's not going to get it done, so the Badgers will advance in two games.
Two years ago, Bemidji State defeated Minnesota in a WCHA semifinal on neutral ice; they're a less-formidable opponent than they were then. BSU's conference wins declined by 10 from a year ago. The bright spot is that freshman Emily Bergland's 16 goals is the most by a Beaver since Emily Erickson netted 17 in 2011-12, but as a team, they've scored 15 fewer times than they did last season while allowing 15 more tallies. Versus Minnesota, the biggest reason for optimism may be that they don't have to face Cameranesi, as she had three two-goal games against them during the season. Beyond that, Bemidji State will have to hope that Minnesota bonks after emptying the tank physically and emotionally against Wisconsin.
The other two quarterfinals are reruns of last weekend. St. Cloud State got swept by UMD in the season series while scoring a total of four goals. The results included a couple of one-goal losses, but it is safe to say that the Huskies will need more punch to prolong their season at least to Sunday, because it is unlikely that they'll be able to completely shut down the senior-led attack. Like any of the WCHA series taking place outside of Madison, this could last to a third game, but that's about it. The Bulldogs have too many key players intent on making a run to remember in their final kick at the can.
The No. 5 versus No. 4 matchup is the usual place to look for an upset, and Ohio State took the season series with two wins, a loss, and a tie. I agree with you in that I don't see any of the hosts being knocked off in the WCHA this year. As inconsistent as North Dakota has been, and there's no denying that was the case, I think it will find another gear in the playoffs. The Fighting Hawks have advanced to the Final Faceoff every year since reaching their first back in 2011, albeit with a different moniker. Seniors like Amy Menke, Halli Krzyzaniak, and Gracen Hirschy have been a part of a winning tradition, and I think they'll continue that despite the best efforts of Sauve. It's been a remarkable comeback season for the Buckeye's sophomore netminder, but a thin-rostered OSU has to be wearing down. Making the longest road trip in the conference for consecutive series won't help that.
As for the latest edition of the Border Battle, the Gophers had a lot of incentive. They needed a point to secure second place, it was Senior Weekend, and I think some vivid memories of the 8-2 trashing at the hands of the Badgers remained. Minnesota may have been too jacked up. It was the equivalent of a middle-distance runner that goes out too fast and hits a wall before the finish line. Even though they couldn't get a win either day, the Gophers proved to themselves that they still belong on the same ice with Wisconsin.
Meanwhile, the WCHA champs got what they needed in terms of a postseason tuneup. They lost an opportunity for some honing when UMD arrived in Madison minus several key cogs, so it likely served them well to have to play all weekend with a game in the balance. If hockey was judged by which team controlled the majority of 60 minutes, there'd be no beating this year's Badgers. Instead, it hinges on plays made in an instant, so a number of underdogs have reason to hope.
Before we get back to talking about the Kazmaier Award, the CHA season still has a week to go. Candace commented last week about Robert Morris learning to close the deal after letting a possible league title slip away three years ago. Is the loss to Penn State on Friday a sign that the CHA race isn't quite over, or are the Colonials a lock as they head to Lindenwood??
Nicole: I know Mark Johnson tends to brush off any notes of concern when the Badgers go through these stretches where they're taking a ton of shots and possessing the puck, but not scoring goals. And I can't imagine what there is for a coach to do. But still, it's something that's been an on and off issue for the Badgers over the past few seasons and to have it show up again the past few weeks definitely has to put a bit of worry into the mind of Wisconsin fans. It has to be ever-frustrating for Johnson and the players because it seems to be a problem with no solution and now is not a great time to just let things figure themselves out.
As for the CHA, Robert Morris certainly made sure this final weekend is interesting. They've left the door open for Syracuse. The Orange swept Penn State earlier in the season and they've got all the incentive to do so again. That being said. Penn State has shown it's no pushover this season and it will not be an easy set of games for the Orange .
Of course, none of that would matter if Robert Morris just takes care of business. Unfortunately for them, they've already lost once to Lindenwood this season, meaning the Lions know their cracks and how to exploit them. I don't think anything's a lock right now.
I'm not sure I understand what's happening with the Colonials. They had a great unbeaten stretch from October through January and since then they've been completely unable to put anything sustained together. Is the pressure of being the top team getting to them? Is the inexperience of the team at fault? They say act like you've been there before, but most of these players never had and I wonder if that's affecting their game. Playoff-caliber teams get stronger as the season winds down and it has to be concerning that the opposite is happening for the Colonials.
They have to assume that Syracuse will get four points and that means they'll need a result in each of their two games. A series split won't cut it. On Friday, they'll have the luxury of knowing Syracuse's result around the time they hit the ice, but Saturday they start at the same time, so there may be quite a bit of scoreboard watching.
They've  also got a long travel day to get to Lindenwood and a lot on the line. They have the pieces to win the conference, but they need them to all come together cohesively this weekend.
What do you think? Which teams pulls it off?
Arlan: The numbers favor Robert Morris, so I will as well. If the Colonials earn three points, then it doesn't matter what Syracuse does in terms of winning the league. Penn State is .500 in CHA play, while Lindenwood has lost 14 of its 18 conference games. The end of the story hasn't been kind to the Orange the last couple of years, with second-place finishes in the standings, including by a single point in 2016, followed by overtime losses in the championship game. Eventually, they'll have to quit knocking on the door and just kick it open, although as we've discussed, that may not be enough this weekend. If Syracuse is the bridesmaid yet again, maybe it serves as added inspiration in the tournament with the NCAAs at stake.
You mentioned the Kazmaier Award earlier. I'd be surprised if Ann-Renée Desbiens and Pannek aren't two of the final three, and Desbiens is all but certain to take home the award. If that's how it plays out, then a sequence Sunday serves as a perfect metaphor. On a power play, Lee Stecklein sent a pass across the crease to Pannek waiting on the far post. It's the type of play that almost always results in a goal if the attacking team executes, because the goalie has to first honor the shot, and she has almost no time to get across, but when Pannek collected the pass, Desbiens already had her skate in position, and Pannek had only leg pad to shoot at. The rebound bounced out to Sarah Potomak, but Desbiens fired out to take away any angle and smother that attempt as well. Her anticipation, reaction, and athleticism are all top notch.
The one area where Desbiens struggled at times this past weekend was with rebound control, especially in the opening 20 minutes, but even when the puck is out of her grasp and she can't find it, she seems totally unconcerned. I asked her about that and she replied in her own colorful fashion, explaining her thought process regarding her positioning at such times, and saying that it's important to not look like she's panicking, even if she feels a bit of that emotion. That calm in a crisis is one reason why Pannek's Kazmaier possibilities will ultimately be blocked by Desbiens, just like her tap-in attempt.
I asked Johnson, who has coached four previous winners of the award, if there was anything more she could have done to earn the Kazmaier. He joked, "Not get hurt." If the only knocks we can find against a contender are that she suffered a concussion and injured her knee, or that she didn't face enough shots during the season, then she'll be hard to deny. It's different in the case of Cameranesi, who lost roughly half her season, and we're left to ponder what might have been.
During Wisconsin's 8-0 win over UMD, the announcers were discussing whether Desbiens is the greatest goaltender in the history of women's hockey. I think the world of her; she was our USCHO Player of the Year last season and is likely to garner that recognition again, but at this point, great as she's been, I'm not ready to concede her that spot, even within her own program. I don't know how much you got to watch her, but when the lights came on for the NCAA tournament, nobody was cooler under pressure than Jessie Vetter. She won 11 of her 12 starts in the national tournament, allowing a single goal in each of Wisconsin's championship years with her in net.
What are your thoughts on Desbiens and how her resume compares to Vetter and other goalies who have starred on the biggest stages like Vetter, Kim Martin, Noora Räty, Charline Labonté, or Shannon Szabados?
Nicole: This feels like a trap! I don't think there's a right or wrong answer, but I do feel like I could get in trouble no matter what I say.
I also noticed the rebounds Desbiens was giving up and they were all the more glaring because that's not something she usually struggles with. Credit to the Minnesota skaters, who definitely had her as much on her game as she's had to be all season. That it was uncharacteristic for her and she was still able to handle the situation says so much about Ann-Renée. I said on Twitter during Sunday's game that I thought this past weekend's series should go a long way to quelling the idea that Ann-Renée only has good numbers because she hasn't faced a lot of shots or because she has an elite defense ahead of her. She rose to the occasion.
I got to watch Vetter right when I started following hockey, so I'm not sure I was fully able to understand and appreciate how stellar she was at the time. It took a few years for my hockey sights to grow beyond Wisconsin, so for a bit I didn't know how special those players were — they were my normal. Part of the difficulty in comparing the two is the very different personalities of Vetter and Desbiens. I think one of the things that's so great about Desbiens is that you can see the moment she focuses and settles in to the game. She's playful between plays and periods, so there's always a moment where you see her focus snap in and it makes her composure seem all that more intense because of the light-heartedness of what came before. Vetter was all business, all the time, in my experience. When you see her away from the rink, she's quite funny, but at the rink, she's more sober and I think that made it more difficult to see a difference with her on the ice. She always seemed older than her years to me.
I also think it would be interesting to have this conversation a few years down the line. We can talk about those Badger teams and the stars that were on them in hindsight and I'll be interested to see if we talk about this current Badgers roster the same way. Desbiens, Emily Clark, and Annie Pankowski have the potential to be as big names internationally as some of the Wisconsin players that have come before them. That's not even accounting for some of the youngest Badgers that are certainly looking like they could be major players an Olympics or two down the line.
I'm not sure how much you would have to pay me to make a definitive ranking of all those elite goalies you mentioned. I'd be thrilled to have any one of those players backstopping my team any day. I'd like to give Desbiens a few more years where we see her at the international level before we can truly compare her to the rest of the ladies you mentioned. But I will say this — I'm not sure we'll ever see a player quite like Ann-Renée ever again. On the ice and off, she may just be one-of-a-kind.