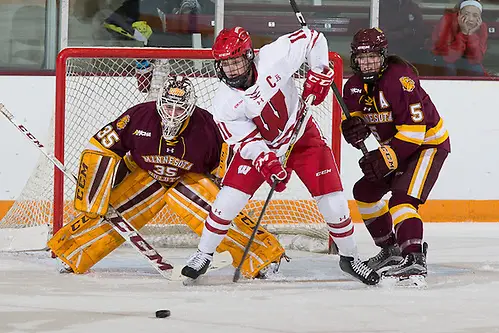 Wisconsin, Clarkson, Minnesota Duluth and Boston College earned home games in the first round of the Division I women's NCAA tournament.
The brackets were announced Sunday night, with the Badgers earning the top overall seed.
The first-round games, with overall seed in parentheses:
• Robert Morris at (1) Wisconsin, 2 p.m. CST Saturday
• St. Lawrence at (4) Boston College, 1 p.m. EST Saturday
• Cornell at (2) Clarkson, 3 p.m. EST Saturday
• Minnesota at (3) Minnesota Duluth, 2:30 p.m. CST Saturday
Wisconsin (WCHA), Clarkson (ECAC Hockey), Boston College (Hockey East) and Robert Morris (CHA) earned the four automatic bids as conference tournament champions.
The quarterfinal winners advance to the Frozen Four, March 17-19 in St. Charles, Mo.